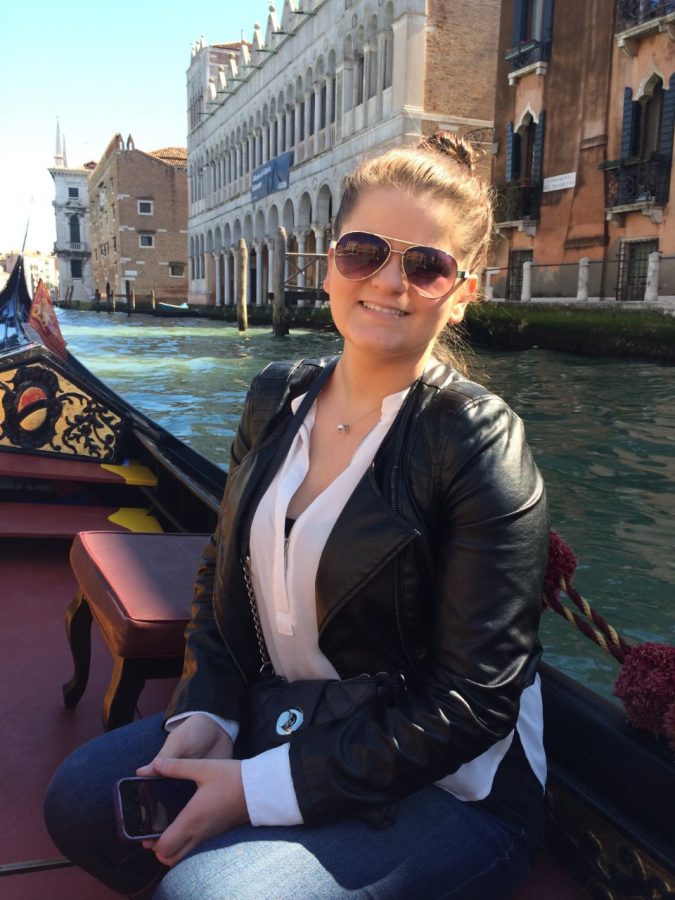 Studying abroad may be scary to some, but Shaler Area alumna Ali Tappe feels it was one of the greatest experiences of her life and it really set a strong foundation for her career. After graduating from Shaler Area, Tappe went on to college at Indiana University of Pennsylvania where she studied international business with an infiltration in marketing. This major required her to study abroad for a semester.
She had been taking Spanish at IUP, but did not feel fluent enough to go to a Spanish-speaking country so she narrowed down her choices to Australia, England, and Ireland. Another factor that went into her decision was tuition. Tappe was looking for a school where she could still pay her tuition to IUP and there would be no additional fees; it would be an actual exchange where a student from another university would come to IUP and she would go to their college. Ultimately, she decided on the University of Worcester in England, which also interested her because of small numbers in class sizes.
"I like smaller classes because then you are not just a number and you can actually get to know your professor and they get to know you as well," Tappe said.
Tappe was excited for this new opportunity and after getting accepted, she packed everything up and made her way to England. This new experience brought about many aspects of studying abroad that she really appreciated.
"At Shaler and at IUP, when you look around, you see a lot of people that probably look very similar to you and everyone has the same train of thought. When I was able to study abroad, I was not only in classes with English students, but all around Europe like people from Hungary, Belgium, Asia, and much more. I think that having so many different students and mentors in one room really allowed me to have different viewpoints of certain things that I was learning about," Tappe said.
She scheduled her classes for Tuesdays, Wednesdays, and Thursdays, giving her a four-day weekend. This allowed for her to do a lot of traveling around Europe. She traveled to Spain, Ireland, Germany, Hungary, Italy, the Czech Republic, Whales, and all over England. She loved not only being able to study abroad, but also being able to travel all over Europe.
After her semester abroad, she finished up her senior year at IUP. Yet, after having only a semester in England, she did not quite feel done with it.
"I felt like I had only just started scratching the surface of English culture. I wished I had more time there," she said.
In her last few weeks of studying abroad, the head of the Master's program came to her class to speak about the program. She felt that was the sign that she needed: she was going to get her Master's degree in England.
Tappe applied to the University of Worcester again for the Master's program, where she would study International Management, and got accepted. After making some difficult decisions, fearing that she would miss her brother's wedding if she took the offer, it all worked out in the end and she was able to attend the wedding and go to school in England.
From studying abroad and getting her Master's in England, Tappe learned a lot through experiencing different cultures and ways of life.
"In Europe, they work to live and in America, we live to work. When they are at the office they have their heads down and are doing their work but as soon as they leave for the day, they leave their work behind them. When I came back to America to work, I definitely took that with me," Tappe said.
Along with learning about Europe's live/work balance, she also learned more about different cultures and the viewpoints that they have.
"We got into some really good discussions because in America we all grew up on the same fundamental values, but when you are going to school in Europe, every country has their own values. This means that in discussions taking place, you are then getting viewpoints from all these different people with all these different governments and cultures," she said.
Having learned so much from her experiences with studying abroad, she would definitely encourage others to take those chances as well. She feels it is good to get outside of your bubble and try something new, because you will never know what you can learn from those moments. As she implements many things into her career that she learned from studying abroad, she wants others to have that same experience and see how other cultures and people can bring about different ideas that you may have never thought of.
"If anyone is reading this article and they are thinking about giving a new state a try after they go to college or after they graduate, definitely take that leap and give it a try. If it doesn't work out you can always move back home. Nothing is permanent," Tappe said.