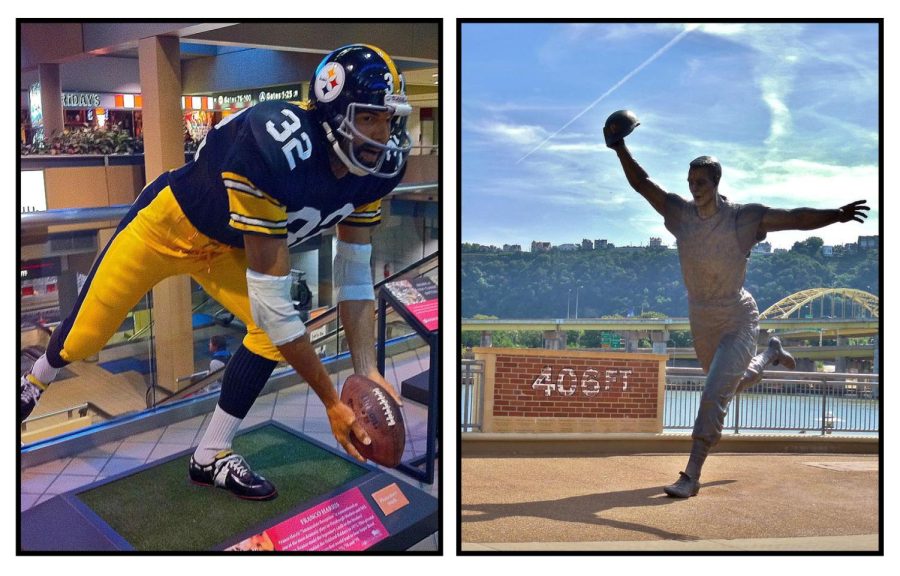 Pittsburgh's great sports history is topped by two standalone plays: Bill Mazeroski's game-winning home run in Game 7 of the 1960 World Series and the Immaculate Reception, Franco Harris' last-second touchdown to beat the Oakland Raiders in the 1972 AFC divisional playoff game.
Which play is the greater of the two? Which play is more significant? Which play resonates more with fans?
While we're each dug in more than Mazeroski was in the box before his legendary blast, let the debate commence.
Dominic: Allow me qualify, or disqualify, myself: unlike my counterpart, I am no fan of any Pittsburgh team. Maybe I don't have the perspective needed to choose a side, or maybe I have THE perspective needed to objectively pick the greater play. Despite it coming against my New York Yankees (talk about being objective), Bill Mazeroski's homer is a far greater play than the Immaculate Reception.
Let's remember that Harris' catch came in the first round of the NFL playoffs that year. The Steelers would lose the following week to Miami in the AFC Championship game. Maz's home run came in the ninth inning of a World Series Game 7.
In terms of a bigger stage and under brighter lights, Mazeroski's game-winner surpasses the Immaculate Reception the same way his ball surpassed the confines of the left field wall at Forbes Field. A championship-winning play should be greater than a last-second catch by a team that would lose in the playoffs the following week.
Aidan: That's where I come in with a resounding NO. I am very much a loyal Pittsburgh sports fan, instead of a traitor to the home teams like my counterpart. Steelers football is a major part of my Pittsburgh sports life. I've been tailgating home games since I was a tyke, and I have relatives on my father's side that travel five hours almost to be in Pittsburgh for games. I've been to more games than I can remember, and my living room has been nearly destroyed multiple times due to both Steelers celebration and rage.
As opposed to Dominic's idea, I don't think that objectivity is the way to choose which play is supreme. Instead, I believe that in order to make the call one needs to be a part of the Pittsburgh sports community. Instead of objectivity, we need subjectivity, the perspective of someone who actually has a vested interest in the home team.
Dominic: Aidan, much like your quarterback this year, you have sadly missed the mark. I understand how big of a Steelers fan you are, but someone from the outside has a much better perspective than someone on the inside. You said it yourself: you love your Steelers. Maybe you're too blinded by your love of your football team to realize they are second on this list. Can you really put a play that was largely insignificant over a play that won it all?
Aidan: While the Immaculate Reception may have been fairly insignificant in the short-term, its long-term impact is immeasurable. The shoelace-level catch came out of left field, you could say, and so did the revitalization of the Steelers that followed. Head coach Chuck Noll would go on to lead the team to the playoffs in eight seasons. Under his guidance, the Steelers won four Super Bowls in six years, and to this day, the Steelers are the only team to ever win back-to-back Super Bowls twice. Though the franchise would begin to decline going into the 80's due to multiple star players hitting retirement age, the Immaculate Reception served as a kick-off to roughly ten years of the Steelers dynasty.
If you want objectivity, however, I'm happy to give you some. NFL Films chose the Immaculate Reception as the greatest and most controversial play of all time. In the NFL Network's 100 series, the play was chosen as the Greatest Play in NFL History. And, although your treasured home run still holds a record and a few places of honor, the Pirates have suffered the longest streak of losing seasons in all of American professional sports, and entered a slump shortly after the 1960 world series that they arguably still haven't gotten out of. While the Steelers lit a torch in 1972 that burned bright for over a decade, the "candle" of the Pirates flared once in 1960, perhaps again in 1971 and 1979, and has been flickering, at best, ever since.
Dominic: Yes, the Immaculate Reception led to more long-term success than Maz's homer did. You just made the case, though, that the Immaculate Reception is only significant because of what came after it. Maz's home run, meanwhile, is significant DESPITE what came after it. Imagine if the Pirates went on to win, say, three more World Series in the '60's and had a run identical to the Steelers, with Mazeroski's shot being the launching point similar to Franco's catch. Think of how significant the catch would be then. Pittsburgh is not a baseball town as much as it is a football, and even hockey, town. So imagine how much this play has to mean to people for it to resonate so much in a city that doesn't love baseball as much as it does football. The Immaculate Reception sits comfortably because it's in a city that loves football, while a baseball moment is cherished in a city that doesn't really care as much about its sport. Imagine if Pittsburgh was a baseball town …
Aidan: Now hold on just a minute, don't false start on me. You've pigeonholed my argument into the significance of the legacy of the plays. I'm not talking about only what came after, I'm also talking about what it means to the fans. Because, as you said at the very beginning, we're judging these plays based on their significance and how they resonate with the fans. So by your logic, you've made my argument for me!
Pittsburgh is indeed a football town, this I can't deny. But you're using that logic to make the home run blast seem comparatively more memorable. The problem is, if we're looking at how well each play resonates with the sports fans of Pittsburgh as a whole, then we need to look at the entire population without breaking it down in a comparative manner. And in a football town, of course the football play is going to have greater significance with more people. Even though the home run is well-remembered in a city that isn't known for its baseball franchise or its baseball fans, the Immaculate Reception has a higher place of honor among Pittsburgh's football fan base, and thus among a greater percentage of Pittsburgh sports fans overall. So even if it isn't the "best" play comparatively when only looking at football fans compared to baseball fans in Pittsburgh, it is indeed the "best" play overall when looking at the whole population of sports fans in Pittsburgh.
As for your other points, it's difficult to find one source that compares every American professional sports moment ever, or even every Pittsburgh sports moment ever, hence our debate here. The reason I use NFL sources is not just because they show how important the Immaculate Reception is to American football, but also because they show how important the play is to American sports as a whole, given football's 'market share' in that regard. Additionally, your use of a hypothetical, while an interesting "what if?" scenario, is pointless within the context of this argument. We can't treat this debate as if Pittsburgh was a baseball town, or even as if it was neutral ground, because it isn't. To base an argument on any foundation where Pittsburgh is not a football town, AKA a false assumption, does a disservice to both the debate itself and the fans that are an integral part of it.
Dominic: Consider this: the reason for bringing up that Pittsburgh is a sports town is to show that despite the Immaculate Reception having an advantage because of the sport that it is, Mazeroski's home run still resonates and is still a bigger deal than the Immaculate Reception. The reason for bringing up the hypothetical is to show that if baseball was a bigger deal to this city, Maz's play would be so far and away from the Immaculate Reception, farther away than it is now. That play has overcome the fact Pittsburgh doesn't love baseball as much as football. Can you argue that it is impressive this play stands out in a city that considers baseball the little brother?
Now let's consider the play itself. As far as degree of difficulty is concerned, the Pirates' win over the Yankees is far more impressive than the Steelers' last-second win over the Raiders. The 1960 Yankees, remember, went 97-57 and won the American League by eight games. In the World Series that year, the games the Yankees won by a wide margin (16-3 in Game 2, 10-0 in Game 3, 12-0 in Game 6), while the Pirates barely won the games they did win (6-4 in Game 1, 3-2 in Game 4, 5-2 in Game 5 and 10-9 in the deciding Game 7). New York had won the World Series six times in the previous decade, and would win it the following two years. Mickey Mantle, Yogi Berra, Whitey Ford, Roger Maris, … need I say more?
The Raiders, on the other hand, were good but not great. Remember that the Steelers actually beat them earlier in the year, 34-28. They  finished the regular season with a 10-3-1 record, and had to play a road game at Three Rivers. Their defense ranked ninth that year to Pittsburgh's second, and their rush attack was ranked one spot below Pittsburgh's while you had the better quarterback. I'm sorry, but you should have won your game. The Pirates should not have won theirs. Who doesn't love an underdog? People are rooting for you to win this debate, after all.
Aidan: Ouch! Might have to flag you for unnecessary roughness. Unfortunately, while your "degree of difficulty" point has merit, it simply isn't at the heart of what's being considered here. You can argue all you like about the favored team for each game, but that brings it back around to the short-term, which you discounted earlier when you said that the "insignificance" of the Immaculate Reception to the Steelers record for the 1972 season was what made it the inferior play.
I think it's time I wrap this up. From the first time the legendary sportscaster Myron Cope spoke the words "Immaculate Reception"  during his 11 p.m. broadcast on December 23rd, the play has been an integral part of Pittsburgh sports history. Numerous statues and recreations of Franco Harris's catch have been created and put on display. It has its own exhibit at the Heinz History Center Sports Museum. The exact spot has been marked, with a shoe print and a plaque just outside of Heinz Field. The catch was recreated by Harris himself for the NFL's "100-Year Game" ad for Super Bowl 53. A statue of Harris making the catch is located at the Pittsburgh International Airport. Franco Harris's Italian Army still marches to this very day. The Steelers fanbase has been ranked as one of the best of any NFL team, and is debatably one the largest and most widespread. The Terrible Towel is arguably the most recognizable and well known fan symbol of any major sports team, at least in the US. I'm sorry to say it, but Mazeroski's home run blast, while impressive in its own right, simply does not have the longstanding impact and fan legacy that the Immaculate Reception does when it is looked at as a piece of Pittsburgh sports as a whole. If there is any one party that can unequivocally decide this argument, it is the city of Pittsburgh, and the city has made it clear that Harris's miracle catch holds a higher place of honor than any other play in Pittsburgh sports history.
Dominic: Now wait just one second! Yes, the Immaculate Reception has been immortalized in the city of Pittsburgh. But is it possible that the only reason it has been immortalized is because the play has one of the greatest nicknames of any play in sports history? If it never got the moniker and was just "the play that got the Steelers to the next round of the playoffs, in which they lost", would it still be recognized the way it is? Highly unlikely. And don't forget, the Forbes Field outfield wall does still stand in Oakland, and the one defining moment of the old park was Maz's homer. Three Rivers is remembered for three decades of Steelers football, particularly the '70's, but Forbes is mostly remembered for that one play. I will admit the Steelers fandom is otherworldly, but again, the fact the Pirates' isn't shows that Maz's homer resonates against all odds!
Aidan: You can call a spade a spade, or a shovel, or a trowel, or a scooper, but it's still used to chuck dirt out of a hole in the ground no matter what you call it. In that same vein, the Immaculate Reception could have been called any other name, but the play itself wouldn't have changed. We could be having a debate about whether or not Franco's Miracle Catch was superior to Mazerowski's Blazing Homer. In fact, it was a fan in the stadium for the play who suggested the name to Cope, meaning it was the fans who chose to give it the name, it was the fans who chose to memorialize the play, and it was the fans who chose to make it the Pittsburgh sports moment. Your grasping at straws only shows that I've already won. Elvis has left the building. Good game.
Unfortunately, I have to admit that I can't definitively say that I won, no matter how clear I've made it. Luckily, our readers can settle this little spat once and for all.
Give us your thoughts as to which play is superior. And make sure to pick the correct choice, if you please. Either way, this has certainly been a blast in its own right.
Dominic: I'll admit, Aidan, I enjoyed this, too. Is it possible that the only loser here is the person who doesn't read this?