Girls Golf team enjoys opportunity to play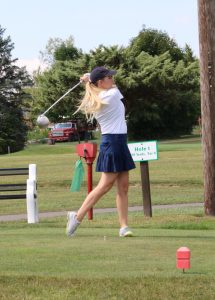 The Shaler Area Girls Golf Team wrapped up its season at the end of September. The girls won a total of 3 matches this season out of 6, and had one individual, Emilee Miller, advance to the WPIAL Class AAA championships.
Sydney Lang, a junior and a newcomer to the golf team this year, said that she had an amazing experience with the team this season.
"I felt like part of the team right away, it really felt like a second family to me, even though I just started the sport," Lang said.
This was Miller's fourth and final year on the golf team. She is a very experienced player and was the only one to make it to the playoffs.
"My favorite memory from this season was shooting the team's lowest round overall of a 200, but my favorite part of being on the team was playing on all the different courses for matches competitively," Miller said.
Both Lang and Miller thought that COVID only had an effect on practices mostly, since golf is already a social distancing sport, but it did affect the social aspects of being on a team such as the team bonding and team dinner.