Thiel living her dream as teacher and Activities Director
If you're a student at Shaler Area HS, chances are you know Mrs. Mindy Thiel, the Activities Director and AP European History teacher who seemingly coordinates a million different events and keeps "the other half of education" running smoothly.
Maybe you know her because you performed in the musical, or joined an honors society, or went to a school dance, or helped build floats before Homecoming, or were on student council, or were a student in her AP European History class. The list goes on and on. It's hard to avoid knowing Mrs. Thiel.
Whatever you're doing at Shaler Area, Mrs. Thiel is probably directly or indirectly involved. She works tirelessly to give Shaler Area High School students a full high school experience and the opportunity to participate in many awesome activities.
Before becoming the activities director, she was a social studies teacher at Shaler, and before that, she was a SAHS student when she already had an idea what she wanted to do. From a young age, she loved to teach, and she would make worksheets and lessons for her younger cousins.
"I always knew I wanted to be a teacher," Mrs. Thiel said.
When she got to Shaler Area HS, she had amazing teachers and was inspired by their excitement about teaching.
"They were just so passionate about what they did," she said. "I was like, 'I want to be like them!'"
"
My teachers were my idols when I was a student and then to be working with them was surreal. They were all so kind when I returned. I thought they were great people as a student and then I learned they were even better colleagues."
— Mrs. Mindy Thiel
Knowing that she wanted to follow in the footsteps of her teachers, Mrs. Thiel went to Penn State to pursue education. After her first education class, which she really disliked, she actually considered going into hotel and restaurant management. Luckily for us, her mom talked her into sticking with teaching.
After college, she came back to Shaler and got a teaching job, working alongside the teachers that had inspired her so much.
"My teachers were my idols when I was a student and then to be working with them was surreal. They were all so kind when I returned. They took me under their wings and showed me the ropes as a new teacher," she said. "I thought they were great people as a student and then I learned they were even better colleagues. They are my heroes."
Right off the bat, Mrs. Thiel taught AP European History and Honors Economics. Teaching Econ was a learning experience, she said, since she had only taken two economics classes- one in high school and one in college. Despite this, her former students say that she was a great teacher from the start.
"During my senior year, I had Mrs. Thiel for AP European History," social studies teacher Mr. Jim McDermott, who had her during her first year of teaching, said. "She had to be around twenty-three years old, teaching AP to kids who were 17 or 18, but she didn't show any weakness. I remember my mom went to Curriculum Night and told me that some man was challenging Mrs. Thiel by saying this class was too hard for his sweet daughter, and he was trying to intimidate her, but Mrs. Thiel didn't back down. She was a fun and effective teacher, although I'll never forgive her for taking off points on my Martin Luther 95 theses presentation!"
One year after she started teaching, the AP Economics teacher left halfway through the year, and she ended up taking over the job of teaching that class.
"That was a disaster. I try to block that year out," Mrs. Thiel said, laughing.
"She was still a fairly new teacher," English teacher Mrs. Kristen Aluise, who was a student in that Econ class, said. "She really tried her best as Econ was not her expertise, and she was thrust into the role pretty much overnight. I remember that she would prepare so very thoroughly for the lesson, but then, we would ask her a question. She would just sigh and tell us she would figure it out and let us know. As promised, by the next day, she always did. I always appreciated that about the class. We knew she was trying so hard for us, and we really loved that about her."
Many of the staff members are former students, so it isn't uncommon for teachers to teach alongside former pupils, something Mrs. Thiel enjoys.
"I love working with former students. I first met them as young adults and then I see how they matured while in college. They are now these young professionals who come back with this energy and new ideas," she said.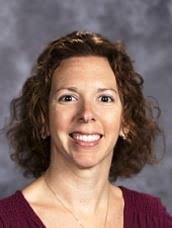 Because of her duties as Activities Director, Mrs. Thiel only teaches AP European History now. The class is memorable for anyone who has taken it from putting on the French Revolution puppet show to going to the Henry VIII tea party.
"I had so much fun in AP Euro with Mrs. Thiel," junior Caty Clark said. "We got to do tons of fun activities and she prepared us so well for the AP test."
As soon as she became a Shaler Area teacher, Mrs. Thiel got involved with school activities. She was the sophomore class sponsor, Majorettes sponsor, and helped with the National Honors Society. When the Activities Director position opened up, Mrs. Thiel decided to apply.
"I want you guys as students to have the same experience that I had when I was here," she said.
She met her best friends by getting involved with high school activities, and those people are still her friends today.
As Activities Director, Mrs. Thiel coordinates all the high school clubs and school functions, like the dances, Homecoming, and Performing Arts events.
"Mrs. Thiel is very dedicated to Shaler Area students and works countless hours to make your world a better place. We would not be the same high school without her," High School Principal Dr. Timothy Royall said.
Even during the COVID-19 pandemic, Mrs. Thiel has been working hard to give students the opportunity to participate in activities safely. This is a challenge, because the activities department has to think outside the box and come up with new ways of having events. The school play, "Little Women", was able to happen this year thanks to Mrs. Thiel and the department's work to live stream it since the in-person audience was limited.
"I want everything to happen for you guys as students. So it's literally sitting down and going, 'alright, how are we going to do this,' and just working around the constraints that we have to work around," she said.
Mrs. Thiel has had to make a lot of tough decisions, especially during this pandemic, about what can and cannot happen. Because of that she is no stranger to receiving criticism. Back in the spring, when prom had to be cancelled due to safety concerns, she dealt with many complaints some of which became personal attacks against her.
"I just try to be a turtle and let it roll off my back, but I'm not always successful with that," she said. "When people make it a personal attack against you, that's really hard."
"
Mrs. Thiel is very dedicated to Shaler Area students and works countless hours to make your world a better place. We would not be the same high school without her."
— Dr. Timothy Royall
When she isn't keeping high school activities running, Mrs. Thiel spends time with her husband and two kids.
Mrs. Thiel encourages her kids to get involved in school activities because she wants them to have an amazing school experience.
"They are involved in activities because I make them, but also because they are both very social. When they get to high school, I hope they continue to be involved in something that they are passionate about without me pushing them, but I have no problem pushing them either," she said.
One thing she couldn't push back on was the choice of family pets. She admitted to always being a dog person, but she wasn't allowed to have pets other than fish growing up. When she moved out of her parent's house, she seized her chance and got a dog.
"There was a sign up one day at the deli counter while I was getting meat: 'free puppies'. Who doesn't want free puppies?" she said. "So, I got a free puppy from a deli counter."
Unfortunately, her husband and kids love cats. They started feeding one of their neighbor's seven outdoor cats and soon the cat wouldn't leave their house.
"We stole the neighbor's cat," Mrs. Thiel joked.
Mrs. Thiel had an amazing experience as a Shaler Area High School student, and those experiences inspired her to want to give every Shaler Area student the chance to have those same experiences. She has worked through criticism, constraints, and a global pandemic to make sure every SAHS student has the opportunity to experience the "other half of education".
View Comments (8)
About the Contributor
Maggie Rea
Hi, I'm Maggie. I collect business cards and I can't wait for the next Ford Truck Month! My favorite word is ubiquitous. This is my first year on newspaper...