Sustainability class having impact on students and community
Reduce, Reuse, Recycle. These three words have been used constantly to promote a more sustainable, eco-friendly way of life. But what do they actually mean? And are those practices effective?
This year, a new CHS class was offered to students to help them understand those words on a personal level. In the class, titled Sustainability, Mrs. Abbey Nilson encourages her 71 students to be an active part of their community by helping them self-reflect on a greener lifestyle.
Nilson noted that she has a wide variety of students — some enrolled in the class with the intention of reducing their footprint and the class fits in with a lot of projects that they're already doing, while others were just curious and took the class not quite knowing what to expect.
"I took the class because I've always been interested in living more sustainably, but I wasn't really sure where to start," senior Marlie King said.
No matter what initially sparked her students' interest, Nilson is mostly just happy that she has the opportunity to have a positive impact on so many students.
"Hopefully they'll have conversations and be active in the community with all of the different concepts we've learned," Nilson said.
Mrs. Nilson herself has always been passionate about the environment, much before it became "trendy" to be environmentally conscious. Some actions that have recently gained traction from the media, such as using reusable water bottles or bags, composting, and plant-based diets, are actions Nilson has been taking her whole life.
"I've always been very interested in this, and I've been composting my whole life," Nilson said. "I grew up in a very sustainable family, so it's always been a part of me."
"
We really need to focus on reducing everything we use, reducing packaging…we won't recycle our way out of the current plastic and waste problem we have."
— Mrs. Abbey Nilson
With her knowledge, she hopes to influence as many people as she can to begin to adjust their lifestyle to preserve the environment and she hopes to teach the importance of living sustainably to her students.
"Sustainability is important to me because every little bit helps stop pollution on our planet," King said. "Taking the class has helped me make even more sustainable choices…I now compost as much as I can as well as cutting down my use of plastic."
With the creation of the class, Mrs. Nilson also hopes she can bring to light that sustainability is about much more than just recycling.
"We really need to focus on reducing everything we use, reducing packaging…we won't recycle our way out of the current plastic and waste problem we have," Nilson said.
In order to accomplish this, Nilson creates lab challenges and projects that encourage her students to independently make sustainable choices in their own daily lives. She loves being able to take the creative liberty to adapt her lifestyle into an educational model, so she always completes her assignments alongside her students.
One of their latest endeavors is far beyond the classroom. Alongside other SAHS and SAMS students, the Sustainability students have joined the effort to save widely-loved Girty's Woods and preserve it for years to come.
The 155 acre area of woods is in danger of being sold to a developer, where the trees will then be removed and it will become another housing plan.
Working closely with the Allegheny Land Trust (ALT), a non-profit organization helping local people save local land, the students and community members involved have been hard at work to raise the necessary funds to restore the land.
Brian Wolovich, the founder of the Millvale Library and a community organizer in the area, explained the current situation.
"The current property owners made a deal to sell the property to the Allegheny Land Trust for permanent natural conservation, and there is one year to raise all of the funds," he said.
With the fundraising deadline of March 31, there is still about $90,000 to raise before reaching the full amount of $723,656. Wolovich expressed the importance of community involvement in the cause.
"Our community members have been focusing on educating people and organizations, encouraging people to come and visit the woods, and raising money," he said. "The Allegheny Land Trust set a goal for our local community to raise $40,000. So far we have raised $52,000 and have more events and efforts planned."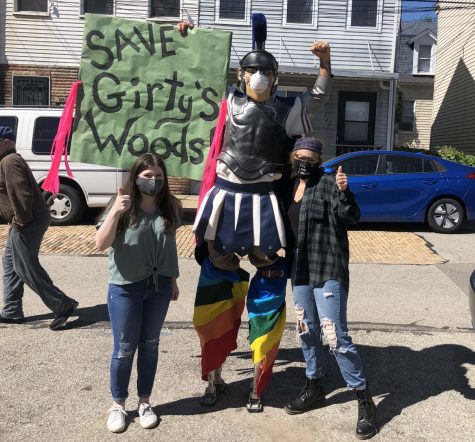 Wolovich specifically praised the efforts of willing students who have done their part to contribute to the cause.
"Students at SAHS and SAMS have been doing outstanding work learning about and visiting the woods, creating promotional and educational outreach materials, and raising money including at community events and a Spaghetti Dinner fundraiser," he said.
Mrs Nilson described her excitement in being a part of the project.
"It's a long term project that we want to continue to be a part of," Nilson said. "It's important and it's exciting to have this green space in our own district so we want to continue to use it."
Students have also expressed how they have done their part, and their excitement to contribute to this community effort.
"I love the Girty's Woods project because we're contributing to a local area," King said. "I have a little tree farm going on at my house right now and I plan on planting more trees because it's important to regrow the habitat for wildlife at Girty's woods."
Do you want to begin leading a more sustainable lifestyle or contributing to community campaigns? Mrs Nilson is always looking for more people to join the effort to impact the world positively.
"The more the merrier. We would love to have more people help out if they want to grow trees or make eco bricks," Nilson said. "They could just email me and we could set something up if there's interest, almost expand it into a club, even."
Until then, she has some valuable advice to offer for those looking to make a change:
"Be positive. Know that nobody is perfect. Just continue to try to do the right thing for our planet and to spread the word and encourage others to do the same in a positive way!"
Leave a Comment
About the Contributors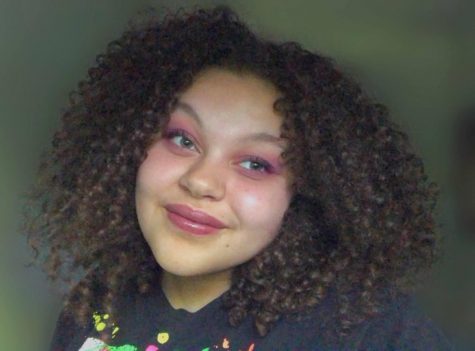 Alyssa Hillwig
Hi! I'm Alyssa Hillwig. I'm a senior, and this is my second year as part of The Oracle staff. You've probably seen me in the hallways and thought...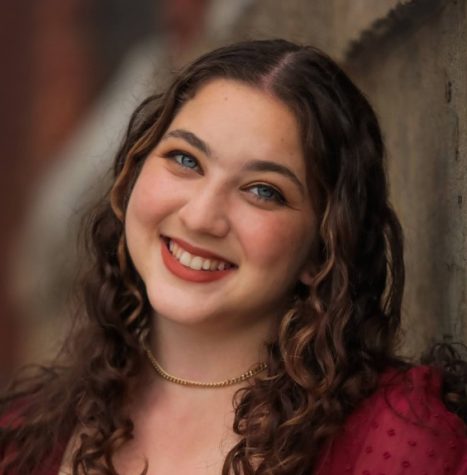 Rebecca Beckas
Hi, I'm Becca! I'm a senior and this is my second year being a part of The Oracle. I am a captain of the Shaler Area Dance Team, and when I'm not there,...