Stadelman steps down as girls volleyball coach
After four years on the sidelines, Mr. Paul Stadelman will no longer be the head coach of the Shaler Area girls volleyball team. The decision to no longer coach is Stadelman's for "personal reasons".
Stadelman was an assistant coach for the girls volleyball team from 2003 to 2013 before taking over as head coach in 2018. He was an assistant varsity coach for the boys volleyball team from 2004 until he became the head coach for the boys team in 2012. Stadelman will continue to coach the boys team.
"Coaching both the boys and girls programs and giving them both the time and attention needed to keep both operating at a high-level was starting to get to be too much and unfair to both programs," Stadelman said. "The girls and boys both deserve someone to run those programs full-time to maintain their level of success. I realized that I could no longer balance both programs along with other school responsibilities and that was unfair to the student athletes."
"
I loved coaching this group of girls. They are extremely successful and work hard. They do what they need to do to be one of the top programs in our school district…I am happy to have been a part of a historic girls volleyball team."
— Paul Stadelman
All coaches at Shaler Area sign a two-year contract when hired, and are then on a year-to-year contract each season after. Coaches are evaluated after every contract is up to see whether they should continue as coach or not. Stadelman signed three contracts (two-year contract in 2018, and then one-year contracts in 2020 and 2021) before deciding to leave the program.
No new coach has been named, and normal protocols will be followed to fill the opening. The vacant position will be posted on the district website and will be advertised. The Titans hope to have a new head coach named by February or March.
"I think that it is important to realize the level of commitment that Coach Stadelman maintained while coaching," assistant coach Mr. Rob Yarnot said. "He spent countless hours outside of actual matches and practices preparing, studying and planning for the season.
"As someone that has coached multiple sports throughout the district over the years, I can say that I was always impressed by Coach Stadelman's love of the game. He is a student of the game and is also one of the most knowledgeable individuals. Coach Stadelman takes pride in his preparation and in-game adjustments, both of which have created the best opportunities for the team to be successful against the best teams in the PIAA."
Stadelman took over a team that finished 6-12 in 2017, and finished 2018 with an 11-7 record that included an eight-match win streak and a WPIAL playoff berth.
Stadelman, Coach of the Year winner in 2018, made the WPIAL Playoffs all four years he coached and finished with a coaching record of 56-19. He is coming off back-to-back WPIAL Championship appearances. The last two seasons, the Titans finished with a combined record of 33-6. All six losses came against North Allegheny, winners of the last five Class 4A PIAA Championships and four of the last five Class 4A WPIAL Championships.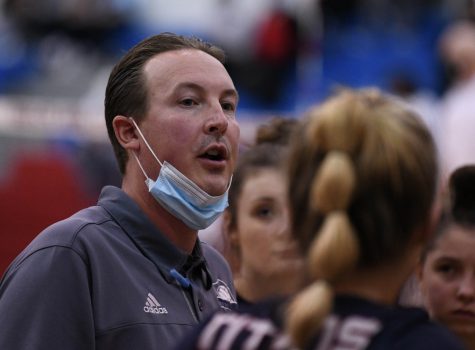 In 2021, the Titans won their first PIAA tournament match in program history and made the state semifinals for the first time in Shaler Area volleyball history, boys or girls. The Titans were co-section champions with North Allegheny last season.
"[Coach Stadelman] brought a wealth of experience and knowledge to a team that had a tremendous amount of talent and he was able to mold that into a winning recipe," athletic director Mr. Clint Rauscher said. "He has achieved more than any other girls volleyball coach in Shaler Area history, and he and his team came within a fraction of dethroning the strongest, most accomplished girls volleyball program in PA history, North Allegheny, this year."
Stadelman reflected on his time as coach by realizing the love he had for his players and his gratitude for being a part of the program for four years.
"I loved coaching this group of girls. They are extremely successful and work hard. They do what they need to do to be one of the top programs in our school district and a top girls volleyball program in our region and I am confident that will continue," Stadelman said. "I am happy to have been a part of a historic girls volleyball team, especially as we reflect on our district's 50th anniversary. It is a great feeling to be part of something that has never happened in 50 years. This community was excited about volleyball and our program here and I felt privileged to have that experience and opportunity."
For girls that played for him over the last four years, this news of his departure comes with sadness because of what he meant to his teams.
"We were all so lucky to have Mr. Stadelman as our coach, especially us seniors who had him for the past four years," senior Tia Bozzo said. "He set a tone for the program, and there is no doubt that he was a huge part of our success over the past couple of years. His constant guidance and support made us all better players. He taught us all the values of hard work and dedication and made the sport we all love fun. He gave so much time and energy to the program, and not only coached us about the game, but made sure we knew the value of the community we play for."
The success he and his team's have achieved will be hard to replicate, but the example he has set is one that live on in his players even if he is not coaching them.
"
We all loved and respected Mr. Stadleman as our coach, and we are all better players and people because of him."
— Tia Bozzo
"Overall, I believe that Coach Stadelman provided a wealth of knowledge, a strict, but fair, level of accountability and expectation and a deep, emotional commitment to the individual players, coaches and the program," Yarnot said. "It is impossible to ignore the success that the team has had both on and off of the court. While his resignation is a loss for the program, I am confident that the players can continue to own the culture that has been created and the program will continue to thrive for years to come."
Bozzo echoed those sentiments, and included the impact Stadelman had on his players' admiration for Shaler Area.
"We all have an appreciation for our school and community thanks to Coach Stadelman," Bozzo said. "He made volleyball a competitive outlet where we could have fun, work hard, and be together. He was our coach, mentor, and biggest support system. He rallied the community behind us and provided us with every opportunity to succeed. We all loved and respected Mr. Stadleman as our coach, and we are all better players and people because of him."
Leave a Comment
About the Contributor
Dominic DiTommaso
Dominic DiTommaso is an award-winning sports writer and columnist for The Oracle at Shaler Area High School. He first started writing sports columns for...