Titan wrestlers experience team and individual success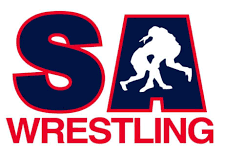 In the face of many challenges, both COVID-related and not, the Titan wrestling team exceeded expectations this year, attaining an 8-7 record and sending five athletes to WPIALs.
Coach Drew D'Agostino is proud of his team's accomplishments this season.
"We had multiple wrestlers step up at different times to aid in the success of the season," he said. "The athletes worked hard and were rewarded at the end of the season by qualifying for the WPIAL tournament."
The five who qualified for WPIALs were Ethan Gross, Nevio DeLeonibus, Callum Montgomery, Michael Ulrey, and Mason DiBon.
While Coach D'Agostino did note that "the standard for the program is to send closer to 10 wrestlers to the postseason," he also made it clear that the team's success this season is nothing to be scoffed at. The Titans haven't achieved this many wins, nor have they sent this many wrestlers to WPIALs, since the 2017-2018 season.
DiBon, one of the aforementioned WPIAL qualifiers, was glad he got to end his wrestling career at Shaler on a high note.
"8-7 from only winning once in the last two years…It was a good season," he said.
D'Agostino said that recent winning trends and developments on all levels of Shaler wrestling, along with a good-looking roster for the varsity team for the 2022-2023 season, has him optimistic about the seasons to come.
"The wrestling team is on the upswing with the Middle School and Elementary programs having success," he said. "Shaler has a long history of success in wrestling…With the success this year, we are looking forward to greater success in the future."