Teachers recall Halloween costumes from the past
Everyone has a favorite Halloween memory, whether it's trick or treating in their childhood, their favorite costume, or their favorite candy, almost everyone has something to remember from Halloween, even our very own teachers here at Shaler Area.

Mrs. Anne Loudon, AP Language and Composition and Honors World Literature teacher, talked about how much costumes have evolved from when she was a kid. 
"Plastic/vinyl Halloween costumes were all the rage. Children would wear masks as their favorite cartoon characters or superheroes. The masks were plastic, had eyeholes, nostril holes, and a tiny slit for the mouth. They were very hard to breathe in and usually by the end of the night were filled with condensation," she said.

But not everyone bought costumes.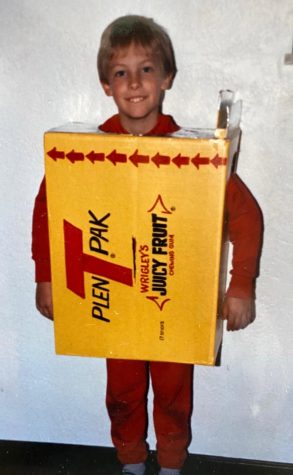 Mr. Paul Stadelman, rather than buying a costume, got creative. 
"I remember making this costume for Halloween one year with yellow wrapping paper, red marker, and aluminum foil out of an old box. Low budget operation for sure."
He reported it being difficult to walk up and down steps while trick-or-treating. This cut down on the amount of candy that he was able to collect, so he made sure that he didn't create any more costumes that would limit the amount of candy again.
Mr. Jason Pirring, Honors and Regular Civics and Government teacher, seemed to influence Halloween night in 1995 a little more than planned. He was 13 years old and wanted to go as Santa Claus for Halloween. He told me his parents laughed but helped him get the costume.

"It snowed over an inch that night! Everyone was blaming me, 'Santa', for the snowstorm and telling me to go back to the North Pole. People handing out candy, adults walking around trick-or-treating with their kids, even kids all said, 'why did you make it snow?'" 
He thought it was funny and was pretty sure a lot of the kids thought he was the real Santa Claus.

Mrs. Kristen Barie, one of the Latin teachers here at the high school, said that her favorite costume from her childhood was when she went as a Hershey Kiss. Mr. Tim Taylor, at the beginning of his teaching at Shaler Area, dressed as Napoleon Dynamite. 
Mr. Eric Schott didn't have any costumes from his childhood to share, but several years ago his family did a family costume, featuring Mr. Schott as the Joker, and his sons as Batman and Robin.
Halloween comes with much fanfare and even teachers enjoy, or used to enjoy, dressing up to celebrate the fan-favorite holiday that is Halloween.