SAMS celebrates Veterans Day with annual breakfast & program
Every year around Veterans Day, Shaler Area Middle School hosts a breakfast and program for about 300 local veterans and their families. The celebration has been going on for 15 years. The two-hour celebration consists of coffee, breakfast, performances from the choir and speeches from administration and students.
This year, about 200 veterans attended the breakfast, a pretty good turn out considering the breakfast has not occurred for the past couple of years because of the pandemic. Last year, the breakfast was put on the back burner and a drive through celebration for the veterans replaced it. Veterans would drive by in their cars as students held up flags and signs to thank them for their service as well as offering coffee and donuts.
"It was so great to see everyone after two years," Mrs. Merit McDaniel, organizer and middle school teacher, said.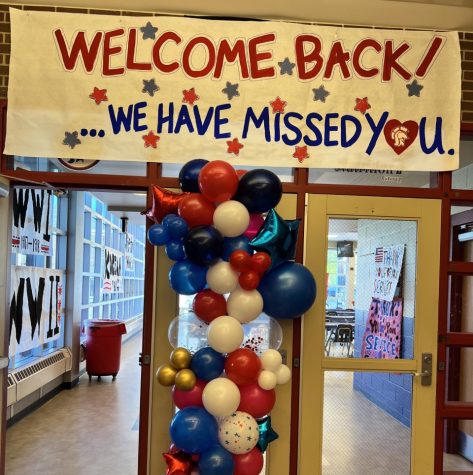 Students were involved in serving breakfast, singing songs and writing essays to read to the veterans.  An essay contest put out to the entire school prompted students  to write an essay on what freedom means to them. There were many wonderful essays, but only two were chosen.  Winners of the essay contest were honored in reading their essays in front of the veterans as they enjoyed their breakfast.
KDKA-TV also attended the breakfast and interviewed Veterans and students about the breakfast. They recorded students sitting down with Veterans as they told them stories about their experiences in combat.
"The thing that I like about it is that these youngsters are learning about this history because so much of this has been forgotten by our school system," Joanne McVay, attende of the breakfast, said.
The veterans and their families enjoyed the breakfast and being able to spend time with other veterans while sharing their stories with students. Many veterans proudly wore their uniforms, jackets, medals and hats that they received in their time of duty. The 7th and 8th grade chorus performed the Marches of the Armed Forces song. The chorus sang each branch of the military's song as the veterans stood up to be honored for the branch that they served in.
"It totally brings tears to my eyes because they are so proud," Mrs. Merrit McDaniel said.