Hockey legend Bryan Trottier discusses life on and off the ice
Trottier won 6 Stanley Cups as a player — 4 with NY Islanders and 2 with Pittsburgh Penguins
There are very few players in the hockey world as accomplished as Bryan Trottier. His resume includes six Stanley Cups, the Hart Trophy (MVP), the Calder Trophy (Rookie of the Year), the Conn Smythe Trophy (playoff MVP), and the Art Ross Trophy (most points in a season). All these accomplishments in his illustrious playing career led to his being  inducted into the Hockey Hall of Fame in 1997.
Trottier started his career playing for the New York Islanders where he would go on to win four consecutive Stanley Cups in large part due to his elite two-way hockey. In 1983 Trottier and his Islanders teammates swept the Wayne-Gretzky-led Edmonton Oilers in the Stanley Cup Finals to achieve their 4th consecutive championship.
He was famously the center of the "Trio Grande" line alongside two more Hall of Famers in Clark Gillies and Mike Bossy. Bossy was a goal-scoring machine that provided the offensive firepower that drove those Islanders teams.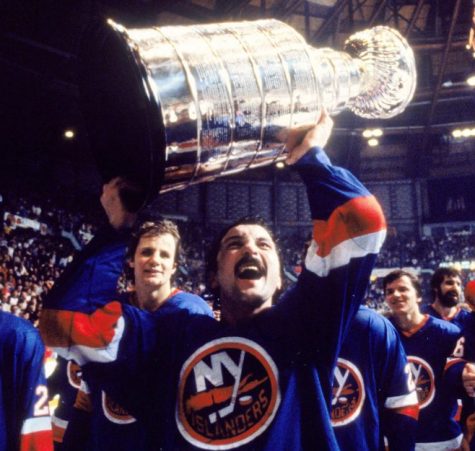 "I played 10 years with Mike and nine of those were pretty impressive. It's hard for me to think of anybody who could score goals like Mike Bossy. In the era of clutching and grabbing and a lot of interference, Mike fought through it," Trottier said. "Mike could score in all different types of ways: breakaways, one-timers, backhands, front of the net, rebounds, five hole, slapshot off the wall. He was an impressive, impressive goal scorer. In my mind, there is no greater goal scorer than Mike Bossy."
After the Islanders dynasty came to an end, Bossy retired and Trottier was let go. He signed with the Pittsburgh Penguins in free agency in order to provide some championship winning experience to such a young team.  A major factor in him signing with the Penguins was the lure of being able to play with Mario Lemieux. Trottier was blown away by Lemieux's abilities on and off the ice, especially considering the injuries and health issues Lemieux dealt with.
"There's countless times where Mario was hardly able to walk, but then he'd go on the ice and score three goals and do it all over the next day. He was an impressive human being as far as pain threshold," Trottier said. "If he had been healthy, who knows what type of numbers he would have put up. He put fear in the other team with his big man presence. For me Mario was always the best player on the ice especially in the big games. He has the innate ability of leadership and has an inspiring presence that brings out only the best in everybody else."
Trottier's championship winning acumen added to Pittsburgh's unparalleled strength at center where their depth chart listed three Hall of Famers: Lemieux, Ron Francis and Trottier. To complement these centers, the Penguins had the likes of Rick Tocchet, Kevin Stevens, Mark Recchi and Jaromir Jagr on the wings to create a lethal attack.
"Mario and Jaromir in the '92 Cup final put the fear of god in Chicago because no one could stop them. In my mind Mario is right there with Bobby Orr as my all time greatest player to ever play the game. I could talk all day about Mario," Trottier said.
These Penguin teams were also loaded with talent on defense and at goalie. Paul Coffey and Larry Murphy, both Hall of Famers, were stalwarts on the blue line while Tom Barasso helped keep Penguins opponents off the scoreboard. Based on Bryan's description of what makes a championship winning hockey team, it's no wonder this Penguins team won back to back cups.
"
In my mind Mario is right there with Bobby Orr as my all time greatest player to ever play the game. I could talk all day about Mario.
— Bryan Trottier
"Great teams have goal-tending, staying healthy, your best players have to perform, your depth has to contribute, and your special teams have to be great. There's no secret. Those are the biggest keys, and the teams that find ways to do all of those things win," he said.
After winning six Stanley cups during his playing career, Trottier transitioned to the world of coaching. Luckily for him, he played for some of the most successful coaches in NHL history including Al Arbour, Bob Johnson and Scotty Bowman. From them he picked up the principles of coaching he thought were most important to success.
"I've learned that the greatest coaches are the ones that communicate best, have really good command of their benches, and their bench coaching as far as line-matching, and finding and playing the hot hand. And making sure that everybody is dialed in."
After leaving the Penguins and coaching in the minor leagues, Trottier joined the Colorado Avalanche in 2000 as an assistant coach. The GM promised him that Colorado was building a Stanley Cup team, and he was right. With Hall of Fame players like Joe Sakic, Ray Borque and Patrick Roy, the Avalanche went on to win the 2001 Stanley Cup with Trottier behind the bench.
"As a coach the preparation is the same. I prepare the same way for the opposition: what's their strength, how are they gonna defend and attack. The satisfying aspect of coaching is maximizing your players abilities and making them feel like they have tremendous value. You have to delegate more as a coach, but part of being a coach is trusting your players to get it done."
After he got out of coaching, he has stepped into the field of the various NHL alumni associations. He currently works with Penguins alumni, a job in which he doesn't plan on leaving anytime soon.
"The best part of my job is that I'm an ambassador of the game of hockey. I represent the sport, the Penguins, and obviously the NHL. Our job is to support the Penguins, support the community, and support charitable events. Being able to be involved in all of the events makes it for me. It's been a wonderful role."
Being in and around the game for 40 years, Trottier has seen the game change in many ways, but he's no curmudgeon. In fact, he is a huge proponent of the skillful and more analytical direction the game has gone in recently.
"It's for the better. Any kind of rule change that brings the skill of the game is always great," he said. "The athleticism, the nutrition, the training, and even the coaching has improved so much. There's no rock that's unturned, and I think it's all for the better.
Although Trottier is a hockey legend, he is far from just a hockey guy. He has been surrounded by music his whole life as his father was part-time farmer, part-time touring musician across the prairies of Canada. Since adolescence, Bryan has been playing the bass in his family band, and these days he's still quite the blues singer who can get any crowd on their feet with a few of his favorite songs.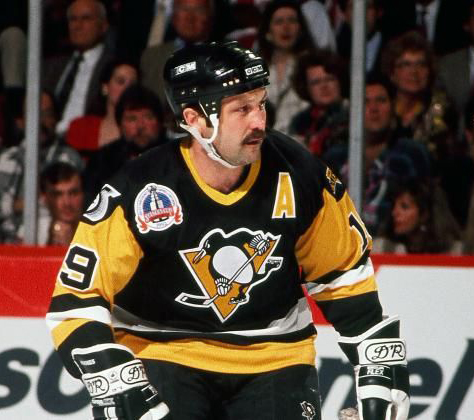 "There's a few staples. Everybody loves Folsom Prison Blues by Johnny Cash. It's a good foot stomper, it's up-tempo, and everybody knows it. Merle Haggard has Working Man Blues, and there's Good-Hearted Woman by Willie Nelson. They're just up-beat songs that really get the crowd stomping. Those are the three go-tos that I would start with because everybody knows those songs; they're classics. They're recognizable, they're timeless, and I'll tell you musicians love to play those songs."
Not only can he sing, he is also an avid writer, an activity he's been doing since his high school days. Whether it be writing down line combinations as a coach or writing a chorus, Trottier prides himself on his penmanship. Not wanting to keep all of his stories to himself, he recently took on the task of writing his own book.
"I write all the time, even as an assistant coach I took notes and wrote to improve my communication skills. Writing has always been a big part of my life. I write songs. I write little jingles for the grandkids and stuff."
His memoir, "All Roads Home", is now available. It was a writing journey that he was happy to take.
"It's wonderful to be able to reflect and go back."
Leave a Comment
About the Contributor
Joey Duty
Hey, my name is Joey Duty and I'm a senior who's a member of the track, cross country, and inline hockey teams. While in school I enjoy studying Japanese...