Three Titans teams at top of WPIAL rankings
It is great for Shaler Area when you have a team that is at the top of its section, but what if you have three teams in the same season leading the way? The Shaler Area baseball, boys volleyball, and softball teams are all having amazing seasons dominating opponents.
The Shaler Area baseball team entered the season with high hopes. They returned eight of nine starters from last year's team that lost in the WPIAL quarterfinals. The Titans would come into the season ranked 2nd in 5A. 
The Titans have lived up to the expectations midway through the season. Right now, they have a 10-3 regular-season record. They kicked off their season with non-section play against some strong teams. Some of their notable wins in non-section play were against defending 6A WPIAL champions Mt. Lebanon and back-to-back PIAA State Champions Bethel Park.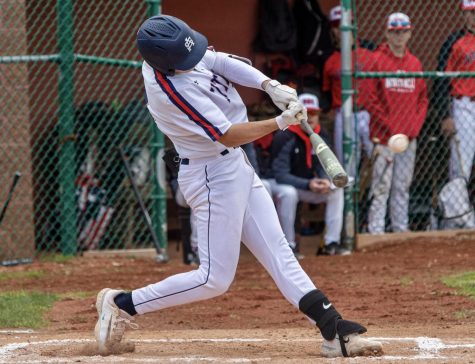 "My favorite game of the year so far has to be Bethel Park. It does not carry much significance from a record standpoint. However, it was a huge victory mentally. For one reason, it always feels good to beat a team during the regular season that you have a chance of meeting in the finals. Also, it served as a little revenge game for the seniors from when they knocked us out of the playoffs two years ago," senior catcher Tristan Holland said.
The Titans are currently tied for 1st place in the section with a 5-1 in section play. They started off with a two-game series against the Moon Tigers. The Titans would go on to beat the Tigers 4-0 and 23-6. The next week they took on the New Castle Red Hurricane. The Titans would also sweep New Castle with scores of 11-1 and 11-0. Next series the Titans would split with the West Allegheny Indians. They would win the first game 6-1 but go on to lose 4-3 in the next game. 
"Going forward, the goal is to stay together as a team and grow. We know how good we are, but more importantly know how good we can be. We are going to become the best team we possibly can in all aspects of the game, mental or physical. We know we can win, but it will take every one of us giving everything that we have," Holland said.
Boys volleyball also entered the season with high expectations. They were ranked as the number 9 team in the country and the best team in the Northeast region. Those expectations can be hard to live up to, and yet they've done it and then some. 
The boys are 7-0 in the regular season and have also won 2 tournaments early on. 
This success has been no surprise to Senior Captain Joey Gannon.
"We've put in so much hard work and effort that we know this is exactly how we should be performing," Gannon said.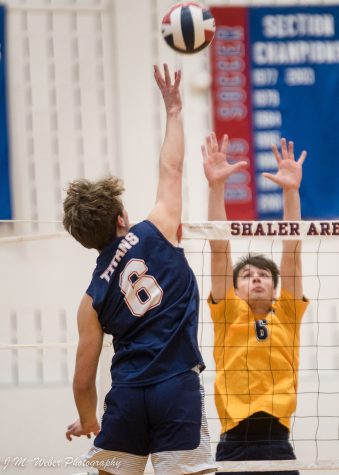 The season started at the Meadville Tournament, and the Titans had their chance to prove they were worthy of their ranking. They certainly did that by winning the tournament and then going to Penn Trafford and beating the Warriors on the road. 
They beat North Allegheny for the first time in 16 years on March 30 by a score of 3-1. Then, in the Derry Tournament Championship, they doubled down and beat NA again. The boys are only getting better, and haven't dropped a set since that victory vs NA.
"We now know we can take on some of the best teams in the WPIAL and come out on top, which only makes us want to keep playing and performing the way we are now," Gannon said.
The Titans have been the most dominant team in the WPIAL so far this season. They've won 44 of the 48 sets they've played. Their set record of 44-4 has led them to first place in the section and the top team in 5A.
"We need to keep working hard during practice every day and treat every game the same so that we don't fall off and allow other teams to reach our level of play. If we're able to do that I think we'll be able to stay this dominant all the way until the end of the season," Gannon said.
Along with the boys volleyball team, the softball team has also posted an undefeated season, winning each game by at least three runs. The team is 13-0 to start the season and 7-0 in section play. They are first in 5A and are ranked first in the Softball Trib 10. So far, they have tallied 137 runs, while only allowing 27 for a run differential of +110.
The Titans' explosive offense, combined with stout pitching, have propelled them to an outstanding start. Among the team's wins was a 14-4 blowout victory against North Allegheny.
"This game showed us that our hard work was paying off," senior Eloise Facher said. "Coach Tom Sorce and Coach Kevin Keenan are always there pushing us to be better than we were yesterday."
Facher and senior Bethany Rodman have led a collective effort that has led to softball's red-hot start.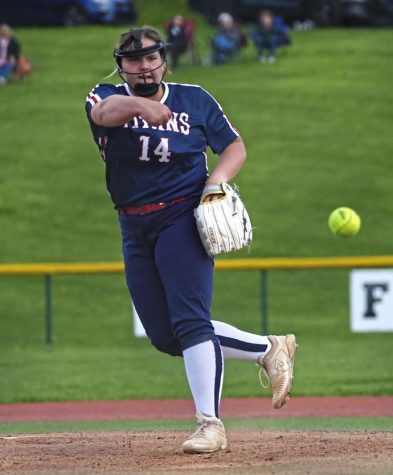 "There hasn't been one individual person who has helped the team see success. Whenever we need someone to step up, someone steps up," Facher said.
Once section play began, the Titans have not relented. Their best win in section play thus far was a 10-2 rout of North Hills Indians (9-1), ranked sixth in the Softball Trib 10. That victory handed the Indians their first and only loss of the season.
"We started off strong against an awesome team and came out on top. We knew this was a great team win when every inning there was cheering, smiling, and laughing. Everyone had their head in the game to be able to secure that win," freshman Alyssa Schaffold said.
Rodman and Facher lead the team in home runs with eight and six, respectively, and as the second round of section play starts up, the team has all the tools necessary to make a deep run in the playoffs.
"Our line up from top to bottom has power, speed, and strategy. With our team hitting more than 20 home-runs, we have been able to score big. Along with our pitching, we control the game," Schaffold said. "Bethany and Bria are an amazing duo splitting games and keeping the other team on their toes. Our team has great chemistry on the field which makes us a strong team."
Leave a Comment