Welcome to our third iteration of the Shaler teacher feature! This week, we interviewed science teaching extraordinaire Mr. Tim Taylor.
Q: Best concert you've been to?
A: When I was 16 I went to see Nine Inch Nails and David Bowie in Camden, New Jersey, and that's crazy if you don't know anything about those groups. So we went in my friends mom's station wagon and we go there and he's like, 'hey just make sure you don't mess up the car,' and we go but it rained. It was an outdoor concert sorta like Starlake so we had lawn seats. It was super muddy, super wet and people started running and sliding down the hill since it was a slight grade making it a mudslide. So my friend James and I are like, 'that's awesome, let's do it,' and we got head to toe covered in mud. Just ruined. We went back to my friend's Station Wagon and he was like, 'uh-uh you're not riding in this thing,' and he had a tarp in the back so he had to unroll this tarp and we had to sit on this tarp the whole way home and he just cussed us out the whole way home from Philly which was an hour drive. So that was probably the best concert I've been to. 
Q: What would you say is your fattest moment?
A: Probably during the pandemic because I sat on the computer and I was eating all the time and my wife and I went out and bought all this food thinking that the world was going to end so we got all sorts of frozen unhealthy food that would last forever and when the world didn't end somebody had to eat it. So we were just like 'well I guess we're eating all these frozen chicken nuggets'. I ate horribly and I didn't get enough exercise since I was sitting all day on my computer and you know I probably gained a good 15 or 20 pounds which I'm still trying to lose. Pay attention to this cause by the end of the year my goal is to lose all the weight. I have already lost 10 pounds so I gotta lose 10 more to get back to my normal level of fatness. 
Q: What would you say is your favorite student slang, and can you use it in a sentence? 
A: I think my favorite student slang is gas, like that's gas. For example 'wow nice iPad that's gas'.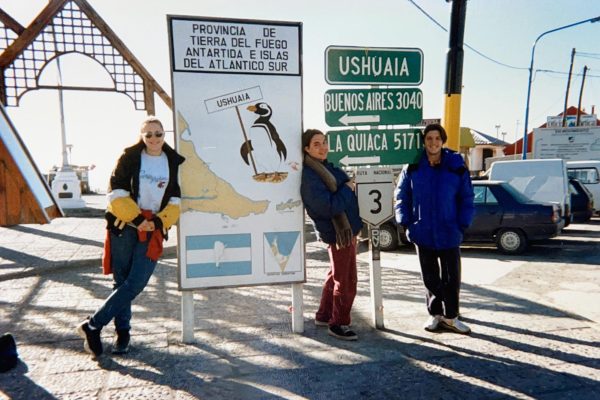 Q: Craziest place you've been?
A: When I was a high school student I did an exchange with the rotary club and I did an international exchange where I lived in Argentina. I got sent all the way down to Tierra Del Fuego which is as far south in South America as you can go and they call it 'El Fin Del Mundo'  which is Spanish for the end of the world. I lived at the end of the world for a year and it was like the Alaska of South America.  It was crazy cold, crazy windy, it was like a cold desert so it was super dry. Literally there were more sheep that lived on this island than people so we were outnumbered by the sheep. I lived in a city, but then we went out on this camping trip and I've never done this before. Where we camped we went to the top of this hill and looked out and for miles you could see zero people. It's the only time I've ever been completely isolated, there was no smoke and no roads. We had to take ATV's to get there since there was no civilization whatsoever. It made me think about how insanely big the earth was. 
Q: What was the most irresponsible purchase you've ever made?
A: When I was 17, I pulled into my bank to go to the ATM, but this guy goes 'hey, you want some speakers?'. And I was like what? And he insists on me buying these speakers, and he ends up selling me this set of big 4 foot tall house speakers out of the back of a white van. I was so naive where I didn't really think much about it I just thought wow this is a great deal and I bought them. They were fine but I realized that they were probably stolen or total bootlegs because I was 17 and didn't know any better. When my friends asked where I got them I said 'ummm some guy at the bank had them in the back of a van' and they called me an idiot because, y'know, why would you do that. I probably dropped 300 dollars on them which in 1995 was a fortune. Growing up in Philly, I'm usually really good at spotting a scam, but that was like my one moment of weakness. 
Q:  What was the first car you bought?
A: My first car was a 1983 Pontiac 6000 which if you look it up is an absolute garbage vehicle. Its name was Big Blue. It came with that name since it was a big blue car and it was ugly as sin. The way I ended up buying it was that I saved up my money from my job when I was a Junior and my mom goes 'hey this lady I work with has her daughter selling her car. You should buy it.' So we went and looked at it and they wanted 500 bucks for it, and this thing was absolute garbage. It's a 6 cylinder that was running on 4 of the 6 cylinders because when you were driving it made a 'put put put' noise, like it didn't go smoothly. When you got into the car, y'know how there's like fabric up on the ceiling? Well the fabric had fallen down as the previous owner had just ripped it out and underneath was this foam adhesive so she and all her friends just had carved their names in it. The ceiling looked like a cave people had done graffiti on and so when I got in I was like what is this? My mom's friend said it would be awesome if my friends signed their names in it too; it was not awesome. Everyone I knew signed their name to it, but then this adhesive would crumble and fall off so I always had little pieces of adhesive on my clothes and in my hair back when I had hair. I hated that car; the muffler fell off a month after I bought it, the radiator broke a month after I bought it, everything broke on it and I was constantly fixing it. Didn't even have it for a year; it was terrible. Worst car I have ever owned hands down.
Q: What tunes have you been listening to recently?
A: I've been listening to this really weird indie band called 'Dry Cleaning' and I really like their stuff. It's bizarre and you'll probably think I'm a weirdo for mentioning them but I absolutely love it. They have a lot of really good songs but there's this one they have called 'Scratchcard Lanyard' that I love.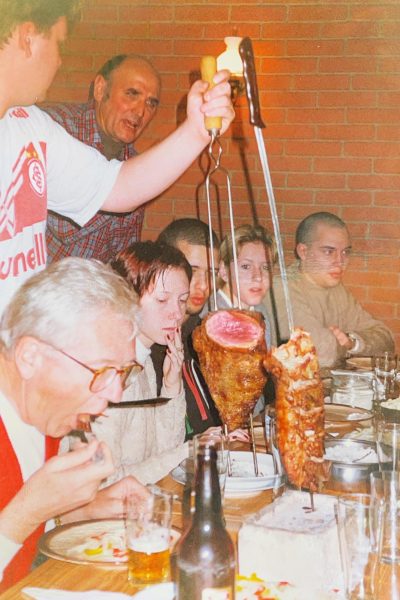 Q: What is Tim Taylor doing if he has one night with no responsibilities?
A: *sighs* This has happened a couple of times and honestly I suffer from such bad decision paralysis because I never have time off. I'm always doing school stuff or running my kids around some place or being a husband that fixes his house or car or something. I honestly don't know what to do with myself. It's happened a couple of times and I just kinda sit there and there are a thousand things that I've been putting off doing that I want to do but I can't pull the trigger on any of them so I end up watching tv and then I have instant regret afterwards. It's a few hours of wasted free time followed by weeks of regret. 
Q: What would you want your last meal to be? 
A: Honestly the best thing I ever ate in my whole life was in Argentina. They eat tons and tons of meat and they have this stuff called Asado. If you've ever been to a Brazilian steak house it's kind of like that, it's just meat on meat on meat. You end up getting meat sweats, then you eat more meat; it's just obscene. But if I had a last meal it would just end up being that because it's so incredible, and you can go to a Brazilian steakhouse here in the US and it's fine but for whatever reason in South America it is off the hook. 
Q: What would you say is the biggest difference between people in Eastern and Western Pennsylvania?
A: Obviously it's hard to generalize a huge population of people, but in eastern PA life is a lot faster so people drive faster, talk faster, they have less patience and they're more pushy. Meanwhile western PA is more chill and laid back, y'know the stereotype of east coast versus west coast when talking about the whole country? Pennsylvania is kind of like a microcosm of that. Not to say we're like Californians, but people here are more likely to stop and have a conversation with you. In eastern PA is like, 'gotta go, gotta go, oh hey nice to see you, oh gotta go,' and that's why I like living here. I grew up in eastern PA but I'm definitely a western PA person by choice. 
Q: What's the hardest you've celebrated after your team won?
A: I think the hardest I've ever celebrated was when the Eagles won the Super Bowl. It was Super Bowl 52 back in 2018.  My life is very strange, I just want to throw that out there to preface this. My father-in-law who I was very close with had just been diagnosed with stage 4 lung cancer and we found out a month before the Super Bowl. So we started getting together with him since he couldn't really go out and do much of anything since he was getting treatments, but we would go over to his house and watch all the playoff games. For the Super Bowl I asked him if we could come over and he was on board so we made all this food and my whole family was there. My kids are Philadelphia fans but my wife doesn't care. I'm a huge Eagles fan but my in-laws are not. They're western PA people so they're huge Steelers fans, but they were like 'let's do it'. When the Eagles won we were over the moon, but because there are like no other Eagles fans around me, and because my father-in-law was going through cancer treatments, we just stayed home. It was wild; I never thought it would happen in my lifetime since they've been so bad for so long. Same thing happened when the Phillies won the World Series. I never thought I was gonna live to see a World Series victory.  I know it's pretty tame but it was very poignant to see my father-in-law who's a Steelers fan so happy to see the Eagles win, and it was really cool to go nuts together. It was amazing.