Forty-three years ago, the Shaler Area Titan baseball team won the 1980 state championship under legendary coach Jerry Matulevic. Ever since his hiring, current Shaler Area baseball head coach Brian Junker had aspired to do the same. He knew it would not be easy. Not every team can win a state championship, and to do so, it would take a lot of work.
"This was my 14th year, and I always tell the kids, my family, and my campers at camp that we failed 13 times. I grew up and went to Shaler, and for 39 years I was hearing about the 1980 state championship team, which I love to hear about; I know every story," Coach Junker said.
Led by Tribune Review and Post-Gazette Player of the Year Miguel Hugas, the Titans finished the season with a 23-4 record, but it was not just one player that was critical to the team's success. Everyone played a part in the championship runs, even a player who graduated the previous year.
"It wasn't all about Miguel. Honesty, it kind of started before him with Bryan Rincon. He was one of the best players that I've ever seen," Coach Junker said. "And then, to have him have the work ethic like he did, I thought all the players saw that, and they decided they had to work a lot harder. Sure, Miguel was a big part of that, but ultimately it came down to the 18 to 20 guys that we had on that run."
That run was special, but it was not without its setbacks. The Titans lost a few key junior players to injury during the season. Outfielder and pitcher Chase Beran, third baseman Alex Venezia, and shortstop Brady McGuire all went down with injuries, but the team did not let that derail its season.
"We didn't want those setbacks, but adversity only makes you stronger. We went down to West Virginia and played a team that we should have been competitive against. We lost 9-0. After that, we won 11 straight games. That's how champions respond," Coach Junker said.
That response by the Titans helped carry them all the way to the WPIAL championship game against two-time defending state champions Bethel Park. They had beaten the Blackhawks earlier in the season 5-2, but there is always that extra pressure to win a championship. Because, as much as you could tell yourself otherwise, it is not like any other game.
"I get chills just thinking about it because it's not like the WPIAL was any easier than the states. We had to go up against a defending state champion, and to be honest, nobody thought we could beat them except the guys in our dugout," Coach Junker said. "So to go in there and to be clicking on all cylinders, it was almost an out of body experience for some of the players."
In an absolutely out-of-this-world performance by the Titans, they secured their first WPIAL title since 2019. They clobbered Bethel Park 10-1 in a showing for the ages at Wild Things Park in Washington, PA. That complete win left the team with an even greater goal in mind: winning the state championship.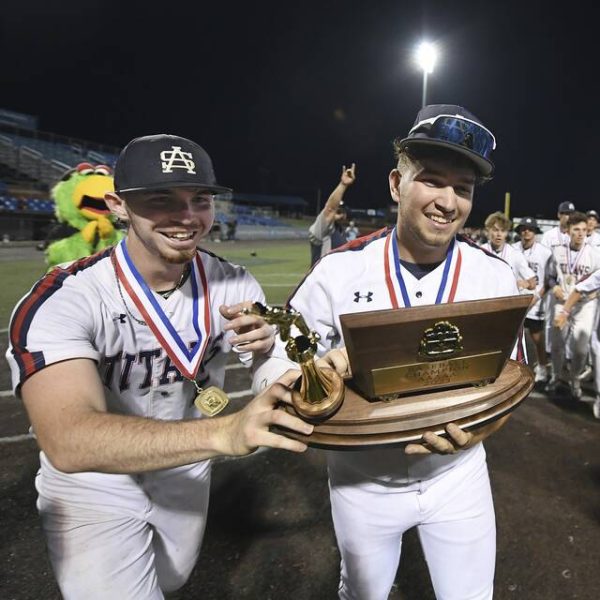 The WPIAL and state playoffs saw several players step up. Miguel Hugas showed why he was recruited to play baseball at Alabama, and others played their best when the stakes were highest.
"We've seen people step up like Luke Jarzynka in [the WPIAL Championship] game who were playing way better than they ever have before. And, that's not easy, especially on the biggest stage. It was like they needed the big stage to break through. Connor Hamrick hit like .700 in the WPIAL playoffs and then continued that into states," Coach Junker said.
The state playoffs went relatively smoothly. While the team took some dominant victories on their way to Penn State, there was nothing quite like the pressure of playing for your season every game. It all culminated in one of the most thrilling state championship games in PIAA history.
"I rewatched that game a couple of times since, and you almost don't even remember because you're so locked in how poorly we played the first five innings," Coach Junker said.
It was quite the struggle for this Titans team, but they did not blink. Staring down a five-run deficit, some would say it was impossible to come back. Despite that, the dugout never thought they were out of it. They were right.
In the bottom of the sixth inning, Shaler Area was down 8-3 to Strath Haven. Luke Jarzynka got on base and was caught stealing second, but that did not faze Miguel Hugas.
"And what happened next was pretty amazing. I remember thinking to myself, one out in the sixth and we're down five," Coach Junker said. "I look in and Miguel's at the plate, and he jokingly flashes a bunt sign at me like, 'Coach, should I bunt?' I just sort of laughed at him, and he winked and he laughed. And then, he hit the next pitch out of the ballpark and the bench went crazy."
Hugas' second towering home run of the game made the score 8-4 and started the Titans' rally in the bottom of the sixth inning.
"I felt really good because we were losing and I felt like it gave us more energy to win that game," senior pitcher and outfielder Miguel Hugas said.
Following Hugas' home run, Max Saban, Derek Leas, and Ben Yeckel reached base, Connor Hamrick hit a two-run single, and Brady Alexander hit a clutch two-run triple to tie the game at 8-8.
"It felt amazing, especially coming back from a big deficit and seeing everyone pumped up and going crazy," junior outfielder Brady Alexander said.
Following a dramatic, yet scoreless seventh inning, Leas returned to pitch after Colby Weber relieved him to send the state championship to extras.
Then, Leas led off the bottom of the eighth with a single and Logan Bauer replaced Leas as a courtesy runner. A passed ball allowed Bauer to move to second, and Strath Haven intentionally walked Ben Yeckel. Following that, Hamrick stepped up to the plate and delivered an at-bat that almost everyone dreams of as a little kid. With runners on first and second and no outs, Hamrick singled up the middle to drive home the winning run and immortalize himself as a Shaler Area legend. He went four for five with four RBIs in a 9-8 Titan victory. For the first time in 43 years, the Shaler Area baseball team was a state champion.
The support from the other state finalists was a major inspiration for the team's pursuit of the state title. The three were all very involved with each other and made the effort to be there for their fellow players.
"If I knew that there was a big game coming up for volleyball, I would schedule the practice so they wouldn't be at the same time, because I know a lot of our baseball players wanted to go support the volleyball team. And then also the same thing with softball. I do know on many occasions that right after practice the guys were jumping in their cars and going to support those other teams," Coach Junker said.
Following the achievements of the three teams was a parade at the high school that garnered local media attention and put an exclamation point on all the teams' successes, but it especially showcased the baseball team, having won both the WPIAL and state championships.
"I remember being up at the field and I even walked to the end of the Matulevic fence to see if there were any people down there because, you know, we're human. What if nobody shows up? It'd be pretty weird. But, Shaler never disappoints. The community is always even better than you think. And then when we went through there, the crowd was amazing and much bigger than I ever expected. It sort of just shows you how tight this community is."
This past spring season, the baseball, softball, and boys volleyball teams reached the state championship game. It was an accomplishment unprecedented in PIAA history. At the front of the headlines was the baseball team, winning both the WPIAL and state championships in a season for the ages.