Following slow start, Titans able to make playoffs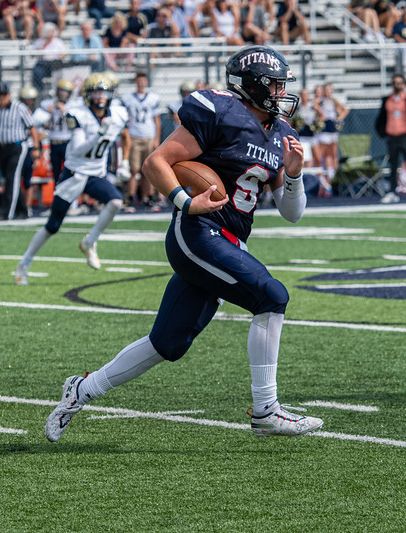 For the Shaler Area football team, it looked like another season was down and out after the first month, but things turned around pretty quickly.
The Titans began the year losing 34-27 at home to New Castle. They then got a 23-6 win over Kiski Area, but then lost two straight to Hampton, 31-28, and Bethel Park, 31-0.
After the 1-3 start, Shaler ended up going 4-6 and making the WPIAL playoffs for the second consecutive season which is saying something for the program.
Consider that starting with the 2012 season, Shaler Area's record each year was 0-9, 0-9, 0-9, 2-8, 0-10, and 0-10. That does not mean that the team was satisifed with this season.
"We had higher expectations," head coach Jim Ryan said, "but there were a lot of positives that came out of this season. A lot of progress was made."
Following starting 1-3, Shaler beat Franklin Regional 28-17 on our Homecoming, lost at Mars 34-20, beat Armstrong 46-13 at home. They then lost 43-14 to Penn Hills at home and at North Hills 19-12. They needed to beat Fox Chapel to have a chance to make the playoffs which they did, 27-20.
In the first-round playoff game against the number two-ranked Gateway Gators, the game was tied 14-14 in the second half, but Gateway blew open the game and ended up winning 35-21.
"We had to minimize our turnovers [in that game]. Especially given their tailback, you can't give them those turnovers," Ryan said. "We were, again, on bad field position, you can't play on a short field. Stuff like that will always hurt you against an opponent like Gateway."
Following the playoff game, it was announced that both Jake Miller (running back/inside linebacker) and Joey Impavido (wide receiver) were voted to first team of the Big 56 Athletic Conference.
Miller finished the season with 151 carries for 854 yards and 12 touchdowns, while catching 17 balls for 277 yards and three touchdowns. For his part, Impavido had 53 receptions for 739 yards and nine touchdowns.
Nevin Summerfield and Brandon Schweinberg (offensive tackle), Zach Valentine (defensive tackle), Ryan Thibault (defensive end), Shayn Skelley (defensive back), Darin Mizgorski (quarterback), and Blake Kucharski (wide receiver) were all selected for second team.
Mizgorski finished the season 133-247, 1,747 yards and 13 touchdowns. He carried the ball 88 times for 279 yards. Kucharski had 23 catches for 322 yards and a touchdown.