Don't write off Baker Mayfield, yet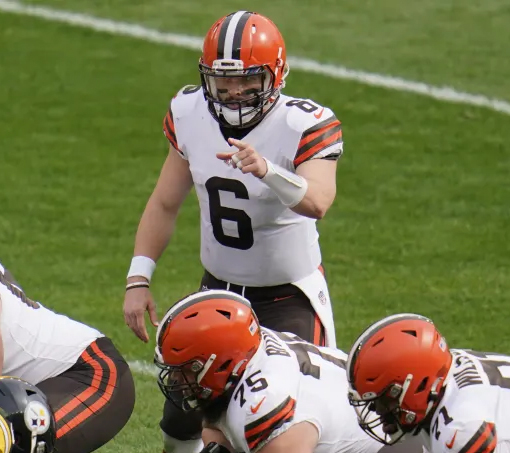 Perhaps the most memorable moment of Baker Mayfield's career has been kicking always-absent Amy out of his book club in a Progressive commercial.
Or maybe it's how he keeps up the Nissan Heisman House alongside fellow Heisman winners.
Or maybe it's when he puts his Baker Mayfield face on Not Baker Mayfield's body alongside Saquon Barkley and Not Saquon Barkley in a Hulu commercial.
Whichever it is, it has been better to watch than what Mayfield has given us to watch on the field the past few years.
Time to for Mayfield become a full-time spokesman? I don't think so.
Maybe I'm just a desperate Browns fan reaching for a glimmer of hope, but I still believe in Mayfield as much as I did on Draft night in 2018 when I predicted he would win a Super Bowl with Cleveland.
I was a massive fan of Mayfield's during his time with Oklahoma.
Why?
In 2015, Mayfield took Oklahoma all the way to the #4 ranked squad in the country and a spot in the College Football Playoffs. The next year, Mayfield finished third in the Heisman voting and won that year's Sugar Bowl over Auburn.
During his final year in college, Mayfield had maybe the greatest season a quarterback has ever had in college football history, posting a QBR of 92.3 and a passer rating of 198.9 while completing 71% of his passes. He beat Ohio State in Columbus 31-16, planted the flag, went on to win the Heisman Trophy and got Oklahoma in the college football playoffs again before barely losing to Georgia.
Mayfield displayed accuracy and a quick release, while using his legs when needed to get key first downs. His swagger and love of the game drew in teammates.
Mayfield was selected first overall in the NFL draft by Cleveland. He should have been the starter from the beginning, but he got his chance when stepped in for an injured Tyrod Taylor during a Week 3 and guided the Browns to their first win since 2016. With Mayfield at quarterback the Browns went 7-7 the rest of that season.
The following offseason, Mayfield was given a new weapon, Odell Beckham Jr., and the Browns were thought to be a Super Bowl contender. That's not all. Mayfield  was given the worst coach in football, Freddie Kitchens, and Mayfield was focused on getting Odell his touches, not the Browns wins. It was a recipe for disaster.
While I wasn't sold on Kevin Stefanski as the right guy for the head coaching job, I said this team would be able to win 10 games and possibly get a spot in the playoffs.
The first game of the season was a disaster, with Cleveland managing only 6 points while allowing 38 to rival Baltimore. After that loss, Cleveland won four straight games, scoring 150 — 150! — points in those four wins. One win came against an Indianapolis Colts team that many thought had the best defense in football.
Then came the Steelers game, where Mayfield was benched in the third quarter, but that one is not on Mayfield, who played with injured ribs. Injuries crippled the team. Nick Chubb, the team's best running back, missed the game with an injury as did safeties Karl Joseph and Ronnie Harrison. Beckham, Jr. missed practices prior to the game with an illness and WR Jarvis Landy played the game with a rib injury.
That, against a wicked Pittsburgh defense, would equal a loss for any team, but now, everyone is declaring Mayfield a "bust" and an essential NFL backup.
Yet, he has a QBR this season higher than Tom Brady, Ben Roethlisberger and Cam Newton. He's thrown more touchdowns than Drew Brees or Philip Rivers, and has more completions than Lamar Jackson or Matthew Stafford.
He has brought the Browns to a 4-2 record. His remaining schedule includes games against the Bengals, Raiders, Texans, Eagles, Jaguars, Giants and Jets. Even with rematch games against Baltimore and Pittsburgh to come, the Browns still have a great chance of going 11-5.
It falls on Mayfield to bring the team together, win games over beatable opponents and lift this team from the depths of the AFC North to a spot in the playoffs.
If he doesn't, I might join Amy in ditching Baker Mayfield.