Titans look forward to playoffs as #2 ranked team
The Shaler Area Girls Volleyball team has always been a strong and resilient team, but in this year's 2020 fall season has proven the team is also successful. With a record of 10-2, the volleyball team's journey has just begun as it heads into the playoffs as the #2 team in 4A.
The road to this success has been a long one. The team started training and practicing in early June in order to prepare for the tough games in their section.
"During the summer, we conditioned three times a week and on two of those days held an open gym. We worked very hard this summer to gain strength and endurance and hone our skills so that we could be ready for the teams we would face," junior Addie Kania said.
The hard work the girls put in this season certainly paid off. The team annihilated many of their opponents during the season including 3-0 wins against playoff teams like Seneca Valley and Pine Richland.
A very important match for the Titans was their match against then-undefeated Moon. The Titans made a statement to the rest of the season by taking Moon down 3-0.
"
We have a lot of success this year because we have a group of girls who love the sport and are going to do anything they can to support our team and make our team successful."
— junior Sara Scaildone
That led up to two matches with undefeated section rival North Allegheny, which has won the past three PIAA championships. Shaler won the first two sets of the first match, but eventually fell to North Allegheny 3-2.
"No other team has been able to take two sets off North Allegheny and it was a very exciting match," outside hitter Mia Schubert said.
Only a couple of days later, the Titans hosted the rematch. Once again they started strong by winning the first set, but NA rallied to win the next three. The girls were so close to defeating the Tigers that they have faith that if they play them again the result will be different.
"I'm confident that if we see them in the playoffs we will beat them. I'm excited for the next time we are able to play them,"  Schubert said.
In addition to teams like North Allegheny, the Titans faced other challenges in regard to the Covid-19 restrictions that were placed on indoor sports.
"At first no one was allowed in and it was very hard because we didn't have the energy from the crowd so we had to create it ourselves which can be challenging," Schubert said. "We had to make sacrifices like maybe choosing to stay home from a party or someone's house because you don't know where everyone has been or who they've been around."
But the players understood how lucky they were to have a season and how quickly things could change because of the virus.
"This season has been different because it has been able to get taken away. Each day we were thankful that we were able to be playing on the court and that has never occurred to any of us before. Everyday matters because the next day I might not be able to play," Kania said.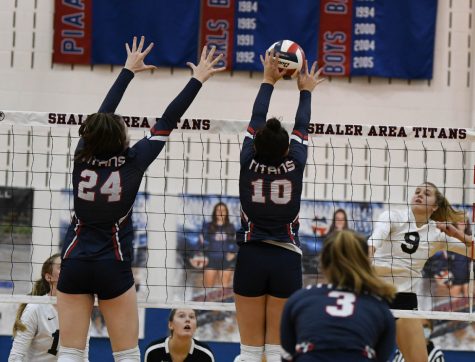 With Covid-19 restrictions, all 25 of the girls on the team were unable to be in the gym at one time. They were put in a separate "waiting room" until it was their time to play. As these restrictions lightened, the whole team was eventually able to cheer on their teammates. In addition, parents were able to attend matches towards the end of the season. At the last home game against North Allegheny, students were able to come and support while following the safety guidelines.
The bond that the team has created during the season has allowed them to stay focused knowing their teammates were always there to pick them up when they were down.
"We have a lot of success this year because we have a group of girls who love the sport and are going to do anything they can to support our team and make our team successful," junior Sara Scaildone said.
Their coach has noticed the same thing too.
"They believe in a team first mentality and put their individual accolades aside. It doesn't matter if you start or play very little, you are part of our success," Stadelman said.
The team hopes that success continues over the next two weeks after being seeded #2, only behind undefeated North Allegheny.
"Our obstacles in the playoffs can range from a tough opponent to keeping safe and healthy to making sure we are doing our part on our half of the net. Playoffs bring a new dynamic to the equation," Stadelman said. "We were very excited about the reward our hard work this season gave us with the overall #2 seed. We are focused and ready for the next steps."
The girls will play either Penn Trafford or Canon McMillan at home this Saturday at noon.
https://wpial.org/wp-content/uploads/2020-Girls-4A-VB-Bracket.pdf
Leave a Comment
About the Contributor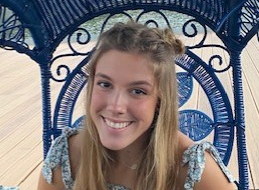 Cate Gordon
Hey! I'm Cate. I am a junior and this is my first year writing for The Oracle. I play softball and tennis. Outside of school I like to hang out with...