Tennis team overcomes opponents and COVID
As COVID-19 caused some pessimistic outlooks on the seasons for several sports teams, it didn't deter the girl's tennis team. After being temporarily shut down for two weeks because of a player contracting the virus, the team returned to playing some competitive matches to end the season. Many coaches would have viewed the two-week quarantine as crippling, but head coach Mr. Brian Duermeyer took a different approach.
"The COVID-19 shutdown cost us some momentum, but it was not a fatal blow to our season. In fact, it gave me a chance to alter the lineup and to provide opportunities to some players who deserved a look," he said. "After the shutdown, I used some newer combinations and learned a lot about just how talented and deep our program is."
Junior Kiera Harger noted when the team returned from quarantine that "everyone was a little rusty the first practice back."
However, the two-week delay did have a downfall. Two matches were totally canceled and three matches had to be rescheduled.
"
The coaches are great and the team gets along very well. A lot of the kids I had never talked to before, so getting to know everyone and becoming friends with them made tennis very enjoyable."
— Olivia Wilkins
Senior Olivia Wilkins was disappointed that her final season was shortened.
"We did end up having fewer matches this season than we did in the past," she said.
The team finished with a record of 5-6.
The cancellation of two matches wasn't the only element of the season impacted by COVID-19. State and local restrictions prevented spectators from attending the matches.
"My parents had to watch me play from the car," Wilkins said.
Eventually, fans were allowed to view the matches from a better vantage point than their vehicles while following social distancing and mask-wearing.
Even with the many challenges and restrictions related to the pandemic, the tennis players still found enjoyment in their season.
"My experience this year was great! Even though it was my first year I felt like I had been playing for years because all of the girls and coaches were so nice and welcoming," junior Corey Sigmund said.
Even those who have been around the program noted how much team chemistry made the season an enjoyable one.
"The coaches are great and the team gets along very well. A lot of the kids I had never talked to before, so getting to know everyone and becoming friends with them made tennis very enjoyable," Wilkins added.
It also was a very competitive year for the Titans. Their biggest competition each year typically includes teams from schools such as Pine Richland and Seneca Valley. This year, their fiercest competitors were the Hampton Talbots, who the Titans were able to defeat 5-0 in a match.
"We hadn't beaten Hampton for years, and they always have a good team, so it was a big deal to get that victory," Duermeyer said.
Harger enjoyed the victory against Hampton, but also felt proud of Shaler's performance against other teams as well.
"Teams like Pine and Moon are always tough," she said, "but I was impressed with how we handled the competition."
One key factor that led to the Titan's success this season was Wilkins. She competed as Shaler's No. 1 player in a AAA Division, one of the most challenging positions to play in high school sports. Wilkins ended the season with a record of 5-4.
"Because of her play, Olivia gave us a chance in every match. She won five times and led us to every team victory," Duermeyer said.
COVID-19 could have negatively impacted the tennis team in really big ways, but the coach and his players found a way to overcome and turned their challenges into opportunities.
Leave a Comment
About the Contributor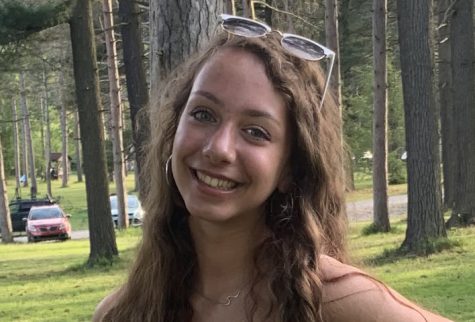 Mia Schubert
Hi I'm Mia. I'm a junior at Shaler Area High School and this is my first year as a member of The
Oracle. I play school as well as club volleyball...