Cellist makes his own path by pursuing his passion for music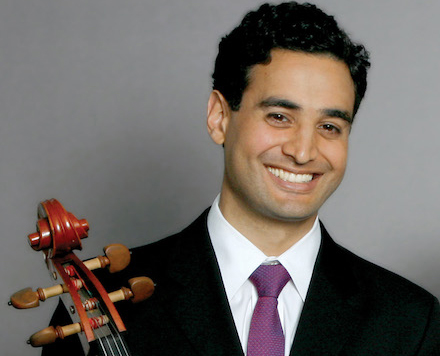 Raman Ramakrishnan has always had a deep love for music; whether it be The Beatles, Jimi Hendrix, John Coltrane, or an hour-long Bach passion, he loves being able to "just close [his] eyes and let the music wash over [him]." Despite the persistence of his love for music over the years, he never could have predicted how far it would take him.
As a founding member of the Daedalus Quartet and a former member of the Horszowski Trio, cello player Raman Ramakrishnan has performed all over the world. When he's not performing, he's teaching classes at the Bard Conservatory of Music and participating in the Boston Chamber Music Society.
Born in Athens, Ohio and raised in New York with his sister, Raman Ramakrishnan developed an early love of chamber music—a love that he could share with his sister, who played the violin at the time. As a child, he frequented many concert halls to watch classical performances with his family. While they listened to and observed the ensemble, he only had his eyes on one instrumentalist.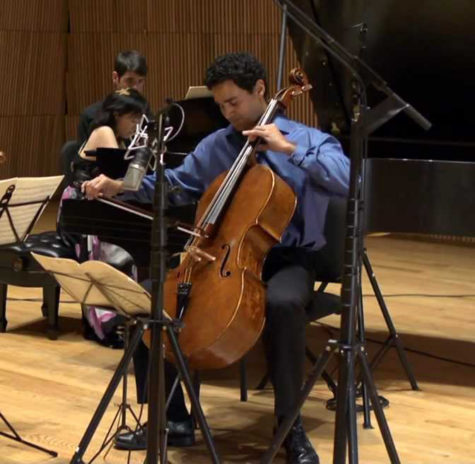 "I really focused on the cello whenever we were at a chamber music concert, and I would just be staring at the cellist the whole time," Ramakrishnan said. "I don't know what it was about the cello…it was a big instrument that had this spike you would stick into the floor, and that appealed to me as a young boy, but I also think I just really loved the sound of it."
Awestruck, Ramakrishnan begged his parents to sign him up for cello lessons until he received the gift of a rental cello for Christmas at the age of seven, a day that he still describes as "the best Christmas [he'd] ever had." He knew then that he had a passion for playing the cello, but he never originally intended to make it more than a hobby, as he felt that his path was already predetermined by generations before him.
"I come from a family of scientists, on my dad's side anyway–several generations of scientists, every single one of them. So, that was kind of a path that had been laid out for me," Ramakrishnan said.
And that path had large footprints to follow. His father, Venkatraman Ramakrishnan, won the Nobel Prize for Chemistry in 2009.
Still, with support from his parents, he continued to pursue music throughout middle school, high school, and post-secondary education. He ultimately decided to major in physics at Harvard, where he reportedly felt it was a natural course of action, but would eventually decide to go for a Master's degree in cello at Julliard after graduation. He was very cautious entering the music industry, as he knew from his mother, who was a children's book author and illustrator, how inconsistent the arts industries can be.
"Music is not a stable industry, especially classical music and especially these days. So, I had some different options, but I thought that if I was going to try to do music, I would have to do it now," Ramakrishnan said. "I would have to do it right after graduation because if I had waited any longer, I wasn't going to be able to jump into a career in it, whereas I could always, or so I thought, backstep to physics or law school or something like that."
According to Raman, pursuing music when he did was the best decision he had ever made; he finally felt like he could commit to something he loved and had a passion for. His father helped make that commitment by using some of his prize money for winning the Nobel Prize to help fund Raman's purchase of a Vincenzo Jorio Neapolitan cello that was made in 1837 in Naples, Italy.
With the influence of his musical inspirations, Pablo Casals and Yo-Yo Ma, Ramakrishnan began his career in chamber music right after graduating from Juilliard. By participating in both the Horszowski Trio and the Daedalus Quartet, he was given many opportunities to travel around the world, performing with his closest friends and playing music that he genuinely enjoyed, like the later works of Beethoven.
"I don't know if there's anything written that is more profound and more soulful and more exciting to play than those late quartets of Beethoven," Ramakrishnan said. "Whenever we had one of those programmed, there was always this extra energy in the group and you could also feel it from the audience as well. He was completely deaf when he wrote those pieces and just to think about this guy, who knew that his days were numbered on this earth, writing these pieces that were totally in his head—he couldn't hear a note of them with his external ears—there it was, just in his imagination."
Even after all of his years of playing, he and his colleagues all feel a sense of amazement when they have the opportunity to play through some of his pieces.
"With some of Beethoven's late quartets, there's always this feeling of awe. The same awe that Beethoven felt with life, I'd like to think. That's what I get from the music is that this incredible feeling of life seen through a technicolor lense where everything is heightened almost. I've felt that many times, sometimes not because of how I play, but when I'm playing and I'm within the piece and within the music," he said.
With these opportunities popping up for him everywhere, It was always relatively consistent, with concerts and recordings and fairly constant income—until the pandemic hit. The coronavirus pandemic has heavily impacted the music industry, especially the instrumental field of music.
"Even people who are at the top of this field, especially during the pandemic but even before, we were wondering what our next year was going to look like," Ramakrishnan said. "Maybe some concerts would book out a year in advance, but other than that, we have no idea what's to come. We don't have a tenure in our jobs, so we don't have that kind of security."
"
The world is a big place but it's also a small place in that people are pretty much people everywhere and it's heartening to realize that when you're traveling around, we're all just human beings and music is something that can bring us all together in the same room no matter what language we speak or no matter what superficial customs we have."
He experienced many losses of his own when the country went into lockdown, most notably the loss being live performances, and subsequently, a large portion of his revenue.
"In terms of playing, last March, all of my concerts were suddenly gone. A few places—one or two places—very generously agreed to pay their fees to me, even though we weren't playing a single note for them. By and large, I lost all of that money and I was so lucky to have this position at Bard which helped make ends meet at least," Ramakrishnan said.
His job at Bard was his only consistent income when COVID hit, but he also feels lucky to have been able to perform in very limited recording sessions, which were very scattered and much different than a professional recording for him, to make some extra money during troubling times.
"We meet in a studio or a small concert hall with an engineer and usually a video technician and we make these recordings of pieces that are streamed later to the public, and we get paid a little for that. Those are much fewer and far between than concerts used to be, and they also feel completely different. It's not a concert, which is this other world where you're onstage and you can feel the energy of the audience and you have this opportunity to make a musical moment together—to make something special happen onstage and in the room that everyone shares together," he said. "With these recordings, you have these dead microphones and a camera staring at you, and it takes more imagination than I possess to feel the eyes and the ears of the audience there, so it doesn't feel like I'm making a special moment."
Even at his teaching job, there was no consistency present at the beginning of the pandemic. With a sudden switch to entirely virtual learning, he had to resort to services like Zoom, Skype, and FaceTime to conduct his classes; that also came with a lot of difficulties for both himself and his students.
"That was difficult because not everyone had a great microphone and it was hard to tell tone color or vibrato or even intonation—all these details we hear so clearly in person we're not so clear over Zoom. Starting in the fall though, Bard went in-person with a lot of regulations. We masked up and each room was rated for a certain number of people, it had to be well-ventilated, there had to be space in between groups or in between people and that was amazing actually," Ramakrishnan said.
More than almost anything, he misses being able to travel and perform gigs in other parts of the world. While having a son and a teaching job made it difficult for him to travel as frequently as the members of his trio would have liked, he loved being able to make a wordless connection with people he would not have known otherwise.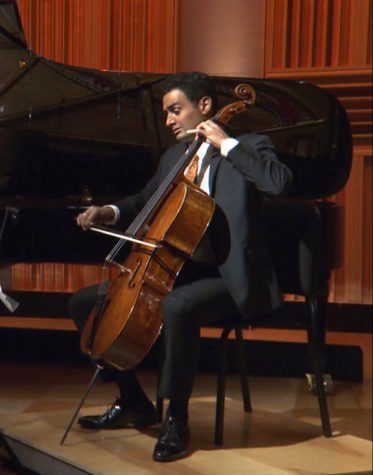 "The world is a big place but it's also a small place in that people are pretty much people everywhere and it's heartening to realize that when you're traveling around, we're all just human beings and music is something that can bring us all together in the same room no matter what language we speak or no matter what superficial customs we have. We're all the same underneath," he said.
Most of all though, Ramakrishnan misses being able to make that connection with his audience. Whether it be young children or adults, he feels like he took the feeling of engagement between himself and his audiences for granted. But as vaccinations are beginning to roll out at a faster pace, he is anxious to experience that same feeling he has been missing since the initial shutdown.
"There's a strange thing that happens sometimes, especially if I can see the audience out there. When I can look out and see the audience and I can feel their presence out there, it's easier to feel this strange connection that happens between people who have never met, never said a word to each other. And maybe they wouldn't even understand each other if they even wanted to talk to each other. But they can experience a moment together of a whole piece and go on that journey together without the need for a single word. They're in the same mental and emotional place together, and that's a special thing," he said.
Leave a Comment
About the Contributor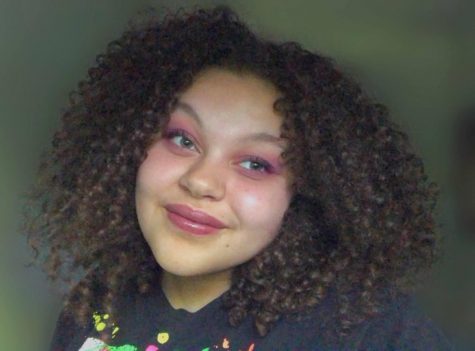 Alyssa Hillwig
Hi! I'm Alyssa Hillwig. I'm a senior, and this is my second year as part of The Oracle staff. You've probably seen me in the hallways and thought...