Fall photo contest showcases student abilities
As the widely loved season of autumn comes to an end, the National Art Honors Society has declared a winner to its fall foliage photography contest. Hosted by Mr. Jeffery Frank and Mr. Brad Susa, the contest encouraged students to scramble outside in search for the perfect fall photo.
The photo contest was started last year by art and jewelry teacher, Mr. Frank as a way to inspire student's creativity as well as encourage them to go outside. While COVID-19 had hit the school district hard, the art department found a way to hit back. Mr. Frank wanted students to have a moment outside, away from online schooling, that allowed them to enjoy nature and take in the beauty of fall, while also being excited about participating in a student contest.
While it may have been fun for the students, it created some difficult decisions for the judges.
"Mr. Frank and I pick our top five then compare them with each other's picks. It is fun but sometimes very difficult," said Mr. Susa. "Everyone finds beauty in different things."
On top of the encouragement from teachers, participants were offered prizes for the top three ranking photos. The third place winner was given twenty dollars, the second place winner thirty dollars, and the first prize winner was awarded fifty dollars. Top prize winner junior Emma Ranallo spoke about even though her photo didn't win last year, it wasn't time to give up.
"I thought it would be a fun challenge to try again and see if my picture would win," Ranallo said. "I was happy and excited I won!"
Lots of contest participants weren't newcomers. Many students involved with the art department knew of the contest, and were excited to participate again. Kristel Mendoza, the 2020 winner and 2021 runner up, spoke about her experience with photography within the contest.
"The real reason I wanted to participate again is for experimenting with angles and the natural lighting to bring the environment to life," Mendoza said. "It is quite interesting to do. Especially when it comes to experimenting."
While the contest encourages art students to go outside, it also allows them to try new things. Whether that be learning about different perspectives in photography, embracing natural lighting, or just having a fun time, the fall photo contest has a lot to offer each year.
Leave a Comment
About the Contributor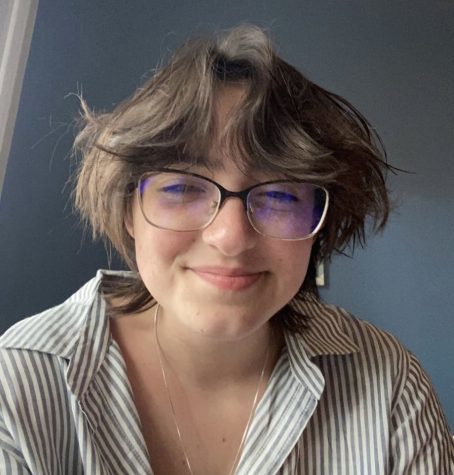 Sarah Naccarato
Hello, I'm Sarah! I also work with the Art National Honors Society when I am not writing. Outside of school, I adore watching horror movies, reading,...