Famous horror movie special effects artist creates program to share his story and secrets
"From Dusk Til Dawn", "Friday the 13th", "Creepshow", and "The Burning" are all movies that the famous special effects makeup artist Tom Savini has contributed to. Savini is not only an artist but also a director, actor, stuntman, and mentor.
In 2000, Savini took on the responsibility to open and teach a 16-month program made specifically for those interested in pursuing special effects makeup as a career. His decision to open his school was rooted in the fact that he felt cut off from the art side of the horror world. Being born in 1946, he wasn't necessarily born into the peak of the horror movie genre. Savini wasn't exposed to a lot of special effects growing up, until one movie seemed to strike a chord.
"When I was eleven I saw a movie called 'A Man of a Thousand Faces'. Before that movie I thought all the stuff was real. I thought Frankenstein was real, I thought the Wolf-Man was real, but that movie showed me that somebody creates the monsters, so I decided I was going to be one of the guys that creates the monsters," Savini said.
"
Before (The Man of a Thousand Faces) I thought all the stuff was real. I thought Frankenstein was real, I thought the Wolf-Man was real, but that movie showed me that somebody creates the monsters, so I decided I was going to be one of the guys that creates the monsters."
— Tom Savini
Before his career blossomed in the 1980s, Savini described how very few people were interested in special effects makeup, and those who were working in the field remained very secretive about their knowledge. This career path was exclusive and particular, having almost no opening to learn and no resources to take advantage of other than watching horror movies. This changed when Savini was introduced to Dick Smith, the special effects makeup artist behind The Exorcist, The Godfather, and other films.
"Dick Smith was the greatest living makeup artist on the planet. He invented everything we do. But he shared his secrets… So it's because of him that I learned a lot, and that's why my school exists," Savini said.
Savini has openly admitted to once possessing some of the qualities he despised seeing in other artists. As he became more experienced and well-known in the horror world, the more he began to look down on those who were starting out newly, as he once was. These dangers are the same ones in which many of the early artists he spoke of fell into. Despite this, Savini was able to recognize his faults and change how he treated such people.
"I was kind of arrogant thirty years ago doing conventions, thinking, 'What am I doing here? These are all has-beens.' But they're not, that was my arrogance."
It wasn't until one specific encounter that Savini came to the realization that you never know who someone will become. While it may not have seemed like a monumental interaction at the time, one conversation led Savini into more films, including "From Dusk Til Dawn", which have become highly appraised over the years.
"I was at a convention once and this kid came up to me and said, 'Hey, I work at this video store. I was wondering if you would mind coming by and looking at the videos and signing some of your stuff.' I said sure, and I went. It was Quentin Tarantino! A kid working in a video store. He's hired me five times since then. So, you never know who's going to become what, so I'm nice to everybody."
Besides other artists, actors and filmmakers have inspired Savini throughout his career. It was through comradery that Savini was able to learn special tricks and secrets behind the makeup world. Being born in a time when there were little to no artists of this kind, it was a drastic change to see the difference in numbers within the career field, and one that has been inspiring for many.
"So many people want to be a special makeup effects artist, and that makes me feel good. When I was growing up, there were six of us. And now there's hundreds," Savini said.
The special effects makeup program, located in Monessen, PA, gives students the inside scoop on various skills within the special effects field. Savini provides detail regarding his career and time as an artist, teaching from his own experiences. His school is still open today, inviting and teaching students all over the world. Savini's work has come to shape the world of special effects makeup, and his lasting impact continues to influence horror movies to this day.
Leave a Comment
About the Contributor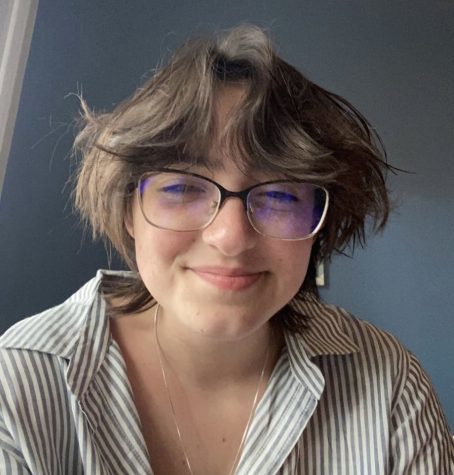 Sarah Naccarato
Hello, I'm Sarah! I also work with the Art National Honors Society when I am not writing. Outside of school, I adore watching horror movies, reading,...