The Oracle wins awards on local, state & national level
Many members of The Oracle staff have been recognized on many different levels this year for several award-winning stories.
The PA Press Club runs a state-wide high school Journalism contest. The contest is offered by the National Federation of Press Women, recognizing high school journalism all around Pennsylvania.
In the Environmental story/ project category, seniors Alyssa Hillwig and Rebecca Beckas took 1st place with their story, "Sustainability class having impact on students, community".
By taking first place on the state level, they were automatically entered in the national contest where their story was awarded first place in the nation.
"This is the first time we've received recognition on the state level. To win 1st place in any state-wide competition is a big deal and then to have it recognized as the best compared to the best stories in the country, that's a whole different level of cool," newspaper advisor Mr. Eric Schott said. "I'm so happy for Alyssa and Becca, and for everyone who wrote stories that have won awards. There is a lot of work that goes into each and every one of those stories."
"
This is the first time we've received recognition on the state level. To win 1st place in any state-wide competition is a big deal and then to have it recognized as the best compared to the best stories in the country, that's a whole different level of cool."
— Mr. Eric Schott
In the News category, Hillwig took 3rd place with her story, "Photographer shares stories from inside the Capitol".
"I honestly think it's really cool that this story is being recognized beyond just the school, and it's hard to believe that something I wrote is going so far beyond just me and the school. It feels like it's just another story that I wrote, and now it's become so much more. This award honestly means a lot to me and is definitely a very positive and validating thing for me. I really enjoyed writing it, and I'm glad that others enjoy reading it," Hillwig said.
Best of SNO (School Newspapers Online), recognized Addie Kania, Alyssa Hillwig, and Sarah Naccarato for their stories this year.
Addie's story, "Artist uses comice to highlight Holocaust 'superheroes'" was published to the Best of SNO website on March 14. Alyssa's story, "Positive Painting Project promotes teen mental health" was published on March 9. Sarah's story, "Famous horror movie special effects artist creates a program to share his story and secrets" was published on March 4.
Best of SNO is an organization in which 522 high school and colleges participate. Schools submit their best newspaper stories and only the best ones get published. This school year, more than 14,000 stories have been submitted and only 12 percent of those stories were recognized as Best of SNO.
Additionally, Shaler Area is a member of the Digital Media Arts Consortium (DMAC), a group hosted by Robert Morris University that hosts an annual spring high school media contest.
For the second year in a row, The Oracle staff members won 1st place (Best in Category) in three of the four print journalism catergories.
In the sports category, Dominic DiTommaso took first place with his story "Stadelman steps down as girls volleyball coach".
In the feature category, Savannah Schultis took first place with her story "Bacco dedicated to help kids in foster care for his son".
"The Mr. Bacco story is my favorite story I've written in newspaper, and I'm really proud of myself for winning an award for it. I wasn't expecting it, but I am very thankful that I was able to share the Baccos story and their mission for their son," Schultis said.
The story made an impression on the judges as well.
"This is a very touching story and well delivered. I will remember the Bacco's as an amazing inspirational family because of your article. How lucky you are to know them! Keep up this meaningful type of writing, well done!" one of the DMAC judges noted as part of the feedback.
In the hard news article category, Becca Beckas took first place with her story "SAHS class plays a big role in preserving Girty's Woods".
"I had no idea Mr. Schott entered my article into the competition, so when he announced it to us, I was really surprised, but also very excited. I didn't think that my stories were very memorable or noteworthy, but I was proud to win an award for bringing light to a subject that means a lot to me, sustainability," Beckas said.
All of the recognition is not surprising to Mr. Schott.
"This group of seniors has done some great work over the past two years for The Oracle. I've known for a while that they are an award-winning group of kids. Now others are getting to see that too," Mr. Schott said.
Leave a Comment
About the Contributor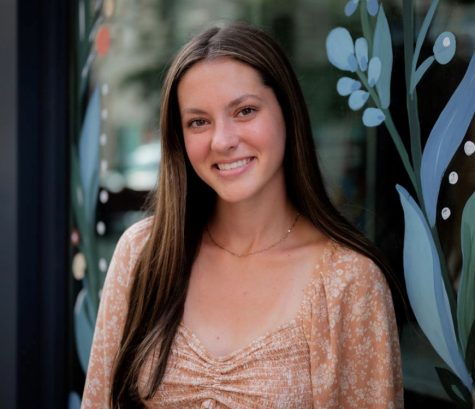 Hannah Stelitano
Hi! My name is Hannah Stelitano and I am a senior. This is my third year being apart of the Oracle! I am also the captain of the dance team, president...