LIGHT hosts Celebration of Storytelling
The keynote speaker was Njaimeh Njie, a multimedia artist
The LIGHT initiative, a group devoted to bringing awareness to the discrimination experienced by minority groups, held an event at Shaler Area High School on April 21. The overarching theme of the event was "Storytelling," and it was designed to empower students to recognize that every person has a different story and each one matters.
"We chose the theme of 'Storytelling' because everyone has a story to tell from their life experience or their expertise. Bringing people together in a fun, hands-on way gives students the opportunity to interact, make new memories, and experience new things which could lead to new stories to tell," SAHS teacher Mrs. Catlyn DiPasquale said.
Schools from all over the Pittsburgh area attended and participated in multiple activities including watching a performance by "The Royal Girls", a majorette team from the University of Pittsburgh.
Attendees also had the chance to visit the many tables that were hosted by various groups including League of Women Voters PGH, Rivers of Steel, and Shaler Area High School world languages.
"By offering students the opportunity to meet new people and interact with organizations outside of their community, there is hope both groups can find common ground, learn from one another, and combat hate in the future," Mrs. DiPasquale said.
In addition to these activities, the students got the opportunity to listen to the event's keynote speaker, Njaimeh Njie, a multimedia artist who focuses on Black lives in her community, the Hill District of Pittsburgh, and how the past shapes the present.
"I chose Njaimeh to be our keynote speaker because she embodies all of the principles of Story of Self, Story of Us, and Story of Now," DiPasquale said.
"
By offering students the opportunity to meet new people and interact with organizations outside of their community, there is hope both groups can find common ground, learn from one another, and combat hate in the future.
— Mrs. Catlyn DiPasquale
Njie graduated high school and worked to earn a degree in film and media studies. After that, she began teaching. As a teacher, she enjoyed bringing different media into the classroom as a part of her lessons.
She incorporated documentaries, artwork, and photographs into her lessons, noticing that students reacted better to material when multimedia was added. Njie saw how it enlivened the classroom and became inspired to create media herself. She also thought that through creating media, she could make a positive contribution that others could learn from.
Njie has created multiple projects that each have a different focus. However, one of her overarching messages is to bring awareness to how different groups are viewed and the prejudices they face everyday.
"I want to talk to people about how they feel about themselves and their communities, because when you look at the outside world, when you look at textbooks, when you look at history, a lot of people have things to say about Black folks, and about marginalized communities, but I think it is important to go directly to the source," Njie said.
Njie's first project is titled "Powered by Grace." It was a photo and video exploration of black women and girlhood in Pittsburgh. Njie picked this as a focus because she learned that Pittsburgh was reported to be one of the worst cities for black women to live in. However, there was no input from those who actually lived in the city.
"It kept telling us about ourselves, but they weren't asking us how we felt about ourselves," Njie said.
Njie went around the city and took pictures of the places she went to in order to add to the visual story of Black womanhood in the city. Whether it was at her parent's house, girls' night, or a protest, Njie included pictures to showcase how black women truly lived in Pittsburgh.
Another one of her projects, titled "On the Daily", included Njie taking landscape pictures of Pittsburgh and putting them next to black residents of Pittsburgh. Her goal was to show that black lives belong in Pittsburgh and that their stories have a place in Pittsburgh's history.
"We are a part of this environment, our story matters here, because there is a rich and long history of black folks in Pittsburgh, but a lot of times when you think about the city, you don't necessarily think about the black history," Njie said.
With this project, she wanted to point out that there has been destruction of black communities and what was once in the city, is no longer. Although some groups have continued to hold their ground, this is not the case everywhere.
Njie wanted to convey the fact that you can remove the buildings belonging to black lives, but you cannot remove the history of black lives.
One of the pieces in the collection displayed a father and daughter to exemplify how different generations will remember their community differently because of how drastically things have changed over the years. Even though things are changing, we must ensure that newer generations can still feel in tune with their community.
Another one of Njie's projects is titled "Homecoming Hill District USA." This project focused on the Hill District, a community in the middle of Pittsburgh that has a historically black background. The Hill District was the center of culture, work, and residential life, leading to it being one of the most important areas for black people. Many important black role models also came from the area, such as August Wilson.
The pieces in the collection capture the everyday black lives living in the city. These include people just passing by, people who supported the community, and people who were heavily involved in the community.
Njie also included photographs of different sites in the community, but similar to her other project, a lot of the places photographed no longer exist. Even though the pictures were taken as recently as 2017, the fact that these sites are not there anymore further supports her idea that things are continuously changing.
Although each project has a different focus, when it comes to all of her work, Njie hopes for people to gain an understanding of black history and realize it is a vital part of our history. She also wishes for black people to gain a sense of pride in themselves and their culture, no matter what anyone may tell them.
All of her projects have taught her the importance of getting different perspectives and the impact those can have on her artwork.
"When we talk to people, and get different perspectives from our own, we push our own thinking and we can build off and become better," Njie said.
By having different views included in her artwork, Njie is able to deepen her message by showing how people are not always accurately portrayed in the media.
"No group of people is solely stereotyped or solely depicted one way in the news, we have nuances, we all have complexities, and it is important to understand that, so you don't think a very narrow set of opinions of any group of people."
Even though Njie has seen and documented many accounts of hate, she has also seen how new generations have responded to these situations. Instead of being fearful for the future, she is very encouraged for future generations and wishes for them to keep "fighting the good fight."
Leave a Comment
About the Contributor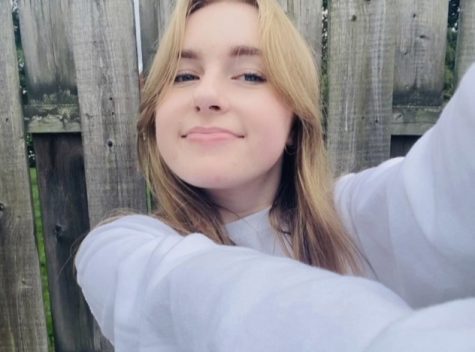 Danielle Berdik
Hi! My name is Danielle and I'm a junior. This is my first year with the Oracle and I couldn't be more excited! I also work with the Spanish Honor...