"Pride and Prejudice" comes to the Shaler Area stage
Students have been working hard since May to produce this year's fall play, "Pride and Prejudice". "Pride and Prejudice" is a story by Jane Austen about Mr. Darcy and the Bennet family, adapted for stage by Claudia Haas. Since the end of the previous school year, the cast and crew have been working to learn their lines and construct the sets.
This show will be Shaler Area High School's 13th play. Different from past shows, "Pride and Prejudice" is derived from a novel, and a lot of background knowledge needs to be expressed to the audience. Something similar occurred when our school put on the play "Little Women", another story that was adapted from a novel. 
According to the cast and directors, this year's play is going to be riveting and enjoyable.  
"My favorite part of doing the play is getting to act along with some of my best friends," said junior Zoe Reed, who is playing Miss Bingley. 
There are obstacles that the cast and crew had to face this year. Students may be absent, or even had dropped out of the show. Senior student director Kylie Clark stepped in for three people who were absent during practice. The number of stage crew members is also low. 
"The biggest challenge is learning of the changes in the script later than the cast does and I have to adapt quickly to meet the needs of the cast," senior Avery Gallant said about the stage crew challenges. 
Mrs. Anne Loudon has been working hard as the director of the play ever since the end of last year's play, "A Midsummer Night's Dream." She has been facing a few challenges as in the past, there was a team of teachers. There was a stage manager, another director, and someone in the stage crew. Now it is just Mrs. Loudon. Senior Kylie Clark is the student director and she has been a great help for Mrs. Loudon. Mrs. Loudon is also very grateful for Mrs. Jeanne Marshall, who has been coming to practice to help on her own time. 
The play has been a great opportunity for students to be creative. Students have been fully involved in designing the set, creating the costumes, and helping with blocking and learning lines. 
"Because there's so few adults, it really empowers the students to step up," Mrs. Loudon said.
Seniors Anna Love and Josh Fedorek are managing the stage. Junior Calyn McLendon is working on light design. Junior Kara Yarnot is in charge of communication. Senior Avery Gallant is in charge of sound. These students are volunteering to do things that they would get paid a lot of money to do in other schools. 
Junior Miko Moore and Mrs. Kristen Paul have been working on costumes since June. Mrs. Paul is helping in the greenroom. She has been thrifting all summer for the furniture and costumes for the show. 
The shows will be Friday November 18 at 7:00 p.m. and Saturday November 19 at 2:00 p.m. and 7:00 p.m. Tickets can be purchased in advance at https://www.showtix4u.com/event-details/68061. 
Leave a Comment
About the Contributor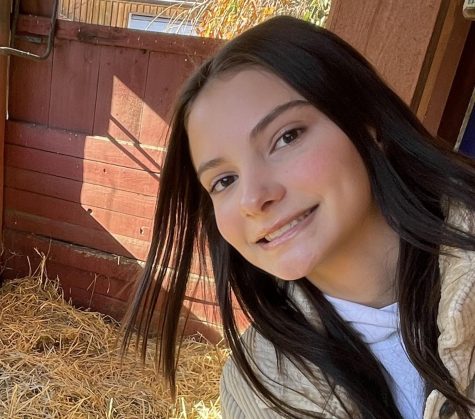 Lainey Shipman
Hi! I'm Lainey and I'm a junior and this is my first year being a part of The Oracle. I am in the English Honors Society, Tri-M Honors Society, and...