Parking space painted for PBIS program
In another great effort to promote positivity and mental health awareness through our school, the National Art Honors Society (NAHS) has partnered with the PBIS (positive behavior interventions and support team) to paint a parking spot in the upper lot. This parking space gives off a positive message that allows students to start their day with a good mindset as they walk into school each morning.
Every two weeks, the PBIS team raffles off prizes on the SATV mid-day announcements. One of the prizes was principal Dr. Royall's parking spot. This spot is desired because it is extremely close to the school, opposed to the student parking spots which are in the lower lot behind the school.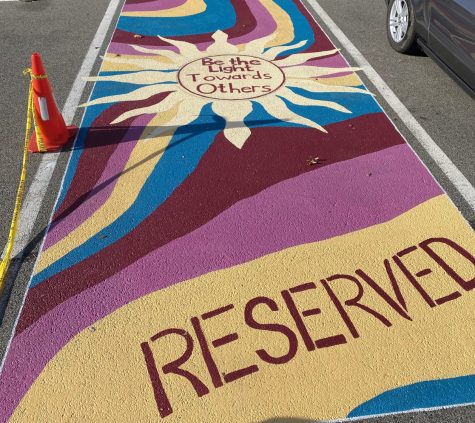 When a student won this prize, they suggested that the spot should be painted. The sponsors of NAHS, Mr. Brad Susa and Mr. Jeff Frank, held a contest to see who could come up with the best design for the spot. 
"The painting is of a sun with colorful designs, ultimately giving off the message to 'be the light for others," Mr. Susa said. 
Many students helped to create this artwork, making the project even more special and enjoyable. 
"At least 15 people participated during school or came after school to help paint the spot. It was a collective effort by multiple kids," Mr. Frank said.
This project hopes to impact our school in a positive way. 
"We couldn't be happier to have our students create art to make the school beautiful," Mr. Susa said.