Winter Classic makes a successful return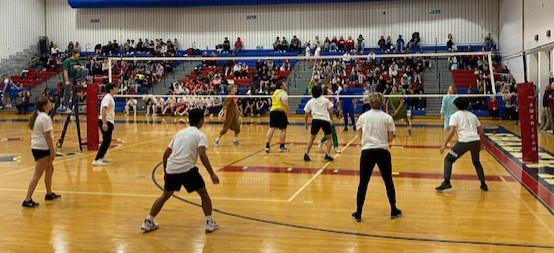 After several years without it, the Winter Classic volleyball tournament had a successful return in December.
The Winter Classic was brought back for the first time since 2018. The tournament was run by the Junior Class Officers, Boys Volleyball Coach and math teacher Mr. Paul Stadelman, and Activities Director and social studies teacher Mrs. Mindy Thiel. 
The tournament took place on December 22 from 8:00 a.m. to 11:45 a.m. during the half-day of school before winter break. All seeding games ran from 8:00-10:30 a.m. and all of the bracket play games ran from 10:45-11:45 a.m.
"I thought it went really smooth. I thought everyone had a good time," Stadelman said.
The tournament ended up being won by The Joes, a comprised of juniors Shane Ciganik, Jacob Kunc, John Lamanna, Cam Miller, Danté Palombo, and Braden Scott. 
The Joes went a perfect 5-0 throughout the tournament. They started off by beating the Jingle Ballers and Mr. Worldwide Winners in pool play to earn a top seed in bracket play. They went on to win in the quarterfinals, win  in the semi-finals against Team OTW, and win in the finals by beating Play it Safe.
"(The Winter Classic) definitely was something I wanted to do in high school, [and] doing it with some of my best friends made it that much better. Also, doing it in front of a bunch of people made it feel great," Palombo said.
The only thing that was negative about the tournament was the lack of space and time to play since the tournament occurred on a half-day.
At the conclusion of the day, the tournament ended up a success for the school and class funds. The Junior Class ended up making $1200 in total for the class funds. More importantly, the event created an exciting environment for the students before break.
Looking forward to next year, Mr. Stadelman said, "Next year, if everything lines up, there is a possibility it could be an annual thing."