Comic book artist shares talents with Shaler students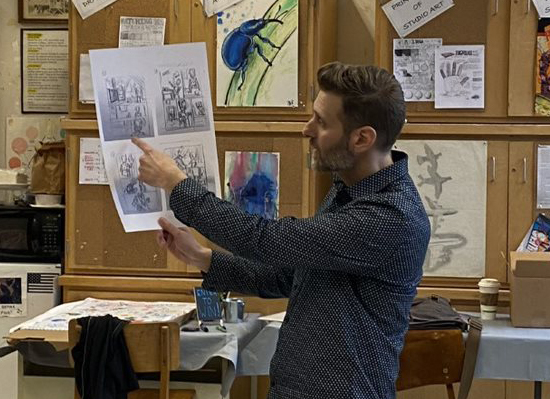 In December of 2022, Fabrizio Aiello's first comic book, Horace H. Hoover, was published. He published his work with low expectations, however, his comic quickly circled the comic book community and began to be read by many. 
Ultimately, this led to his appearance at Shaler Area High School in mid-February where he talked to Shaler's art students and gave a demonstration of the comic book making process. 
"I thought it would be really special for the students to be able to meet someone who is a published comic artist and who is actually working in the industry," art teacher Shauna Ferris said.
Aiello studied at Edinboro University and graduated with a bachelor's degree in fine art with a focus in drawing. Currently, he now works as a software developer for video games and does comics on the side, mainly in his free time. 
One might expect two differing jobs to be too overwhelming, however, writing comic books acts as an outlet for Aiello. He even has specific music to listen to for the different steps in the comic book making process. Plus, Aiello enjoys the structure and likes the difference of activities in his day. 
"I think it's important to have a lot of different interests. If I was drawing from eight in the morning to midnight, I don't know if I would like it as much. I like the idea that I get to be super logical and analytical for so many hours in a day and then I get to draw and do something super creative. I think you sometimes need that structure to be super creative," Aiello said. 
His debut comic, Horace H. Hoover, features the main character named Horace Hieronymus Hoover, who is a superhero-like figure that goes on adventures with his friends, Max and Slurp, by traveling through pocket universes. In these different locations, Horace encounters many different mysteries and conflicts, but it is ultimately up to him to solve the challenges and save those in peril.
The story originally started as a sketch. Aiello was doodling and time after time, he continued to draw the same sketch. This mere sketch eventually turned into the design for the main character, Horace. His body appears to be the body of a normal man, however, his head is a vacuum with a hose coming out of the side and connecting to the front. Aiello ended up making a 3D model of this character, using ZBrush, which led to people seeing the character and becoming intrigued. 
"
I think it's important to have a lot of different interests. If I was drawing from eight in the morning to midnight, I don't know if I would like it as much. I like the idea that I get to be super logical and analytical for so many hours in a day and then I get to draw and do something super creative.
— Fabrizio Aiello
"People just kept on asking 'Hey, who's this character? What's his story? What's his background?' And eventually I was like I'll do a comic book because people seemed to like the character," Aiello said. 
Aiello, like many other authors, had various inspirations for his character, pulling elements from existing characters, including Mr. Bean and Spaceman Spiff. He also used his family members as inspiration for other characters. For example, he used his wife for Horace's wife and his uncle for the character of Max.
"I think we all pull from everything we see. So every movie you've seen, every book you've read, every time somebody talks, I think it all goes to the back of your brain and whenever you're writing it just comes out," Aiello said. 
Aiello started his comic and about two and a half years later, published it. When he did this, Aiello did not expect many people to read his comic and was just writing it for himself. However, the series has been expanded to a five issue mini series, and he is in the process of writing the third issue. 
This time around, even though he has an established fanbase, Aiello is trying to keep the same attitude when approaching the newer issues. However, there is most definitely more pressure on him while newer issues are coming out including factors like time and the new content. 
"It's a different creative environment if you're in your room and you know nobody is going to see something as opposed to knowing a lot of people are going to see it," Aiello said. 
Aiello chooses to create his comics based on his own ideas and without the influence of what is popular at the time. Currently in the comic community, Manga, a style of Japanese comics, is very popular. However, that is not what Aiello's style consists of. Instead of adapting to current trends, he stays true to himself and makes what he wants, even though he may choose to experiment with different styles in the future.
For this specific comic, Aiello wants to stick with what he has currently done, and not change his style, solely for the purpose of gaining more readers.
"I don't think any other style would work as well," Aiello said. 
With Shaler students, Aiello explained that the process of creating a comic has five steps: writing, penciling, inking, coloring, and lettering. Usually there is a team creating the entire comic, equipped with different people who are each responsible for the different steps. However, Aiello does all five steps himself. 
He does work with a publisher to get his comic out, but that is not until the end of the entire process. Doing it all by himself can bring some stress, but Aiello does not think of it this way. Instead, he likes being able to work at his own pace, especially considering the fact that he still has a day time job. 
"The good thing is though, since I'm doing a lot of different things, it's not the same thing for seven hours in a row. I get to draw, then I get to ink, then I get to write," Aiello said. 
Aiello also shared his past stencils from his comic with the students and then let them practice inking on this paper. Essentially, the students were able to trace the stenciled art on the paper with black ink, using a brush.
"I liked how accessible he made it for the students and that he was able to break up his process and make it something we could understand and something we could participate with," Ferris said. 
Aiello finished off the meeting with time for the students to ask questions about him and his work, and he was able to offer some advice to the aspiring artists listening, for example, like what to do when experiencing a road block. 
"I find one drawing that I love that I did, everyone has that one thing that they like, and when you're struggling with something else I just look at my old drawing and say 'you know what, I did it on that drawing, I can do it on this,'" Aiello said. 
Leave a Comment
About the Contributor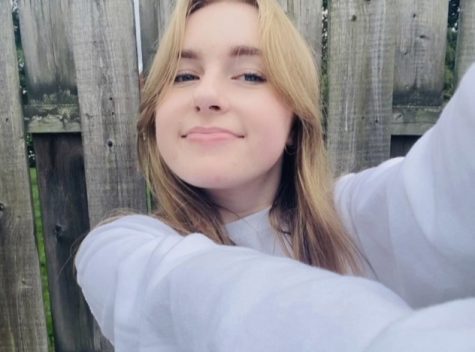 Danielle Berdik
Hi! My name is Danielle and I'm a junior. This is my first year with the Oracle and I couldn't be more excited! I also work with the Spanish Honor...