Shaler Area artists win multiple Scholastic Art awards
This year, Shaler Area High School had about 35 students submit art into the Scholastic Art competition in the Western Pennsylvania region. There were thousands of people who submitted work. Shaler Area had tremendous success as 23 students won awards for their work.
The Scholastic Art competition is a competition where students from all over the country can submit art that will be reviewed by judges and have the chance to win an award. Drawings, Paintings, Digital works, Sculptures, Photography, and Video Art are all of the types of artwork that may be submitted.
The awards range from Honorable Mention, Silver Key, and Gold Key. Seniors were allowed to enter the portfolio category, the most difficult, which involves creating six works, all which must revolve around a central theme. Five Shaler Area students won awards for their portfolios.
Those who win a Gold Key award in each region will advance to the National Scholastic Art Contest. Shaler Area had three students win Gold Key Awards. One of the winners, senior Sarah Naccarato, won a gold key award for two of her pieces, "The Rise," and "A World of New."
"Over the course of the school year, we make an art portfolio that is examined for AP exams and scored. All of the work I had submitted was a combination of art from my portfolio from last year and this year," Naccarato said.
One of her themes was about nostalgia and she incorporated that into the idea of growing up and stepping into adulthood.
"I've always been a sentimental person and growing through high school had me thinking about all these people I had supporting me and all the changes we are experiencing," Naccarato said.
The process of creating her artwork was very time consuming and required a lot of attention and creativity. She watched the entirety of Mamma Mia while working on one piece, and it only covered half of the progress she had made.
"It's always really fun seeing a piece come together–there's always those moments of doubt and frustration but it pays off time and time again because at the end you feel complete and excited about what's next!" Naccarato said.
She shared that when the awards came out, everyone stopped what they were doing to check the list. It was a memorable experience for everyone who had won an award.
"A lot of these works, including my classmates', took extraordinary amounts of time. I remember my heart was racing and I think it was a big moment of pride for all of us," Naccarato said.
Junior Isabelle Dutkovic won an Honorable Mention for her artwork "The Tethered Ribbon". The concept behind her artwork was about walking away from something that was important to her and instead heading in a new direction in life. Her theme was inspired by a novel she is currently writing.
"I spent about two weeks working on the picture with oil paints on an illustration board and had done most of the work on weekends, spending hours on it. I think the most exciting part about this process was seeing the idea come to life and working with a new material that I have never worked with," Dutkovic said.
Another senior, Norah Strout, won an Honorable Mention Award for her piece, "The Best Years of Your Life," which incorporated her style mixed with director Baz Lurhman's, whom she was inspired by.
"The theme of my project was about my emotion toward COVID ruining things in my life that I didn't value as much. It took about three weeks because I am not good at time management. I was surprised because I had never gotten an award for my art before," Strout said.
Norah attended the gallery at Carnegie Mellon where her artwork was displayed and she received her award.
"The most exciting part was going to CMU and seeing artworks from different schools," Strout said.
The competition has been running since 1923. To celebrate the student artists and their works, there was a ceremony and gallery held at the Hall of Fine Arts at Carnegie Mellon University that displayed the student's artwork on Saturday February 25.
Leave a Comment
About the Contributor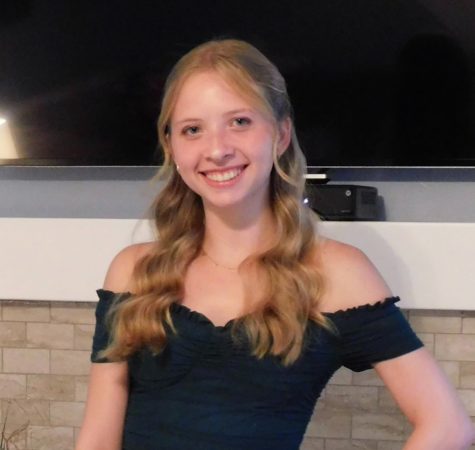 Elena Flavin
Hi my name is Elena Flavin and this is my first year on The Oracle! I am also on the Shaler Area Dance Team, and I dance outside of school at a studio...