"Radium Girls" proves challenging for cast, audience
For this year's fall play, Shaler Area High School drifted away from the fictional tales audiences have grown accustomed to. Students performed "Radium Girls", the true story of young women in a New Jersey radium watch painting plant.
The women became afflicted with radium poisoning and other ailments resulting from the radioactive substance. For the sake of justice and to receive compensation for their suffering, the women face down the US Radium Corporation in a lawsuit.
This play left behind last year's mystical "Alice in Wonderland" and instead chose to show the audience a true story of struggle and perseverance. This turn towards reality led the play's actors into new, more lifelike, scenes.
"I had the opportunity to play a character that is very different from any other character I've ever portrayed," senior Alex Almonte, who played Arthur Roeder, the president of the US Radium Corporation said.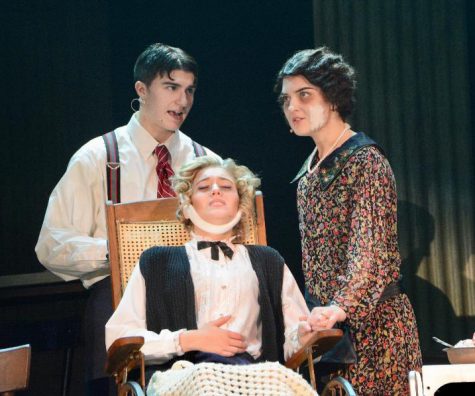 This transition out of the fictional universe did not come without some difficulty. Having to convey the actions and emotions of a real person places a great deal more pressure on the actors.
"There was a point of uneasiness when it came closer to the show. I was worried that I wouldn't be able to portray this true story the way it should be, and that we wouldn't be giving the Radium Girls the justice they deserve," junior Sonny DeMasi, who played Tom Kreider, the husband of one of the afflicted women said.
After the curtain fell, many audience members were in tears, others were in disbelief, and others still were angry that a situation like the one performed could even arise. The show provided an accurate and emotional portrayal of the struggle of these women. It seems justice was done on stage.
"We made people angry, we made people sad, some were happy that the girls got justice, but everyone who came to see it seemed to appreciate it for what it was," senior Bella James, who played Kathryn Schaub, one of the most defiant of the afflicted women, said.
Not only did the play provide an emotional experience for the audience, but it also shed a light on a part of American history that is not often examined.
"I know a whole lot of people went home after the show and researched more on their own, and that's what we wanted them to do," senior Kelsey Marshall, who played Grace Fryer, the play's protagonist said.
"Radium Girls" gave audiences something new. It was emotional, raw, and most importantly, real. This year's play can be marked down as another success in the line of excellent Shaler Area productions.
"I think it is the best show we have ever done," co-director Mrs. Anne Loudon said.