Famous for throwing shoe at President Bush, journalist still active fighting for people of Iraq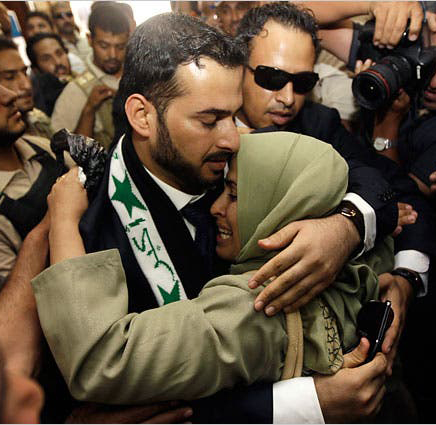 Translated by Zin Elabidine Zouliga
Muntadher al-Zaidi is an Iraqi journalist. He attended the University of Baghdad and worked for Al-Baghdadia TV, an Arabic language broadcast company.
As he began to report on the coalition invasion of 2003, al-Zaidi soon rose in the world of Middle Eastern reporting. In 2007, he was kidnapped by unknown assailants and later released without a ransom.
Al-Zaidi reached the peak of his fame in 2008 when he threw both of his shoes at then-President George Bush during his last press conference in Iraq. Bush was deeply unpopular in Iraq as he continued to deliver positive reports to the public while the nation descended deeper into lawlessness.
Although he received support from much of the Arab world following the shoeing, al-Zaidi was sentenced to three years in prison which was later commuted to one year, of which he served nine months, where he says he faced torture and solitary confinement.
Following his release, he accepted a job at a Lebanese news station and began work on a humanitarian organization to help poor and starving Iraqis.  In 2018, al-Zaidi ran for Iraq's Council of Representatives but was defeated.
Currently, Iraq is experiencing large scale anti-government demonstrations because of poor living standards, governmental corruption, and Iranian and American influence over the nation. The current Iraqi government recently voted to oust all American troops on Iraqi soil as tensions rise, but America has so far failed to obey the order.
Al-Zaidi agreed to answer some questions about his career and the current state of his nation.
Q: What was your first experience with journalism or the media?
A: My first media experience was in a student newspaper. I was its editor-in-chief.
Q: What were your goals or ideals when reporting to the public?
A: My goals when reporting were to expose the crimes of the American occupation in Iraq. My ideal is a Muslim figure named Abu Dhār al-Ghaffari [a companion of the prophet Mohammad known for his truthfulness and avocation of economic equality].
Q: How did your life and work change after the invasion in 2003?
A: I changed from a citizen and a student who was trying to finish his studies and get involved in working life to revolting against the American occupation as a journalist.
Q: How did your kidnapping in 2007 affect you?
A: The kidnapping did not affect me at all. I remained as I was.
Q: Why did you decide to throw your shoes at former President Bush?
A: What made me throw my shoes at George Bush was that he lied to the people and told them that Iraqis would meet him with roses. I wanted to tell the world that the Iraqis did not receive the occupation with roses, but with shoes.
Q: What were the reactions from the Arab world after the shoeing?
A: Indeed, the whole world was with me. They were in solidarity with me.
Q: What consequences did you face for your actions?
A: I faced a prison sentence of three years, but it was commuted to one year with constant torture in a solitary cell for three months.
Q: Why did you decide to start your humanitarian foundation?
A: In Geneva, an institution called the Al-Zaidi Foundation was established to aid the victims of the American occupation in Iraq.
Q: Why did you decide to run for office in 2018?
A: I wanted to bring justice to my people and end corruption.
Q: What are your thoughts on the current tensions between Iran and the United States? How are these tensions affecting the people of Iraqi?
A: We have been demonstrating for three months, and this is the fourth month. It [the tensions] has certain impacts and repercussions on our demonstrations. Many demonstrators have been killed [upwards of 600 according to some human rights groups].
Q: What are your future plans for your life and career?
A:  I am a journalist and I will stay a journalist. I will defend human rights. These are my future plans.
Leave a Comment