Bartosh recognized as finalist for National Merit Scholarship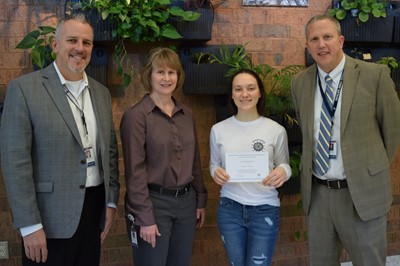 This year, Shaler Area Senior Maddie Bartosh was recognized as one of over 15,000 Finalists in the 2020 National Merit Scholarship Program. While that might not sound impressive at first, more than 1.5 million students were eligible for this and Bartosh placed in the top one percent of those 1.5 million.
Students qualify for this prestigious status based on their Preliminary SAT scores from their junior year of high school, as well as an application based on their academic and extracurricular achievements. As a part of this application process, Bartosh had to write an essay about an individual who inspired her as well as send in a Letter of Recommendation.
Not only is Bartosh academically successful, but she also is a member of countless extracurricular activities. She is a cast member of the fall plays and spring musicals, a member of English, Music and National Honors Societies, Uniforms Coordinator for choir, a member of Honors Chamber choir and Jazz band, Co-Chairperson for the performing Arts Float, an alter server at her church, a volunteer for events at  Reserve, a runner for the  track and field team and she works at the Pittsburgh Zoo.
Bartosh manages to balance her many activities, jobs and service work while maintaining high grades in multiple AP, Honors and CHS courses.
"How I balance it all is hard to say. I really just take it all one step at a time and I make sure my calendar is organized. I regularly communicate with teachers and coaches and sponsors to make sure I can fulfill each one of my commitments to the fullest. And I'm just really passionate about everything I do. If I didn't love it, I wouldn't do it, especially since I'm already doing so much," Bartosh said.
Looking back at her time in high school, Bartosh believes taking AP and honors level courses have prepared her for both SAT testing and time management.
"Many classes at Shaler have prepared and helped me become a finalist in the National Merit Award, especially Mrs. Loudon's class. That essay we read on the SAT and how to take standardized tests, plus the multiple choice practice she gave us helped the most out of any class."
Bartosh encourages underclassmen to take as many challenging courses as possible. Although it may not seem like it at the time, every class she has taken has prepared her for a new challenge and helped her achieve personal accomplishments.
"My advice to underclassmen is, whatever you do, you better have a passion for it. If it doesn't make you happy, it's taking time away from the things you do love. You can do anything you put your mind to, as long as you focus and do it for the right reasons. And no matter how hard things get, or how busy the day is, make sure to have fun and enjoy yourself."
The large amount of schoolwork and activities Bartosh has done over the past four years may have been overwhelming, but she is grateful for the experience.
Next year Bartosh will be attending Coastal Carolina University and plans to major in Marine Science.
Leave a Comment