Spondike selected as member of All National Jazz Band
Shaler Area senior is only one of 18 students from across the country to be selected
Shaler Area senior Zach Spondike, who has been creating music since his fifth grade year, has come a long way from learning monotonous scales as an elementary school student.
Spondike was recently selected to be one of 18 students from across the country to be selected to participate in the National Association for Music Education 2020 All-National Jazz Band, one of the highest honors for a high school musician.
Spondike recounted the moment of utter disbelief when he found out he had been selected..
"I couldn't believe it. I screamed. My mom thought that I hurt myself," Spondike said. "I was in my room and I ran down the stairs and said, 'I made the All National Jazz Band,'" Spondike said.
Ellen Spondike, the middle school's music teacher and mother of Zach, was similarly very proud that her son's hard work had paid off.
"I was very happy for him," Mrs. Spondike said. "After I realized that he didn't scream because he had dropped his instrument or something, I was very excited for him."
Before being considered for this band, there were a number of prerequisites that Spondike needed to satisfy, the most vital being selected to the All State Ensemble.
"It is very difficult," Shaler Area band director Mr. George Tepshich said. "First, you have to make it to the State level.  Depending on the ensemble, there are different paths to States and all of them are very challenging.  Once accepted into one of the All-State Ensembles, you can apply for the National Ensemble.  It is a grueling audition process."
The audition process then began online, where the organization provided the instrumentalists with etudes that have been transcribed from solos throughout the years and additionally required the musician to submit improvisation.
The live festival, which would have taken place at the Gaylord Resort in Orlando, FL the first week of November, has been cancelled due to COVID-19 restrictions. Spondike is disappointed, but not surprised by the cancellation.
"I kind of understood it but it's still kind of sad because the thought of going to Orlando in a couple of months would have been pretty cool," Spondike said.
The National Association for Music Education (NAFME) has since released a message to members of the organization, saying that there are plans for a virtual event, but no further details have been provided.
Spondike has involved himself in numerous music groups throughout the years. On top of participating in the high school marching band for three years as an instrumentalist and for his second year as a drum major, he has participated in high school's the Wind Ensemble, Honors Jazz Ensemble I, and the Pit Orchestra for the spring musical.
"He is involved in multiple groups outside of the school day and is always willing to fill instrumentation for other ensembles during performances," Mr. Tepshich said.

Outside of the school, he participates in a ska band called The Book Club Band alongside some other Shaler graduates, as well as a funk, soul, and rock n roll band called The Argonauts.
"It's just always a good time," Spondike said.
He also has participated in the Three Rivers Young Peoples Orchestra (TRYPO), and a variety of other honors ensembles: PMEA Honors Jazz Ensemble, PMEA District I Orchestra, PMEA District I West Honors Band, Allegheny Valley Honors Band, and All State Jazz Band.
Spondike claims that his love of performing blossomed after getting to work with inspiring musicians as he moved up into more challenging ensembles, but the most inspiring influence may have been his mother.
"It was definitely more of a gradual thing. As a little clarinet player in fifth grade, I didn't really think much about it," he said. "But, whenever I came into middle school and got to work with my mother, it definitely inspired me to get into it more. I started listening to more players, and it ultimately just grew from there."
What else grew from there was the number of instruments he could play. Since his start with the clarinet, Spondike has learned to play others along the way. The tenor and baritone saxophones, which he has played since sixth grade, are his most noteworthy choices, but he has also played around with the flute and the piccolo.
Spondike currently plans to pursue a musical career in the future, specifically looking at majors like music education, music performance, jazz studies, and jazz education.
"I can't think of myself doing anything else, really," Spondike said.
Leave a Comment
About the Contributor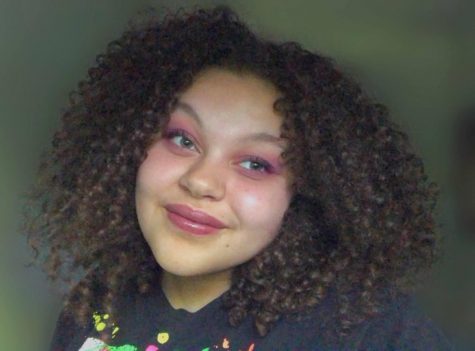 Alyssa Hillwig
Hi! I'm Alyssa Hillwig. I'm a senior, and this is my second year as part of The Oracle staff. You've probably seen me in the hallways and thought...