Teachers bearing the burdens of ever-changing school year
The 2020-21 school year has been hectic. The start of school was pushed back. Students and teachers began the year staring at iPads. The district switched to hybrid, and students could actually go into their schools, but only twice a week. Then full virtual learning began again. Now students are back to hybrid. What learning model will Shaler be in two weeks from now? With circumstances constantly changing, who can say?
The constant transitions, the uncertainty, and the completely different way of running school have all added up to make this year much more difficult than years past. It's been hard on students and parents, but it's also been hard on teachers.
Teachers from all different subjects and grade levels said two things stood out as the most challenging for them.
The first was the overwhelming amount of work they have this year. They have had to learn to use new technology, redo most of their lessons, and communicate with students in a completely new setting. In a sense, they have to learn how to teach all over again.
"This is, without a doubt, the most exhausting year I have ever had in the classroom," Mr. Kevin Keenan, a 6th grade Social Studies teacher, said. "Everything is new, and because I want everything to go just right, I am putting a lot more time, effort, and, honestly, stress into my work. Trying to keep up with grades and missing or late assignments feels like an endless task."
This idea of school being "an endless task" is a sentiment shared by many other teachers.
"I feel like I'm always on a treadmill… going NOWHERE but more hills keep coming and it never turns off," Mrs. Holly McCarthy, a high school History teacher, said.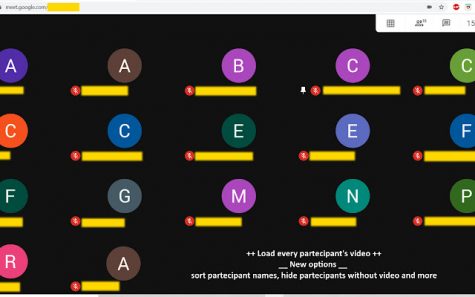 Most teachers agreed that it has been the year they've put the most time into.
"I'm putting in the most hours this year, because every single lesson has to be rewritten or revamped to make it technology based," Mrs. Michelle Bucek, a 6th grade ELA teacher, said.
In order to rewrite lessons for a virtual setting, teachers have to learn how to use new technology, which requires them to put even more time into teaching.
"It's not less work or more, it's just different. It's definitely more time, because this is new to me," Mrs. Nicole Henne, a 1st grade teacher at Burchfield Primary School, said. "Google Classroom was new to the Primary teachers. We had never used that," she said.
In addition to incorporating new technology into their lessons, primary school teachers face the added challenge of keeping a class of 1st graders focused through a computer screen.
"I would say that the most challenging part for a young child is just focusing and staying with me," Mrs. Henne said. "I mean, it's hard enough for a six-year old to sit still for a long time and stay engaged, but can you imagine over a computer with sometimes things going on in the background?"
The second thing that teachers described as the biggest challenge for them is engaging and connecting with their students.
"Some kids, I don't even know what they look like," Mrs. Anne Loudon, a high school English teacher, said. "They're just an avatar. They don't turn their cameras on. I don't have a relationship with them, and that's challenging."
Even when students do turn their cameras on, in this virtual setting, the laughter and chatter of school has been replaced with the complete silence of a class full of students with their microphones muted.
"It's just quiet. You're teaching these kids, and there's just, nothing," Mrs. Henne said.
This makes it difficult to form relationships with students, and it can be very demotivating for teachers. When they can't see or hear their students, they receive little to no feedback about how effective their class is, and they can't interact with their students the same way they would in a classroom.
"The current circumstances require high levels of preparation, and the payoff is so much less, because we don't get the same student interest, the same enthusiasm or the same energy. So we put much more time in for a smaller payoff," Mr. Gregory Foster, a high school Chemistry and Physics teacher, said. "It's just much harder. It's much more difficult to do. There's less motivation to really take time and prepare something when you're not getting the same level of interest and enthusiasm from the students."
"
The current circumstances require high levels of preparation, and the payoff is so much less, because we don't get the same student interest, the same enthusiasm or the same energy. So we put much more time in for a smaller payoff.
— Mr. Gregory Foster
In virtual learning, teachers aren't interacting with their students like they usually would, and that makes it difficult to know if their students are learning anything at all, much less getting excited about a lesson.
"Teaching to a screen of black squares or bitmoji avatars doesn't give any visual feedback from the students that you usually get when you're teaching in the classroom," Mr. Dennis Reagle, the middle school GATE teacher, said. "You gauge much about your effectiveness in real time just by the looks on the students' faces. Teaching virtually might as well be explaining something to a wall."
All the teachers we talked to care about their students and want to see them doing well mentally, not just learning the day's material. It's worrisome when they try to connect with their students and get no response.
"If I'm reaching out and saying, 'Hey, are you okay?' and if I'm reaching out and I'm not getting any response, that's concerning. That does bother me," Mrs. Bucek said.  "I am not as concerned about their grades right now as I am about just making sure that they're okay. I just need to know that they're listening. I want them to know that I'm there to listen."
As much as it feels like all these issues could be solved if students would just turn their cameras on, and it seems like teachers all wish that they could see their students, the bigger issue isn't seeing a kid's face, it's knowing that they're engaged.
Making eye contact and seeing someone face-to-face is helpful for teachers because they can see that their students are engaged. Some teachers do wish all their students would turn their cameras on, but others are okay with kids keeping them off as long as they're actively participating in class.
"Students having their camera off only bothers me when the students do not participate or do not answer when they are called on to answer questions," middle school Math teacher Mrs. Melissa McConville said. "There are times when all of the students have their cameras on that I am very distracted by all the activity on my screen – students up and down from their chair, spinning in their chair, family/siblings/pets interrupting, etc."
However, it will be expected that online students will turn their cameras on during the second semester classes so teachers can see their students.

Even though full virtual learning presents teachers with so many challenges, all the teachers we interviewed agreed that hybrid learning was much more difficult for them. They described the chaos of trying to pay attention to two groups of students at the same time, and how hard it was to teach both groups simultaneously.
"It was very difficult trying to engage the (students) that were in-class and the people at home," Mr. Foster said.
While it was nice for teachers to have their students physically in their classrooms, the safety measures implemented due to the COVID-19 pandemic made in-person learning challenging. Wearing masks in the classroom meant that teachers couldn't do something as simple as read their students' facial expressions.
"I really rely on seeing their smiles, knowing that they are enjoying class and they're actively engaged, and when kids have masks on it's really difficult to see that," Mrs. Bucek said.
An upside to hybrid, though, was that teachers could see if their students were paying attention or not. In full virtual, this was not the case. However, most teachers reported seeing satisfactory levels of participation from students during full virtual learning, although they usually had to call on their kids to get a response.
"Overall I have been pleased with the students' participation," Mr. Keenan said. "There is always going to be that group that always participates and the group that always quietly goes about their business. But overall, participation has been good."
"
If I'm reaching out and saying, 'Hey, are you okay?' and if I'm reaching out and I'm not getting any response, that's concerning…I am not as concerned about their grades right now as I am about just making sure that they're okay.
— Mrs. Michelle Bucek
Most people would probably argue that overall, this school year has been challenging, but even in this strange time, teachers have found many different positives about remote learning.
Mrs. Henne has been impressed with how well the year is going for her students, even after they had to be taught how to sit still and turn their microphones on and off.
"I mean, they're six!" Henne said. "It's amazing to see how they adapt. Little kids just adapt. I mean, they just go with the flow. They come on every day, most of them very happy and smiling."
Teachers at the upper level buildings have found positives in how new technology has enhanced the learning process, for teachers and students. The district is being forced to use our technology, and we're learning from it.
"Not all students were checking their iPad or using their iPad, but now teachers and students alike are being trained to do that," Mrs. Loudon said.
Mrs. Bucek and the 6th grade English Department are celebrating Shaler's 1 to 1 technology distribution, something that became necessary when the district transferred to virtual learning. Now every 6th grader has a Chromebook, and that's been a game changer.
"For 6th graders, in order to advance their writing and really utilize the writing process we need to have 1 to 1 devices," Mrs. Bucek said. With the new technology, this is now possible. "I'm able to do things with giving them feedback on their writing and using websites that we couldn't use before."
Shaler Area teachers are adapting and finding positives in the new ways they're teaching, even during this difficult time. That doesn't mean that they want to continue teaching virtually or even in hybrid indefinitely, though.
"I miss the kids," Mrs. Henne said. "I just miss them. I just miss their little hugs, and their little cute smiles. I don't know if I miss tying the shoes, but I just miss their little faces."
View Comments (3)
About the Contributor
Maggie Rea
Hi, I'm Maggie. I collect business cards and I can't wait for the next Ford Truck Month! My favorite word is ubiquitous. This is my first year on newspaper...