Former PA Governor stays rooted in Shaler
Did you know that Shaler Area is the home of a former Pennsylvania Governor? If you are old enough, you know that Tom Corbett was the 46th Governor of Pennsylvania from 2011 to 2015. But, if you are currently a high school student, you might not have that memory.
Corbett was born in Philadelphia in 1949 and moved to Shaler when he was six years old. In 1956, he moved to the house where he still lives today.
"One of the reasons I love it is that we had a pre-Civil War farmhouse. It's not even on the records in Allegheny County. Two stories were built into a hillside, and then in 1870, they added a log cabin," Corbett said. "When we remodeled, there was dirt underneath the floor. In that dirt we found a bottle containing a couple of buttons, a piece of ceramic, and two very petrified rats."
When he renovated the house, Corbett left a mason jar filled with memorabilia he collected over the years, including items from his time in the Boy Scouts, insignias and ranks from his time in the National Guard, items from college and law school in San Antonio, and lacrosse equipment from his youth. He loves history and wanted to make a time capsule to pass onto the next generation.
Corbett went to St. Mary's Catholic School on Middle Road up until ninth grade before transferring to Shaler where one of his claims to fame was being the Huskie mascot. After high school, he went to Lebanon Valley College.
"I got along with everybody. Little did I know that was the foundation of politics. I wasn't a favorite of anybody, but I wasn't ever hated," Corbett said.
Corbett graduated from college in 1971. He was drafted into the Vietnam War during his junior year, but he was able to defer his service until he graduated. To fulfill his service requirement, he joined the Pennsylvania Army National Guard.
"Besides meeting my wife in college, it was the second best thing that ever happened to me because I learned discipline that I didn't have," Corbett said.
After getting out of the National Guard after serving 13 years, Corbett went to law school in San Antonio. During law school, he discovered his love for criminal law and decided to become a prosecutor. Following graduation, he returned back to his house and became an assistant district attorney. Still to this day, he remains a prosecutor at heart.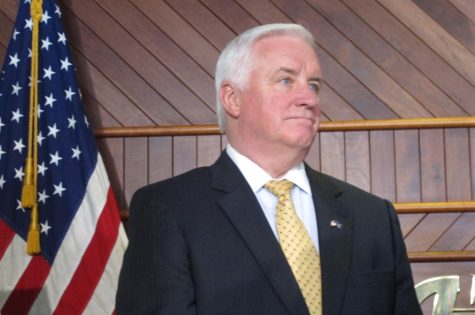 At the age of 30, Corbett tried a death penalty case, Commonwealth of Pennsylvania v. Stanton Story. Stanton Story had shot and killed a police officer. He was supposed to be second chair to the lead prosecutor in the case, but because the case was overturned on appeal and the lead prosecutor had another trial, Corbett had to handle the case alone.
Corbett was successfully able to point out Story's contradictions during cross examination and Story received a guilty verdict for murder. All 12 jurors came back with a guilty verdict for the death penalty, which wasn't even the most dramatic part.
"The judge called him up to the bench to pronounce his sentence, and as he got up there, all the lights went off. All I saw were people moving. I bent over because I thought someone was going to start firing a gun," Corbett said. "The judge had a staff member who was a former homicide cop. He ran into the judge's chamber, drew his pistol, and saw somebody moving. He was just about to shoot when the cleaning lady turned the lights back on."
Later, Corbett moved down to the United States Attorney's Office and in one of his cases helped to convict a heroin smuggling ring. However, it was not until after he went into private practice that he started getting into politics.
Corbett joined the Republican Committee of Shaler Township and its leaders asked him if he wanted to run for township commissioner. According to them, Corbett was not given much of a chance to win, but he did not let that deter him. During three weekends in October of 1988, he knocked on 1,200 doors and ended up beating the incumbent Democrat by 100 votes.
"Don't tell me I can't win. If I can't win, I'm still going to try. In those days, you had to leave something behind. I left a pen with my name on it and a flier. I had people years later tell me they still had my pen," Corbett said.
Around the same time he was asked to help with the George H. W. Bush Presidential campaign in Allegheny County and Western Pennsylvania. Bush ended up winning Pennsylvania on his way to being elected President. Corbett served as the United States Attorney for Western Pennsylvania from 1989 to 1993 in the George H. W. Bush administration.
Between 1995 and 1997, Corbett was appointed Attorney General of Pennsylvania by then Governor Tom Ridge. He promised not to run again in 1996, which was common practice.
After another stint in private practice, Corbett campaigned for PA Attorney General in 2004.
"I put 113,000 miles on my car in about 15 months driving all over Pennsylvania. If you want to get somewhere in Pennsylvania, call me," Corbett said. "My security detail [when I was governor] would be going down some street following GPS and I would tell them to go another way because I had driven it during my campaign for attorney general and knew it was faster."
The Associated Press had called the race for Jim Eisenhower, his opponent, but as votes came in late that evening, Corbett overtook Eisenhower to win. In 2008, he was re-elected with the largest vote total by a Republican in Pennsylvania history.
During his second term as AG, he investigated Jerry Sandusky and helped to create the child predator unit. That helped Corbett build the support base and encouragement he needed to run for Governor.
"If the Attorney General position wasn't limited to two terms, I would never have run for Governor. I really liked it," Corbett said.
"
If the Attorney General position wasn't limited to two terms, I would never have run for Governor. I really liked it.
— Tom Corbett
Corbett won the 2010 election for governor, and throughout his term, he was often scrutinized and criticized by the media and had to manage public opinion.
"Anybody that tells you they don't pay attention to public opinion is lying to you, but you come into office having reached decision points on policy. For example, I am totally against the legalization of [recreational] marijuana. I believe it is a gateway drug, but public opinion has been growing in a different direction," Corbett said. "I have stood by my opinion because across all the drug cases I have done in my career, almost all of the individuals involved started out on marijuana. However, I did agree to legalize medical marijuana because of a correlation saying that it actually helped individuals."
Despite the pressure of the position, Corbett got to enjoy some perks as governor. He went to every opening day for the Pirates and was on the team plane when the Steelers went to Super Bowl XLV. He went to Rome in 2014 with the archbishop of Philadelphia to invite the Pope to the World Meeting of Families in Philadelphia. Also, he was able to attend numerous local events across Pennsylvania's 67 counties.
Corbett enjoyed being governor and wanted to finish out his political career with a second term. However, he lost to Tom Wolf in his re-election bid. If given a second term, Corbett said he would have focused on transportation and natural gas infrastructure.
While he did not get that chance, he also did not have to deal with one of the biggest changes he has noticed since leaving the Governor's mansion.
"The number one thing that has changed since I was Governor is the cell phone and social media. Social media is upsetting the natural balance of trust. Every time you read something you have to ask if it's true. That is the biggest problem your generation will have to face is controlling that bad part of social media," Corbett said.
Corbett has since returned to Harrisburg for the inaugurations of Governor Wolf and Governor Shapiro. While Wolf and Corbett did not talk, current Governor Shapiro was more than willing to talk with him.
"We went to get a cup of coffee and we started talking. And this is how politics should work. I don't agree with half of what he says and he doesn't agree with half of what I say, but we could talk and agree on some things," Corbett said. "We drew up a friendship, and on big issues, we sometimes talk because he also became governor after being Attorney General."
For those interested in getting into politics, Corbett recommends volunteering at a campaign. According to him, the ability to experience politics in its purest form comes through participating in it at the local level. Holding true to his prosecutor roots, Corbett currently teaches at Duquesne Law School.
Leave a Comment
About the Contributor
Matt Purucker
Matthew Purucker is a senior and in his second year writing for The Oracle. Matt is captain of the Shaler Area Boys Soccer team, the play-by-play commentator...