It was a dreary day on the banks of the Susquehanna river, yet hundreds of people flocked to the quaint river-side town of Columbia, Pennsylvania for just one reason: The 10th annual Albatwitch Day festival. Complete with lectures, live music, haunted trolley rides, and Albatwitch hunting, this Bigfoot festival had a little something for everyone. 
The festival is centered around the Albatwitch, a staple of folklore dating back to the Native Americans who called Columbia home. The name Albatwitch comes from the Dutch word for Apple snitch, as it was said the Albatwitch would jump down from a tree and steal apples from unsuspecting picnickers (Columbia Historical Preservation Society). This isn't your grandma's bigfoot, however. Think less yeti and more little apple gremlin. 
"It's a smaller 4 to 5 foot tall hair covered creature. I've seen some artistic renditions around here that are kinda scary. If I ran into one I'd probably hit it with a bat and run. But then there are these depictions of little kind peaceful troll-ish type creatures that eat apples and are kinda harmless as they're just little tricksters. I'd like to think that's more of what we're dealing with," Sean Forker, Albatwitch Day lecturer and host of the Sasquatch Experience podcast, said.
As Bigfoot, Moth Man, and other cryptid creatures become increasingly popular thanks to numerous internet videos and conspiracy theories, more and more believers are coming to the forefront. Don't believe in paranormals such as the Albatwitch? You're more in the minority than you may think. 
"My feeling is that most people believe there is more than what we see in life. It's not considered something that is okay to talk about because some people say you're crazy, there's no such thing as ghosts, or you're crazy, there aren't cryptids. There are thousands and thousands of people. In fact, according to the New York Times, 55% of people admit to having had a supernatural or paranormal experience that they cannot explain."Albatwitch Day lecturer, and tea leaf reader, Rissa Miller, said.
The people that see Bigfoot aren't always who you would expect.
"They're not just Cletus and Tammy out in the backwoods at their shack that have had these encounters. More respected people such as doctors and law enforcement talk about it. These days people are more willing to come forward and share their story," Forker said. 
When you enter the main hall of Albatwitch day festival, there is a packed room full of eager men and women who are all sitting down and listening to the festival's extensive lecture circuit. The topics ranged from the history of witchcraft in Pennsylvania to the government's encounters with aliens and of course, the extensive history of Bigfoot sightings in Pennsylvania. PowerPoints and all, it felt as though you were attending a corporate seminar for paranormal sightings.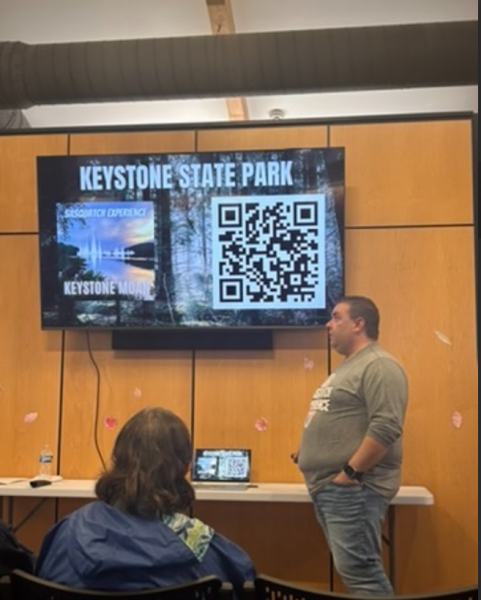 With all this new information being disseminated to the crowd, it's important to note that even the lecturers themselves will tell you that they are not the final authority on all things Bigfoot. In their eyes, they view themselves as well-researched paranormal enthusiasts. 
"No one is an expert in Bigfoot because we don't even know if he really exists. There have been sightings, I've had an encounter, but there are no experts. Anyone that tells you he's a Bigfoot expert is just an idiot. They're lying to you," Forker said. 
Though no one's an expert on Bigfoot, everybody has a theory on what they think Bigfoot looks like.
"Harry and the Hendersons, even though it's goofy, is probably the most realistic adaptation of what Bigfoot is probably like. Put it in your home and it'll do some damage, but really in the woods they are harmless," Forker said.
In a festival based on a controversial topic, one thing that isn't up for debate is the economic benefit that this festival brings for the town of Columbia. 
"The Albatwitch Festival is important to the community because it puts this community on the map and brings tourists here and that helps keep these stores and restaurants alive. People do come from all over the country to festivals like this," Miller said. 
One vendor in particular, Walter Bausch, has been a regular at the festival for 10 years, selling homemade Albatwitch hunter hats to raise money for disabled veterans. He too believes that the impact of putting Columbia on the map is profound economically and for the community.
"It's great even though there's a rain storm. You know there's still a crowd of people. We really appreciate it," Bausch said.
Thankfully this large crowd was well fed because the Albatwitch festival has a variety of local vendors selling food all along the riverfront. Pennsylvania favorites such as whoopie pies and barbeque were being served along with more out there meals such as Cambodian egg rolls and Hemp pretzels. To wash it all down, you could buy coffee or the fan favorite, Bigfoot hard cider. 
Food wasn't the only thing being sold at the festival however. Candles, tarot cards, dream-catchers, crystals, witch balls, and more Bigfoot merch than you could shake a stick at were all being sold. It was a one-stop shop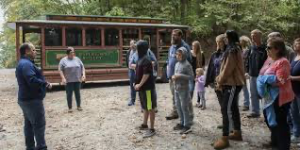 for anyone who wanted to have an encounter with the paranormal. 
To our traveling team of writers, the highlight of the festival had to be the haunted trolley ride. Old-time jazz music played as the tour guide showed the haunted side of Columbia, pointing out ghost stories as the trolley traveled at a lively pace. 
Along with the haunted tales, the trolley ride served as a comprehensive guide to all the town of Columbia had to offer. Tour guide Christopher Vera showcased the lesser known attractions of the town, such as its 250 foot train sets, museum of clocks, and certain houses which at one time played an integral role in the Underground Railroad. 
The tour culminated in the trolley climbing up the hill onto Chickey's Rock. Here, apples are thrown down into the nature reserve in an effort to feed the Albatwitches so they will be able to hibernate for the winter and return in greater numbers in the spring.
Throughout the festival there was a constant soundtrack of the best music southern Pennsylvania had to offer. To begin the day, Albatwitch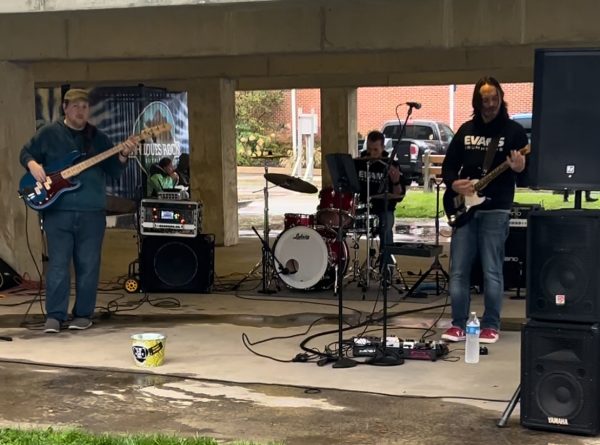 enthusiasts were met with the folksy sounds of the band Dillweed, and as the late morning progressed into afternoon the music took a turn as well.  By lunchtime the guitar licks of the band Sound Method were reverberating throughout the building, and for the final hour of the festival, things got hard core as Tang Moon was bringing the heat with their heavy metal riffs.  
The evidence about the Albatwitch has been so convincing that even the band is getting in on the action.  
"100% I believe the Albatwitch is real, how could they not be. I mean the native Americans knew about them, the locals here know about them, and maybe they're not alive anymore but 100 years ago they definitely existed," Keith Wiser, bassist for Sound Method said.
Looking to get involved in the hunt? If you want to visit this festival, Albatwitch Day generally takes place on the afternoon of the second Saturday of October. Trust us, it's worth the trip.