SAHS class plays big role in preserving Girty's Woods
The plot of land known as Girty's Woods, running from Reserve, through Shaler, and then to Millvale, was purchased by the Allegheny Land Trust and thus saved from development. This was a long journey which started last year, but with the help of many community organizations, small businesses, and even Shaler Area students, the 155 acres will be protected from development and preserved as natural habitat.
Mrs. Abbey Nilson, teacher of the Sustainability class at the high school, was able to get her class involved in this project because of her commitment to preserving the environment. She and Mr. Chris Lisowski, a teacher at the middle school who is also devoted to sustainability, met with the non-profit organization Allegheny Land Trust, along with many community leaders in Millvale, every week last summer. They discussed what was happening with Girty's Woods and how they could help save the land from development.
Sustainability was a new course this school year, so Nilson found this as a perfect opportunity to get her students involved with something so important within their own community.
One of the biggest challenges of this project was to raise awareness about how important this piece of land was. Though not known by a considerable amount of people, Girty's Woods is a large plot of woodland that absorbs rainwater, and is a diverse habitat and home to many plants and animals. In order to raise this awareness, students participated in many initiatives, such as fundraisers, creating social media accounts, and even reaching out to the local news.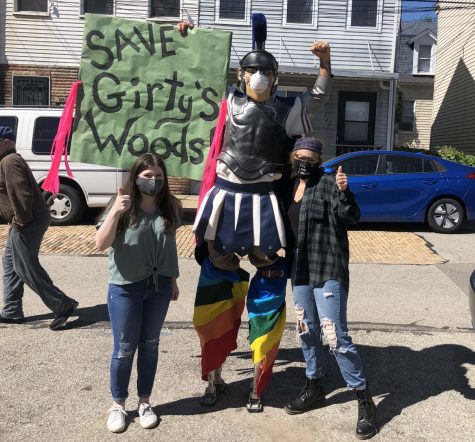 Seniors Cade Fedorek and Lauren Powell created an Instagram account, bringing attention to the cause through various posts highlighting initiatives, fundraisers, and the overall importance of being ecologically responsible.
"I used the Instagram to continue interacting with the community groups and build relationships for the community, so then after that you could see our posts being shared more often and it spread a lot faster," Fedorek said.
Alongside them, sophomore Kylie Brooks and junior Maddy Kruth took on the role of connecting with local businesses and people to advocate about the fundraisers and cause in order for them to advertise.
Most notably, the two reached out to Heather Abraham through Instagram, who then invited them onto the news, boosting the GoFundMe and bringing more attention. There, they talked about their cause and how they were boosting it through social media.  Mrs. Nilson described it as "amazing"  as she watched the GoFundMe totals jump while the students spoke on the news. The original goal for the GoFundMe was $500, but by April 17, the total raised was $8,511.
"With about $8,500 in the GoFundMe in the end, and then Pamelas in Millvale raised another two thousand, I'm just so proud that our class fundraiser raised over ten thousand towards this final goal that had to be met… what we did was important because we still raised a pretty good chunk, and the awareness got the community involved which is so important," Nilson said.
Nilson's other sustainability students were just as involved. The fundraisers they participated in included a spaghetti dinner held by Sprezzatura, where groups of students helped deliver food, make flyers, and sell raffle tickets.
"
I'm really proud of all these students. It's just so wonderful and hopeful to see high school students taking an interest in the environment and just promoting environmental causes. This is like a dream come true for me."
— Mrs. Abbey Nilson
In addition to that, Tupelo Honey Tea sponsored a fundraiser in the winter with an online art auction to benefit Girty's Woods. Fedorek and Powell, along with seniors Trinity Machajewski, Alyssa Lorenz and sophomore Sophia Duty made art for this event. The last fundraiser they were involved with was a concert at Mr. Smalls Theatre.
In addition, Shaler students ran their own fundraiser growing trees, and then planting them in the woods. Part of the property had been logged which prompted Nilson and her Sustainability students to grow and replant the trees. In addition to tree planting, they did a community cleanup on April 24 with the Allegheny Cleanways, to get students and the community to help clean up the woods.
"I think in terms of sustainability, it'd be hard not to [stay involved] after taking Mrs Nilson's class. We've been educated on so much that I never really understood before, and I've definitely made changes to my eating and my lifestyle. In terms of Girty's Woods, I'm excited to be able to go and be a part of yoga and hiking and stuff in the woods and know that we helped to save that land," Brooks said.
With this land, students and community members will be able to maintain trails, and study and research the woods. Mrs.  Nilson even plans to involve her future students with these projects.
"I'm really proud of all these students. It's just so wonderful and hopeful to see high school students taking an interest in the environment and just promoting environmental causes. This is like a dream come true for me. To be honest it's just amazing," Nilson said. "This has been a really hard year for a lot of reasons and I feel like this was a bright spot in the year, just teaching this class and working with this group of students and working towards a cause like this. This patch of woods that's now going to be available to go hiking and enjoy, and it's just so cool that it's in our district and now we get to share it with everyone."
Leave a Comment
About the Contributor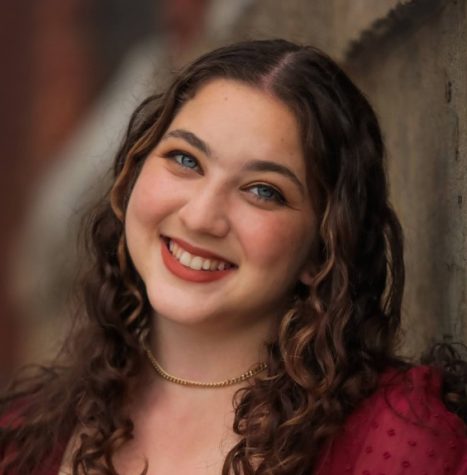 Rebecca Beckas
Hi, I'm Becca! I'm a senior and this is my second year being a part of The Oracle. I am a captain of the Shaler Area Dance Team, and when I'm not there,...