Mrs. Tepshich has turned her love of music into a career
Choir director Mrs. Kristin Tepshich is a notable staff member and alumni of Shaler Area High School. Her love for music and teaching radiates every day at work, but she's more than just a teacher; she's a mother who values her family, a lover of all things Disney, and a mentor for many students.
Tepshich was born and raised and has lived in Shaler her entire life. She grew up alongside her mom and two younger sisters with whom she has always been close. Her grandparents were also heavily involved in her youth, as she would often travel with them and her sisters. Her dad was a salesman who worked a lot on the weekdays, but she'd see him on the weekends when he wasn't traveling for his job
Tepshich's mom prioritized getting her and her sisters involved in different activities from softball, to soccer, to, most importantly, piano. Tepshich started taking piano lessons around age 7 or 8, after a friend recommended them to her. She went home that day and asked her mom if she could take piano lessons.
In 7th grade, Tepshich tried her luck by auditioning for her school's musical. Much to her mom's surprise, she got the lead role.
"I distinctly remember my mom going, 'Can you sing? Like, is this gonna be okay? Are you their only option?'" she said.
Although no one in her family was a musician, Tepshich had a musical ability that flourished as she grew. In 8th grade, she was given the opportunity to be the piano accompanist alongside the middle school choir. She didn't even know what that was at the time, but she played a song for the director anyway and earned the position.
A year later, former middle school choir director Mrs. Karen Frederick gave Tepshich even more responsibility as an accompanist.
"
In 10th grade everyone was like, 'I don't know what I want to be.' I was like, 'Oh easy, I want to be a music teacher.'"
— Mrs. Kristin Tepshich
"My 9th grade year [Mrs. Frederick] was like, 'You know what, I need to work with the boys for this one song, can you take the sopranos and altos into the band room and go over their parts?' And more and more she had pushed me on a path, unknowingly, to train for what I do right now," she said.
Going into high school, Tepshich described how almost no one knew what they wanted to do with their life after graduation, but that was never a question for her.
"In 10th grade everyone was like, 'I don't know what I want to be.' I was like, 'Oh easy, I want to be a music teacher.' There was never any question," she said.
After graduating from Shaler Area in 2006, Tepshich continued her musical journey at Duquesne University as a piano major. However, after her freshman year, she realized that if she wanted to be a choir director, she needed to focus more on vocals. Therefore, she switched her instrument to voice and started privately studying.
Along with student teaching and working at Bruster's Ice Cream, Tepshich worked as the assistant director for the Shaler Area musical during her first three years of college. In 2009, the director decided to step down, leaving the position open. That spring she was the head director for the 2010 musical, "Bye Bye Birdie".
A year later, the high school choir director position opened, leaving another opportunity open for Tepshich.
"The heavens aligned and the person who directed the pit called me and said, 'Get your resume in, the job's open,' and here I am," she said.
Other than teaching, Tepshich takes great pride in her big family.  She is married to the high school band director, Mr. George Tepshich and has four children: Abby, Logan, Lyla, and Lincoln.
"We spend so much time together. We do family game nights, we do sleepovers in the basement, we travel all throughout the summer together, we spend lots of time on the boat together, we do family walks and family hikes, picnics. We have a big backyard so they're constantly jumping out there on the trampoline. We spend an abnormal amount of time together as a family and I wouldn't trade it for anything in the world," she said.
When it comes to hobbies and alone time, Tepshich loves traveling, describing Disney World as her 'Achilles Heel'. In fact, if teaching hadn't worked out, she would've loved to become a princess at Disney World.
She also enjoys outdoor activities such as yoga, golfing, and traveling to the beach, but it's fair to say that one of the things she enjoys the most is teaching.
"
I think one of the things that I love the most about teaching is learning from my students, learning about myself, and learning about how I can be a better teacher."
— Mrs. Kristin Tepshich
"I think one of the things that I love the most about teaching is learning from my students, learning about myself, and learning about how I can be a better teacher. I think a really important part about teaching is that every class I'm a different teacher because I need to teach to the needs of my students," she said.
However, as much as she loves teaching, this school year has been difficult for everyone and Tepshich is no stranger to the obstacles that we've all had to face.
"I feel like when I come into this place, it's not a job. This year I felt like it was a little bit of a job because there were so many things that were just disconnected, but every other year I love coming into work," she said.
Tepshich also admits that the two things she misses most from a normal school year are her students and performing music.
"The beginning of the year when I was just singing to myself all day long, I got so bored. I love working with raw talent and just molding. It's almost like ceramics- making a beautiful vase out of just this pile of clay getting ready to be formed. So those are definitely the two things I miss," she said.
However, the greatest obstacle she has faced is not being able to hear all of her students singing at once. She admits that there's a lot more responsibility on them to self-assess their performance, but it's lacking that training that she provides. There has been a lot of trial and error this year, but she realized things work the best when she puts her own expectations aside and asks her students what they need from her.
"I think when I just let go and had real conversations in class saying, 'this sucks, but what do you want to get out of this', then I was able to find some inspiration and ideas that could work," she said.
However, she's made arrangements for there to be a spring performance with all four of her choirs on Friday, June 4. In preparation, there have already been a few after-school rehearsals that are going to continue throughout the month of May.
"I'm nervous. I'm excited. Both of those definitely combined into one. I think I'm more nervous about the safety and logistics of everything and I'm a little nervous about getting together and singing for the first time in a year. I just want it to be a worthwhile experience for everyone. I want it to be memorable," she said.
Tepshich has put in an immense amount of effort to help overcome numerous difficulties this year and she hopes to have it all pay off in the end.
Leave a Comment
About the Contributor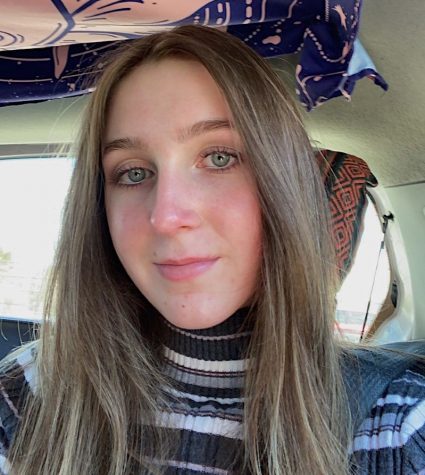 Savannah Schultis
Hi, I'm Savannah! I'm a senior and this is my second year on the Oracle staff. When I'm not writing an article, I enjoy singing, listening to music,...