Bacco dedicated to help kids in foster care for his son
Shaler Area Middle School teacher Mr. Frank Bacco has turned his son's dreams into a reality with the Dalton Bacco "Living the Dream"  nonprofit organization, which works with children in foster care and helps to keep his son's memory alive. After Dalton's tragic passing in 2017, Mr. Bacco and his wife Kerri knew they had to do something to honor him.
"My son was the most important person in the world to me. I loved him, I still love him, and when he passed away we knew we had to do something to keep his legacy going," Bacco said.
The Baccos adopted their son in 2011 when he was 12-years old. Dalton was in the foster care system, so they had to foster him for six months before they could officially adopt him. When Dalton was a senior in high school, he wrote a paper for his English class describing how one day he wanted to give back to kids in the foster system who were in the same situation as he once was.
"He knew that there were many kids who would not get a family, and he wanted to give back to those kids. He would never forget those that suffer in foster care and group homes," Bacco said.
He was giving back to those kids long before he wrote his senior year English paper. When they first met their son in December of 2010, the Baccos took him out on a shopping trip and bought him two nice pairs of shoes. When they went to visit him a week later, Dalton wasn't wearing his shoes and explained that he gave them to a kid down the hallway who needed a new pair of shoes. Dalton rationalized it by telling the Baccos that the kid he gave the shoes to may never find a family, so it was the least he could do.
"That shows you the kind of kid Dalton was. He didn't really care about possessions. He cared about other people. And that legacy is what I want people to remember about Dalton, that's what I'll always remember about Dalton, the loving kid he was," Bacco said.
When Dalton passed away, Mr. Bacco and his wife received donations and they knew that they wanted to put that money towards an organization that would honor Dalton. Just a month after his passing, they were able to set up the "Living the Dream" fund, which got its name from their son always saying, "I'm living the dream because I have my forever family." The purpose of this organization is to carry out Dalton's wish of helping kids in foster care and to keep his kind-hearted legacy alive.
With their nonprofit organization, the Baccos are able to spend time with foster children and take them out for activities that they have never done before. Every November, they go on an annual shopping trip at the Grove City Outlets where the kids are able to pick out things that they want to buy. Although it sounds simple, it means much more to those kids.
"A lot of these kids will never get to do that because they don't have a parent or a relative," he said.
"
I've heard when someone dies, when you stop talking about them, they're gone for good. I'll never stop talking about my son and this is just one way to keep his message going."
— Mr. Frank Bacco
Evidently, the children are very appreciative of what the Baccos do, thanking them numerous times for their work. Several will tell their caseworker that they look forward to going out with them, and one of their kids actually keeps a countdown for when he will be seeing Mr. Bacco and his wife again. A girl once told them that "today was one of the best days of my life" after a shopping trip.
Another component to this is a mentoring program where Mr. Bacco and his wife are able to take individual children, their mentees, out to sporting events, movies, plays, restaurants, Kennywood, etc. In addition, they call those kids about once a week and check in on them, providing help or just someone to listen to them if they need it. With this relationship, they kind of become a family member to their mentees.
"It makes my day when one of my mentees calls me. We mean a lot to them, but they mean a lot to us too," Bacco said.
Mr. Bacco hopes that he can get his mentees on a track where they won't fall in the same footsteps as their parents. Many children end up in foster care due to parental neglect, abuse, drug usage, or arrest. He always tells them that when they "make it big" they have to "pay it back and become a mentor" themselves.
Not only does the "Living the Dream" fund impact the lives of foster children, but it also has impacted the life of Mr. Bacco. He reflected how the organization has given him an open mind and makes him look at kids differently now. It has helped him as a teacher work with students with different needs.
One way that money is raised is each year the "Living the Dream" organization holds a golf outing every September. They recently had their fifth outing which included food, gift bags, raffles, and, of course, golfing. Mr. Bacco recognizes that he and his wife will never have another birthday party for Dalton or ever get to attend his wedding, so this yearly event is just another way to honor their son.
Knowing all of this, it's easy to see why Mr. Bacco and his wife Kerri won the Philanthropy Award given by Pennsylvania Statewide Adoption Network (PA SWAN), an award given to people who financially give back to children in foster care.
The award ceremony was supposed to be at the Wolf Lodge in the Pocono Mountains, but due to COVID protocols, it was held over a Google Meet this year. The award was given to the Baccos by Gisele Fetterman, the wife of the Lieutenant Governor. They accepted it from their living room and were able to have family members join over the meet and watch the ceremony.
To Mr. Bacco, the award gives the Living the Dream Foundation legitimacy as a true organization and he hopes it paves the way for him and his wife to work with more children.
"This is my passion, it really is," Bacco said.
He said he wants to "spend valuable time with kids" and let them know that he "cares about them" and is "doing this because he wants to do it."
By doing that, he will ensure that not only the memory of his son, but his son's mission to help foster children, lives on.
"I've heard when someone dies, when you stop talking about them, they're gone for good," Bacco said. "I'll never stop talking about my son and this is just one way to keep his message going."
View Comments (4)
About the Contributor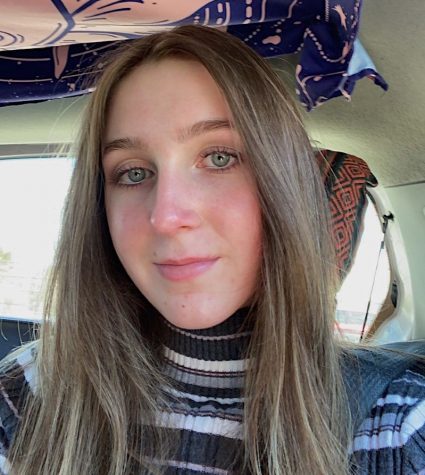 Savannah Schultis
Hi, I'm Savannah! I'm a senior and this is my second year on the Oracle staff. When I'm not writing an article, I enjoy singing, listening to music,...