Sustainability classes help fund "green" building renovation
In another effort to help the community, Shaler Area High School's Sustainability classes held a fundraiser on November 20th selling succulents propagated and grown by the students.
The incentive behind the fundraiser was to be able to renovate a local community building in Millvale, located at 216 North Avenue. A few years ago, this building was severely damaged by fire, and has been used for storage ever since. It is not going to be a normal renovation, though, it is being labeled a "green" renovation. The building will provide solar energy from solar panels on the roof and an electrical vehicle charging station. The solar panels are important to sustainability goals because they will provide energy from natural resources and will not release greenhouse gases and carbon emissions.
Three local communities: Millvale, Etna, and Sharpsburg, have all earned global Ecodistrict certifications and work together under an organization known as the "Triboro Eco-District". These certifications are earned by a rigorous process in which the communities must demonstrate a commitment to positive change in six key focus areas: water, air quality, mobility, energy, food, and social equity.
"
These students are the leaders of the future and we will need their talents and dedication to help with major global issues, like climate change. Their enthusiasm and hard-work with this project are so inspiring.
— Mrs. Abbey Nilson
While working on the campaign to save Girty's Woods last year, Sustainability students and Mrs. Abbey Nilson, the Sustainability teacher, were able to work very closely with this organization. Because of these connections, they were able to collaborate on this project to close a gap between an awarded grant and the funds that were needed in order to renovate the building.
Nilson came up with the idea of the succulent fundraiser because of her love for plants, as well as her love for all things green.
"I love growing plants with students, it is fun and everyone can do it. However, the plants we grow have to be chosen carefully based on how long they take to grow. I thought succulents would work well since they can be propagated fairly quickly by taking a "cutting" from a larger plant and placing it in soil. Roots grow within a few weeks this way. Plus, they are just super-cute," she said.
This was a process, though, that would take a lot of time and effort, not just from students, but from friends, relatives, and even local community members.
"The main thing was finding a source of the succulent cuttings – I have a bunch I was able to use from my own plants, and I happen to have a lot of plant-obsessed friends and family members who donated cuttings. We also had support from Melissa Rogers, the Youth Programming Director at the Millvale Community Library, who donated some and came in to help us do final repotting and arranging of our succulents before the fundraiser," Nilson said.
So while planting came easy for the students with the tools and resources provided, some students applied for, and were awarded, a grant through pgh350.org, which is a branch of an international organization dedicated to fighting climate change. With the awarded grant, supplies like grow lights and pots were bought. There was also a large donation of hand-made pots from a local artist and Mr. Brad Susa, the high school ceramics teacher, who also donated pots that were made by art students.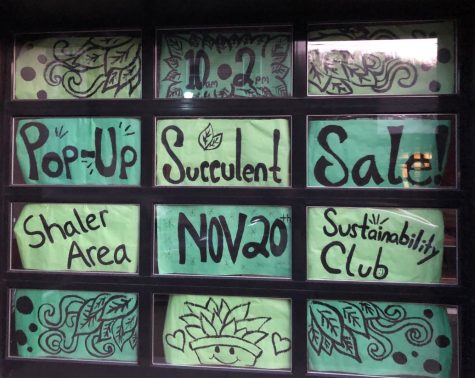 After the planting and potting process came the set up for the fundraiser. The building that they were able to use is one that was vacant until December first, giving the students a perfect place to set up shop. Nilson described it as an amazing location, as it is on the corner of the busiest intersection in Millvale. The building has plenty of windows, which were great for hanging up signs and artwork that Nilson's students made to advertise their succulents.
The turnout was everything the group could have hoped for, selling out of their plants and raising over $1,600. While the event was advertised to last for four hours, the plants ended up selling out in an hour and a half. Nilson even drove back to the school for extra succulents that had not been potted, some soil, and drinking glasses used for emergency potting. After the very successful event, a member of the community generously decided to match the raised funds, doubling the earnings.
This fundraiser energized everyone involved since there now is enough money to do the "green" renovation.
"I am so proud of all of the students in the Sustainability classes and the Sustainability club who were involved in this. Some students focused on planting and potting, others on promotional materials like flyers and signs, others wrote grants to help us with funding, and so many students came and represented our school so well on the day of the actual sale," Nilson said. "These students are the leaders of the future and we will need their talents and dedication to help with major global issues, like climate change. Their enthusiasm and hard-work with this project are so inspiring. I think the future will be bright."