Mackey living the dream of covering his hometown teams
Jason Mackey grew up in Pittsburgh and went to Brentwood High School with hopes of becoming a high school math teacher. However, when he went to college at Westminster, where he played baseball, he found himself interested in a new major, Broadcast Communications. Mackey's journey in the broadcast and journalism industry was under way.
Mackey started off his career with a small newspaper company in Northern Virginia covering high school sports. This is nothing out of the ordinary for the start of a journalist's career.
"I would recommend covering high school sports when coming right out of college. It is so important to be able to know how to cover high school sports," Mackey said.
That would lead him to much larger stages in the sports world. He worked for The Connection, which was a slightly bigger newspaper company in Northern Virginia before he moved back to Pittsburgh and picked up a small gig with the Tribune-Review.
"
People care about the Pirates. There's an appetite for this. It's a really cool baseball town. It will be a lot of fun if the Pirates start to succeed on the field."
— Jason Mackey
In 2016, he then was promoted to the number one beat writer covering the Penguins at the Pittsburgh Post-Gazette. For Mackey, it was a weird and uncomfortable transition since he grew up playing baseball and loving it, and covering a different sport was something that he had to get used to.
Growing up, Mackey was not a major fan of the Penguins. He liked them because they were the hometown team, but hockey wasn't something that he paid attention to a lot. This made it a bit easier for him to be able to write for a team that he grew up watching.
"If the Penguins lost I wasn't mad, if they won I wasn't happy. I wanted to write a good story. I didn't want games to go long. There would be some day where I would hate the Penguins because it was work," Mackey said.
As the main beat writer of the Pittsburgh Penguins in 2016, Mackey was tasked with covering a future Stanley Cup winning team. This obviously gave him more publicity and helped him through his first year.
In fact, a lasting memory during his time as the Penguins writer came on the night the Pens clinched the Stanley Cup in Nashville. Mackey was sitting in the press box of Bridgestone Arena watching a fairly defensive game with the score being tied 0-0 entering the 3rd period.
By this time, he would typically have his story mostly written. However, with no idea what the outcome would be, he had to improvise.
"Obviously I had prepared for that. I wrote a version that had the Penguins winning the Stanley Cup. But, had I not, that would have been very scary," Mackey said.
He ultimately ended up starting a story of the Penguins winning the Stanley Cup and the Penguins losing Game 6. It is more frequent that something like this happens when writing on deadline. Mackey has had to "make up" stories that tell multiple outcomes so that he is able to meet his deadline for the newspaper.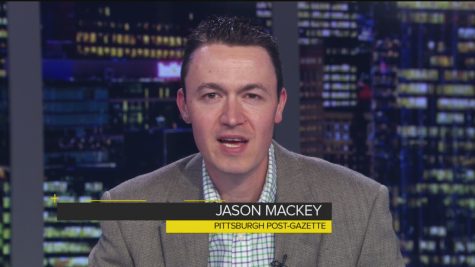 With 1:35 left in the 3rd period, Patrick Hornqvist banked a shot from behind the net off the back of Pekka Rinne and into the net to give the Pens the lead and the first goal of the game. The media room went into a frenzy and he took his Stanley Cup Champion story and started to add on to it creating the eventual story that went live on the Post-Gazette website hours later. After the game, Mackey found himself on to the ice as the team celebrated winning the Stanley Cup.
"That night and that time was just seared in my memory. Just thinking about being on the ice in Nashville. You look over and there is Mario. You look elsewhere, and there's Murray and Fleury, or Sullivan with his dad," Mackey said.
Following the game and the excitement, Mackey still had to do his job.
"It was me, Sam Werner, Sean Gentille, and we just stayed up all night, writing stuff. I wrote one story, and I'm texting with Sam and Sean, and we just cranked out a bunch of stories," Mackey said.
Mackey would go on to write for the Penguins for another three years, building up a huge network and set of connections. However, in 2018, Mackey made the difficult decision to switch to the Pirates beat writer. By doing this, he lost every resource he had from writing for the Penguins and had to start from scratch.
"It's very hard. It caused me a lot of stress changing beats. It's something I had not fully thought through. Did I realize I would lose everything I had with (former GM) Jim [Rutherford]? No."
What helped Mackey is the fact that the Pirates hired a new group of front office people who came in right around the same time he switched over.
"This group is very open to the media. That wasn't the case with the last group. The last group was rough," Mackey said. "It was hard because everything I knew was gone," Mackey said when talking about the transition.
One of the connections Mackey lost was former Penguins General Manager Jim Rutherford.
"A lot of building a connection is based on trust. He got to trust me and I got to trust him. He would learn that he could tell me things and I wouldn't report them. Jim used me for things that benefited him, but I benefited from it too. With Jim you recognize what he was trying to do. He never lied, he always said things that would be his intent," Mackey said.
Mackey also built working relationships with players. He reflected on some of those that he found most enjoyable to talk to .
"(Sidney) Crosby is on there, Marc-Andre Fleury, you could even throw Matt Cullen on to that list. You're looking for players that will answer your questions honestly, and give you insider context that you wouldn't otherwise get," Mackey said.
Mackey had a clear favorite: Crosby.
"He's the most accessible superstar in the world. He'll stay for at least 30 minutes after most games just talking, creating a conversation with people," he said.
One of his most memorable stories came from a trip to visit Crosby at his home in Canada in the summer.
"Going up and hanging out with Sid for a couple of days was the coolest thing that I've done in my career," Mackey said.
He has not covered any championship teams with the Pirates, yet, but he knows it will be quite a story if that happens.
"People care about the Pirates. There's an appetite for this. It's a really cool baseball town. It will be a lot of fun if the Pirates start to succeed on the field," Mackey said.
He fully believes that once the core of young guys comes up, the Pirates will start to spend more money on payroll. If they want to rush the rebuild, they may have to find some hidden gems, like they did in 2013-2015 with players like AJ Burnett, Francisco Liriano and Russell Martin, when they reached the Wild Card game three years in a row.
Leave a Comment
About the Contributor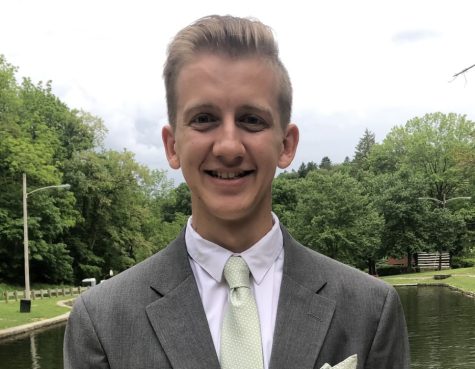 Andrew Deal
Hi! My name is Andrew Deal, and I am a senior and in my second year with The Oracle. When I am not working on The Oracle, I perform in the school plays...