Rosenwald helping vets through Pittsburgh Warriors
Shaler Area Phys. Ed. and Health teacher Mr. Adam Rosenwald served in the Army from 2005-2008. He was deployed for two tours in Afghanistan for a total of 19 months.
On the first tour, he was a SAW gunner. After his first tour, he was promoted to Sergeant. On the second tour, he was a squad leader and he led a seven-man squad on combat operations.
After over a decade of being home, Mr. Rosenwald was looking for a way to help. That's when he ran into the Pittsburgh Warriors whose motto is "Healing through hockey".
"It was a random email to be honest," Mr. Rosenwald said about how he initially became involved with the Warriors. "I immediately reached out. At that particular time in my life when I saw the email, I was ready for something different. I was ready for a change."
He has been involved with the organization for two years now. 
"We are a group of disabled veterans that utilize the team sport of hockey to heal," Mr. Rosenwald said.
There are two criteria that someone must meet in order to be a part of the Warriors: be an honorably discharged veteran and have a service-connected disability, either physical or mental. If you meet the criteria, the Warriors will provide you with an hour of free ice time every week.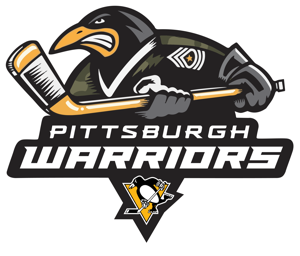 The Warriors' main goal is to cut down the national number of suicides by veterans. Right now it is at 19 per day, but last year it was at 22 per day. Organizations like the Warriors are a huge part of this reduction because they provide veterans with the help and support they need after returning home from service.
This organization is in its 5th year now, and has seen growth every year. It went from only having one team to getting up to four teams now, and this year they even put in a league for the veterans to compete in. 
"We have four teams in the league. We have 60 registered players in the league with a subroster of about 10-15 guys," Mr. Rosenwald said.
The league is called the Disabled Veteran Hockey League. It is the first of its kind, and it is sponsored by the Penguins foundation which gives the Warriors access to the ice at the Hunt Armory in Shadyside every Sunday night.
Every year they travel to two national tournaments as well. This year one of the trips will be to St. Louis while the other destination has not been determined.
Those involved in the organization found out about the Warriors simply through word of mouth from someone who is already involved or has heard about the organization.
There are a lot of people who make this happen; Mr. Brad Vig is one of them. 
"I'm currently the Assistant General Manager within the organization. Lately my main duty is trying to find us ice time to practice at least once a week throughout the summer months. I also meet with a lot of general managers of rinks to build relationships with our organization," Mr. Vig said.

The longer Mr. Rosenwald was involved, the more he realized how much he wanted to help out because he was able to see firsthand the benefits and the healing process through hockey. 
"I ended up on the board of directors. I now actually have the role of treasurer. I'm also involved now in running the league," he said.

People who get involved have all different levels of experience on the ice.

"I had probably been on ice skates maybe a dozen times before showing up at ice hockey at 42," Mr. Rosenwald said.
"
The thing about the Warriors is that yes, it's about hockey, but when you think about it it's so much more than just about hockey. It's about healing.
— Adam Rosenwald
The Warriors hosted a tournament on March 11 to raise funds for for the organization. At these tournaments, the Warriors compete against organizations like themselves. Teams come from all around the country, ranging from as far away as Alaska to Florida.
Another thing the Warriors have started doing is the Healing Ride, a 334-mile bike trail ride from Pittsburgh to Washington D.C. They do the trail over a course of six days. At the start of every day, they honor a soldier who lost their life in combat and at the end of the day, they honor those who have lost their internal battle after returning home.
"It's just another great way to help out veterans," Mr. Rosenwald said, "It gives everyone that physical and mental break they need. Plus, it's a great way to build connections with others in the Warriors organization."
There is a huge adjustment that veterans must make when they return to civilian life, and it can be very challenging.
"I know that I and others have had a very hard time adjusting to becoming a civilian again and losing your team. The Warriors hockey team has been the center that we all come around. The team gives us all that feeling of being in and serving again," Mr. Vig said. "There is always a helping hand out there, all you have to do is ask…We all have to look out for each other and the Warriors organization plays a key role in helping veterans heal."
For Rosenwald, the best part about being involved is "the amount of growth that you see within yourself and within your fellow teammates. The thing about the Warriors is that yes, it's about hockey, but when you think about it it's so much more than just about hockey. It's about healing," he said.
Leave a Comment
About the Contributor
Sam Himrod
Hi, my name is Sam Himrod. I am a junior, and this is my first year on the staff. I love spending time with friends and family. I am a member of the varsity...