Local sportswriter shares thoughts on baseball issues
Perrotto covered the Pirates since the 80s, covered 24 World Series and has Hall of Fame vote
Watching a World Series on TV is special enough for me, but imagine going to one. How about 24? How about I throw in a couple of Super Bowl trips? John Perrotto has done all of that and more.
"I've covered 24 World Series," Perrotto said. "I covered two of the Steelers Super Bowls when they beat Seattle in Detroit and when they lost to Green Bay in Dallas."
That's not even close to all that Perrotto has done in his long career in sports journalism, mainly covering baseball. It all dates back to when he started covering games in high school to covering professional games at the highest level.
Perrotto is a graduate of Western Beaver High School, where he began covering games.
"I covered local high school games," Perrotto said. "The football coach recruited me to be the statistician for the football team. There was a local paper in Beaver Falls and [they] paid me five dollars a story and I wrote them by hand and that was [how] my journalism career started."
Perrotto echoed how important that was to him getting his start.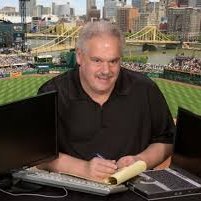 "It always helps if someone gives you a break, and I got very lucky [that] I found someone who took an interest in me," he said.
Perrotto then graduated from Geneva College and started writing for the Beaver County Times while still in college, and his work still shows up in the Beaver County Times today. He mainly covers the Pittsburgh Pirates for the Beaver County Times, and has been a baseball writer for Baseball America since 1990. In 2007, Perrotto was the first beat writer for the Baseball Prospectus.
Perrotto decided to cover sports because he's always loved it.
"From the time I was a little kid, I loved sports, [such as] going to games with my dad and watching games on TV," he said.
And his love of sports has got him to where he is today, and where he is today has gotten him a vote in the Baseball Hall of Fame.
Perrotto has the vote due to being a member of the Baseball Writers' Association of America. He also votes for other MLB awards in addition to the Hall of Fame, which he doesn't "take lightly".
Since he has a vote, Perrotto has been around many of the big controversies and debates regarding the Hall of Fame, such as the fact that Derek Jeter was one vote short to be unanimously voted into the Hall of Fame. Perrotto thought Jeter should have been a unanimous selection.
"I voted for Derek Jeter. To me, it was a no-brainer."
He figures the only reason someone would not vote for Jeter is because someone has a grudge against him, which Perrotto said does not make sense because "[Jeter] was always very nice to deal with and was cooperative and friendly."
Perrotto echoed how good Jeter was, and that maybe he was not the best in any one stage of the game, but was as an all-around player, spectacular, especially in the playoffs.
Perrotto has also dealt with the issues surrounding Barry Bonds and Roger Clemens, especially since he covered Bonds in Pittsburgh.
"I think he's the best player of my lifetime," Perrotto said of Bonds. "To me, Barry Bonds is the greatest player I have ever seen. I voted for him. I'm sure some players used steroids and they never got caught. He hit the most home runs of any player in the history of baseball and I don't think you can [take] that off the record."
Perrotto also describes how Bonds treated him and the other media members.
"The guys that covered the team every day, he always was good with us. I saw a different Barry Bonds than a lot of people did. I did see him be a jerk to people. I asked him once [about why he acted that way towards people], and he said 'I can't be somebody I'm not. That's who I am,'" he said.
"
To me, Barry Bonds is the greatest player I have ever seen. I voted for him…He hit the most home runs of any player in the history of baseball and I don't think you can [take] that off the record."
— John Perrotto
Perrotto voted to induct Roger Clemens into the Hall of Fame as well, citing how he won the Cy Young Award seven times, more than anybody in Major League Baseball history.
"He was one of the great pitchers of all time. They were part of the game, whether you liked it or not. To me, they're part of history."
In addition to believing Bonds and Clemens should be in the Hall of Fame, Perrotto said he has come around to believing Pete Rose should be in the Hall of Fame as well.
"I used to think he shouldn't be [in the Hall of Fame], but I think the morals changed. It's no longer an illegal-type activity. I do think he's paid a price. He's been out of the game 30-plus years. I'm not 100-percent sure I'd want him in, but I'm not 100-percent sure he shouldn't be in."
Perrotto has additionally been a part of the ongoing Houston Astros sign-stealing scandal, which did not exactly surprise him.
"I'd been hearing things for a few years, and this wasn't a total shock when it came out."
Perrotto does not believe they should be stripped of their championship, and believes the MLB has handled the situation well.
"I think they have [handled it well]. I know some people thought the players should have gotten suspended, too."
He states how MLB granted players immunity so they would speak honestly, and Perrotto went on to say that he doesn't think the MLB "would have gotten to the bottom of it if the players didn't tell them what happened."
Perrotto has been able to talk and write about these topics, among other sports-related topics, for his whole career. He has even appeared in two short films, "ESPN SportsCentury" in 2001 and "ESPN 25: Who's #1?" in 2005.
Perrotto has covered many, many events in his career, but some stick out in his mind more than others.
"Probably the coolest thing ever was when I got to cover the Hall of Fame Induction Ceremony in 2001. All the living Hall of Famers come back for that Induction Ceremony, and I was in the hotel where they all stay.
"I went to this reception at night and as I was coming out, all the Hall of Famers were coming down the elevator into the hotel lobby to get on a bus to go to a dinner, and it was like all these people that I idolized, they're all walking right in front of me," he said.
John Perrotto started his career in high school, covering his local high school games for his local paper. Since, he has covered 24 — 24 — World Series and multiple Super Bowls and has voted for the Baseball Hall of Fame.
"I've been very, very blessed."
About the Contributor
by Dominic DiTommaso
Dominic DiTommaso is a sports reporter/columnist for The Oracle at Shaler Area High School. He first started writing sports columns for the paper in his...