Holtz completes journey from WPIAL to NFL
With the Dallas Cowboys up 7-0, on Thursday Night Football, the Chicago Bears had the ball, first-and-ten, at Dallas' 39-yard line at the start of the second quarter. The Bears threw a screen pass to Shaler Area graduate JP Holtz, who roared his way inside the ten-yard line.
The Bears went on to win that game 31-24, and it turned out to be a break-out game for a man who went from playing in Titan Stadium to catching passes from Mitchell Trubisky at Soldier Field.
"It felt like we went out and were ready to play," Holtz said. "It was a big prime time game. We just played really well that night and took care of business."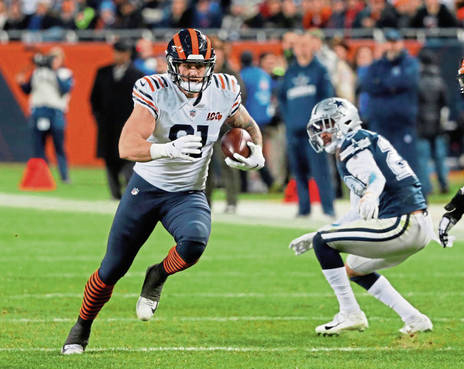 The Chicago Bears have not won a Super Bowl since 1985. That was when they had arguably the greatest defense of all time, but since then, they have had anything but all-time. They have not won a playoff game since 2010, and did not make the playoffs for another eight years after that. Their franchise dates all the way back to 1920, and being able to play on the hallowed ground that is Soldier Field, to Holtz, is "awesome".
But there was a long journey for Holtz to get to that "awesome" place, and it took him a long time until he got to where he currently is.
Growing up a Steelers fan, especially a big fan of Heath Miller and Troy Polamalu, Holtz was born here in Pittsburgh, where he played both football and basketball at Shaler Area.
Holtz grew up in a football family and has been around this sport for years.
"My dad played in college at Cal U. My older brother also played at Shaler [and then at a] division-three school in Ohio."
He grew up playing football, and contributed much to his high school team.
"We knew JP was a special athlete when he first arrived here [at] Shaler," said one of Holtz's high school coaches, Jim Ryan. "He's only one of two players in Shaler Area football history, when we were a 10th-12th program, to move up as a freshman."
Holtz did many impressive things during his time at Shaler, including playing on the varsity team as a freshman, but perhaps the most impressive was when Holtz, as a freshman, once played quarterback in a playoff game — and won.
"Tyler Bills was the starting quarterback — a pretty significant talent on the team, as well," Ryan said. "JP was a freshman. We made the first round of the playoffs [and we were] playing at Canon-McMillan and Tyler was out with a concussion and unfortunately he couldn't play.
"The decision was made to put JP in as quarterback. He was not a quarterback by nature, but JP being the talent he was, the smart football player that he was, we beat Canon-McMillan."
During his time in high school he played numerous positions, including fullback, running back, tight end and even punter.
"He was everything that we needed him to be," Ryan said.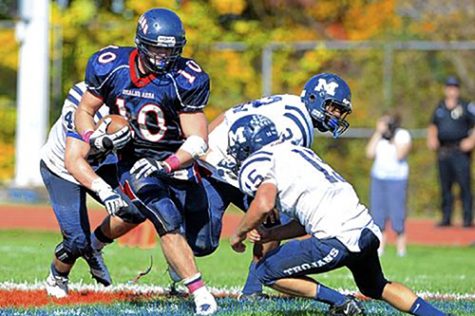 Holtz said playing at Shaler "started showing me that my work ethic was important. Just being around the team and being a leader, and that really helped translate into Pitt."
Holtz did play basketball as well, and described his team as "pretty good".
As a junior, Holtz and his team went 22-2 and made it to the quarterfinals, and as a senior he and his team went 25-4 and to the WPIAL semifinals and state quarterfinals. It was always football, though, for Holtz.
"I knew that's where my future was at."
Holtz is still used as a resource for the Shaler Area football program today.
"I often invite him back to speak at our youth football camp," Ryan said. "To have a hometown guy in the NFL that wants to come back, be a part of the community, that's a really special thing."
Holtz may not be the number-one option yet for Chicago, but Coach Ryan said he believes that Holtz will "excel because of the kind of person that he is."
When deciding where to go to college, Holtz committed to Penn State, but ended up going to Pitt, where he even ended up meeting Heath Miller.
His commitment came right around the time of the Jerry Sandusky issue, which made him reconsider his Penn State commitment. He does credit the change, though, to being, at least in part, due to location.
"I wanted to stay home. That was the biggest reason. I wanted to be close to my family," said Holtz. "I grew up here in Shaler, it's not really far from Oakland. I'm very happy I did choose Pitt. It was a great opportunity for me and I got to stay home."
Holtz said he is still in touch with a lot of his teammates, who include Tyler Boyd, James Conner, Aaron Donald, and Brian O'Neill.
When asked what he'll remember most about playing at Pitt, Holtz said, "Just having fun with my teammates. You never get that back. We were all very close.
"It's definitely crazy to look back at my team at Pitt and see some of the guys that I played with that are having so much success in the league."
What might be even crazier is that now, Holtz is also playing in the NFL for the Chicago Bears.
Holtz went undrafted out of Pitt, and ended up being signed by the Cleveland Browns in 2016. Cleveland waived him a few months later, but was signed to the practice squad in December. The cycle continued until he was released by the Browns in October of 2017.
He was signed, and waived, multiple times by Washington, and even played in a game, his debut game against Philadelphia, in which he played exclusively on special teams. However, he was waived by Washington in 2019 and claimed the following day by the Bears.
"I finally got my opportunity this year and took advantage of it. [I] showed everyone that I could play."
Holtz feels he was motivated initially by going undrafted.
"Everyone wants to get drafted. That's the goal out of college. I felt like I had a good college career and got overlooked a lot," Holtz said.
Holtz also feels he was overlooked his first three years in the NFL during his stints with the Browns and Redskins.
"[The] NFL's a tough business. There's different factors, but all it takes is one opportunity in the NFL, and that happened this year, and I'm very happy about it."
Holtz said it was hard going through the ups-and-downs of being signed.
"I just tried to stay positive through it all, but I know my rookie year I had a good training camp, and they told me they were going to sign me to the practice squad when cuts came around," he said.
He said getting released by Cleveland was "tough". He said that getting cut again after what he thought he was doing well was something he "never saw coming."
Holtz realized he got another opportunity when Washington called.
"I knew I had to do anything I could to stick around. I did and [I] ended up getting released from there and they signed me back about four days later."
With all of that turmoil, Holtz admits he wasn't sure he'd ever get the opportunity he currently has.
"I thought I was done at one point," Holtz said. "I honestly thought I was done playing and then I got an opportunity with Washington, and I'm very thankful I did because I wouldn't be where I'm at today if I didn't."
Holtz says the main reason he fits with Chicago is because the team and coaches trust him and believe in him.
"I just felt like I was a good fit for their offense and they saw that and they really like me and since day one they made me feel accepted and welcomed me with open arms," he said.
Not only does he love his team, he also now loves his city.
"[Chicago] is awesome. It's a big city. It's a nice city to live in. They have a great fan base out there."
He also enjoys playing his home games at Soldier Field in Chicago.
"It's a great home stadium. The fans pack in every home game. They are very passionate and loud."
Holtz says he really enjoys the professional atmosphere.
"Pro atmosphere is pretty neat. It's a little different than college."
Holtz is on a team where his quarterback is a highly-criticized player, and Holtz has learned from that that it is crucial to block out all the negativity.
"I don't [look at my social media]… I don't read into stuff. I could care less what people say about me or think about me. I just do my own thing," he said.
Not a lot of people will recognize JP Holtz in the streets of Chicago, but as Holtz will tell you, he likes it that way.
And now, this former Titan has gone from playing football in Titan Stadium to sharing a room with Adrian Peterson and being teammates with guys like Khalil Mack.
"It's surreal," Holtz said. "Wow, this is actually happening."
Leave a Comment