McKenry transitions from behind the plate to behind the microphone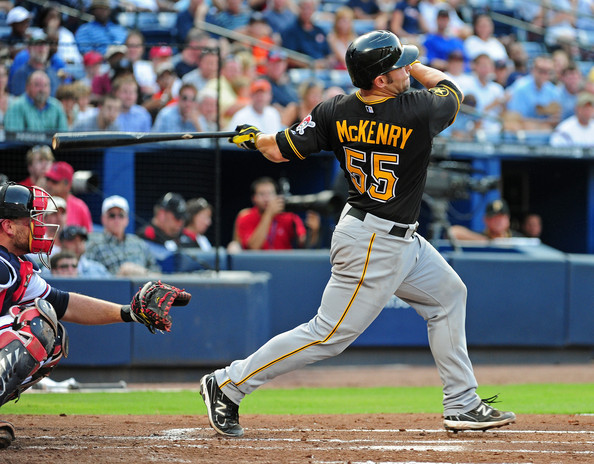 Michael McKenry played professional baseball for seven years for the Rockies, Pirates, and Cardinals. His path to the MLB wasn't easy, but he stayed determined and strong willed to make it to the big leagues.
Making the MLB isn't an easy thing to do. To make it to the top you need to have positive influences and even some negative ones.
"The biggest influence, outside of God, was the critics and everyone was a critic at one point," McKenry said."My mom was the one that showed me true grit. She had a very tough child-hood and never complained, never expected, just worked and worked."
Having both positive and negative influences helped McKenry reach the highest level of professional baseball in 2010 with Colorado. After just six games with Colorado he was picked up by Boston. Just three months later he was traded to Pittsburgh where he spent the bulk of his time in the major league.
An injury suffered in 2013 eventually caused McKenry's playing career to end, but it happened to bring about a chance at another career.
"When I got hurt in '13 I was asked if I wanted to fill in for (Kent Tekulve on television). I was scared, but was encouraged by my wife to take the risk. Ultimately that is what planted a seed for AT&T to call me for an interview years later."
Despite the taste of life in the broadcast booth, McKenry still wasn't he was ready to end his playing days.
"Even (after '13) I still wasn't sure I was ready to retire from the game but AT&T gave me most of the off-season to make the decision. I will be forever grateful for that. I did not decide til the middle of January. But a dream of mine was to retire on my own terms and I got to do that which was incredible, and I have not once regretted my decision."
While he has not regretted leaving the dugout, it doesn't mean he will never go back.
"It has been a gracious transition out of playing. I was always told I would be a better coach than a player. So I am sure at some point I will walk that road."
McKenry has been a part of the AT&T Sports broadcast team for the last two seasons. He continues to anchor the pre-game and post-game shows at the network. He never planned to be on television after his career ended.
"I grew up with two different learning disabilities that made me scared to death to speak in front of people for a very long time. How I got past it was leaping into the deep end, and getting comfortable with the uncomfortable."
This was just one of the things McKenry had to overcome in his life. Playing in MLB and being around the game of baseball teaches you a lot. McKenry learned plenty.
"Stay on a narrow path. Treat yourself like a business — invest in yourself. If you use your platform the right way it will carry over into your next chapter. Be present. Enjoy the journey. Know who you are and keep solid footing."
Leave a Comment