Cancellation of Homecoming has ripple effects throughout the district
For nearly a half-century, Shaler Area High School (SAHS) has celebrated alumni "coming home" each fall with a homecoming parade, football game, and dance, but this year, it has been more like a stay-homecoming.
Like so many other gatherings since March 2020, Shaler Area's homecoming events were canceled due to the global COVID-19 pandemic. To slow the spread of this highly contagious illness, state and local leaders have mandated limits on the size of gatherings and encouraged people to stay home.
According to Mrs. Mindy Thiel, high school activities director, 1,000 people or more typically gather at St. Bonaventure Church to participate in the homecoming parade and that number does not even include the spectators along the street. Those numbers far exceeded Allegheny County's limit for people at an outdoor gathering.
Additionally, Shaler Area had planned to celebrate its 50th-anniversary homecoming this year by asking an even larger alumni crowd to participate in the parade.
"We wanted to invite all the past homecoming kings and queens," Mrs. Thiel said. "We knew that we couldn't pull off the celebration that the community deserves or the community has come to expect, so we decided in July to cancel the event."
She added that despite the disappointment, families, and students have been very understanding and supportive of this tough decision. However, understanding why homecoming was canceled does not change the disappointment for students.
Senior Emily Kubic expressed sadness because this is the last year she would have experienced homecoming as a Shaler High School student.
"I looked forward to the parade the most," Kubic said, "because I got to see so many of my friends participate in it."
Junior Tia Bozzo likes "being an active part of the parade and enjoys the sense of community" that comes with it.
For Junior Brooke Schweitzer, it is the dance she missed because she loves to dress up and spend time with friends.
Part of the tradition on the night of the dance involves gathering with friends to take photos of the special night. As documented through recent social media posts, some Shaler students have found a creative way to celebrate that tradition with small events called "fauxcoming,"  during which students dressed up, took photos, and went out to dinner.
It was one way of fulfilling the social aspect of the event, but the cancellation of the homecoming dance has had another drawback. Mrs. Thiel noted that the funds raised from selling dance tickets help to support student activities, as well as homecoming events for the following school year. She is hopeful that as the school year progresses, the high school will be able to host other fundraising events to replenish the activities budget.
The financial loss, however, goes beyond the dance. Although homecoming only occurs during one weekend of the school year, it represents a big fundraising opportunity for many of Shaler Area's sports teams.
The Girls' Volleyball booster organization, for example, typically sells food, drinks, and spirit wear during homecoming festivities. Booster Treasurer Maureen Ricci noted that homecoming is an important fundraiser that helps to support the girls' volleyball team events, such as senior night, team-bonding activities, and the year-end banquet.
"We asked the parents and players to really support our other fundraisers like the hoagie sale, business sponsorships, and spirit wear sale to make up for the loss," Mrs. Ricci said. "The parents and players really stepped it up this year by exceeding sales in each of these three fundraisers, which will allow us to continue to host the volleyball team's activities."
Mrs. Ricci said she plans to begin fundraising efforts for the 2021 season in the spring, a bit earlier than usual, to also compensate for this year's budget deficit.
Mrs. Thiel hopes to do the same. She mentioned that there have been discussions about a student event in Spring 2021 that will serve both social and financial goals assuming local and state rules change or are lifted to accommodate Shaler Area's school population.
"We don't want to limit attendance to only a portion or percentage of the student body," Mrs. Thiel said. "It's all or nothing."
Throughout 2020, it's been closer to nothing. Events of all types and sizes have been canceled. Infectious disease experts claim the introduction of a COVID-19 vaccine would significantly decrease the spread of the disease and could allow for the return to larger events and social interactions in 2021.
Mrs. Thiel is counting on it because she said SAHS is hoping to celebrate its 50th-anniversary homecoming next year with its biggest celebration yet, so while 2020 may be the year of staying home, the Shaler Area community hopes to be able to celebrate the idea of coming home in 2021.
Leave a Comment
About the Contributor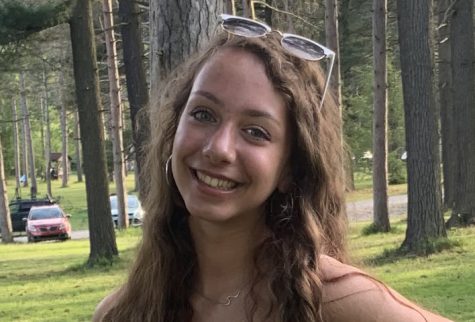 Mia Schubert
Hi I'm Mia. I'm a junior at Shaler Area High School and this is my first year as a member of The
Oracle. I play school as well as club volleyball...